Hermione's New Job Is Perfect In 'Cursed Child'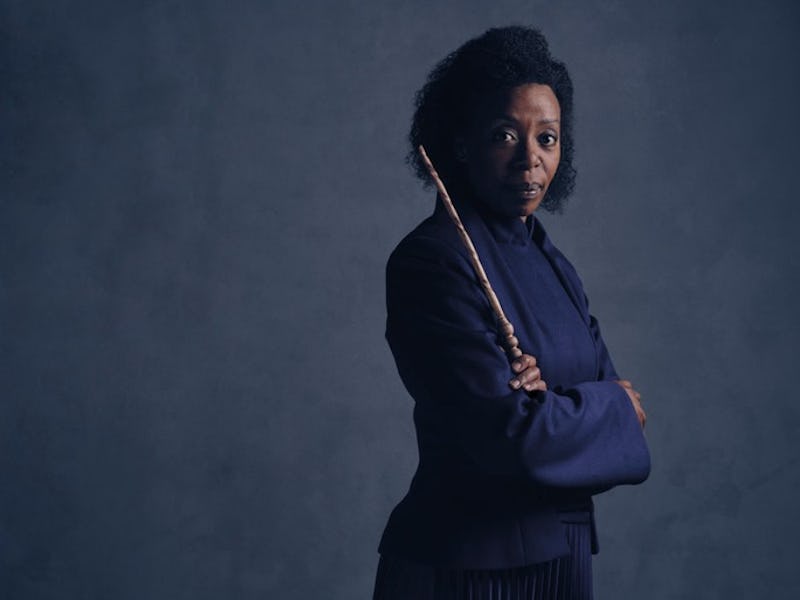 Raise your hand if you've been living like it's the late '90s thanks to the release of Harry Potter and the Cursed Child . Did you raise your hand? I know mine is sky friggin' high right now. Following the modern day exploits of Harry, Ron, Hermione and Draco — along with their respective children — the play is the latest to be added to the Harry Potter canon. In reconnecting with our favorite witches and wizards and seeing where they ended up, it should come as no surprise where some have landed. Let's talk about where Hermione Granger is now by the time of the play. Spoilers ahead (Who am I kidding? I know you're going to keep reading).
Unsurprisingly, Cursed Child is as big a hit among fans of the book series as much as it is over in London's West End. How did we get so lucky to live in an era where we can happily keep checking in with some of our favorite childhood characters? It's revealed early on in the play hat Hermione is now the Minister for Magic. Before Albus and Scorpius begin playing with the power of the Time-Turner, before we experience her in some heart-breaking alternative timelines, before the craziness of yet another wizarding adventure ensues, Hermione is comfortably seated in the position of power she was seemingly destined for. Is anyone really surprised that Hermione is the queen bee of the wizarding world?
When we last saw Hermione in Harry Potter and the Deathly Hallows, she was older, wiser, and happily married to Ron. They were waving good-bye to their daughter, Rose, as she boards the Hogwarts Express at Platform 9 3/4 for her first year at Hogwarts. Also on the platform are Harry and Ginny, who are sending off their second child, Albus Severus, and Draco and Astoria, saying good-bye to their son Scorpius. This is the same scene that Cursed Child opens on. It's a heartwarming moment that, for those of us diehard fans who are in the know, will soon be overshadowed by some darks twists of fate.
Hermione has often been hailed in the books as the brightest witch of her generation, so it is only natural that she would be in the highest-ranking office possible. She has, time and again, exhibited her strength through her intelligence and magical capabilities, often getting besties Ron and Harry out of trouble. Seeing her ordering Harry to stay on top of his Ministry work feels like the good old days, when she often lectured him about the right way to do things. Bless you, Hermione. It's good to see you on top once again.
Harry Potter and the Cursed Child : Parts One & Two (Special Rehearsal Edition Script), $17.99, Amazon
Images: Courtesy of Charlie Gray; Giphy