The 'Mary Poppins' Remake Needs The OG Actors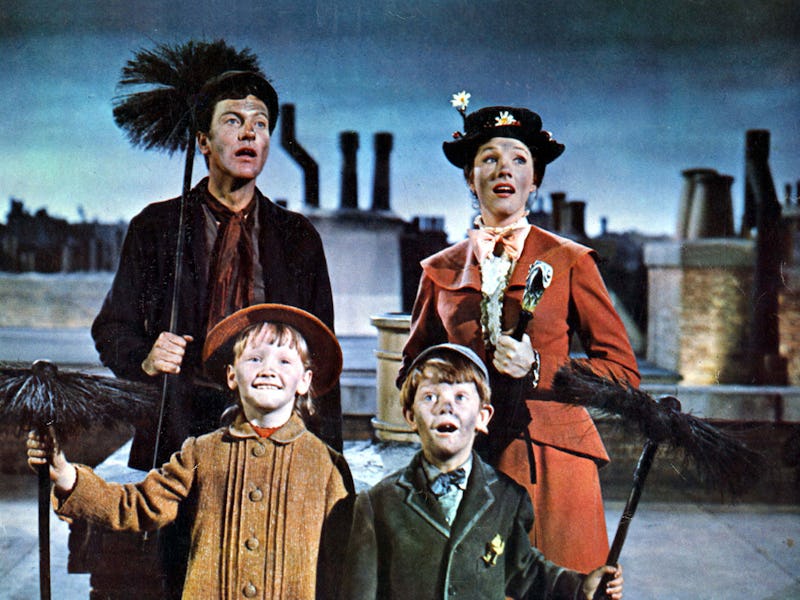 With all of this casting news coming out about the Mary Poppins sequel, it's making me think about two actors who have not yet been cast in the new film: Julie Andrews and Dick Van Dyke. AKA the two actors who deserve to be cast in the new Mary Poppins movie the most. Why? Well, because I said so, for one. But also because including these original stars would add so many layers of nostalgia and good feeling to this sequel, and their names are already being buzzed around. But just in case Rob Marshall is looking for more reasons to add Julie Andrews and Dick Van Dyke to the already incredible Mary Poppins cast of Emily Blunt, Lin-Manuel Miranda, and (maybe!) Meryl Streep, I have plenty. Nostalgia may be sweet, but it isn't anything to hang your hat on alone.
Even though a rep for Julie Andrews has reportedly said that there have been "no discussions" about either actor appearing in the movie, I think it's worth the time to expand upon why exactly they need to make an appearance in it. If 2016 has taught us anything, it's that what you put your voice behind matters, guys, and I'm hoping that my voice on this matter is heard.
Can you just imagine what an amazing homage it would be to the original film to have Andrews and Van Dyke make an appearance in it? The movie is such a classic, one that just about every kid grew up watching. To pay respect to the original film in this way would be such a lovely nod to the influence it has had in cinematic history, and in each of our personal histories as well. I mean, who doesn't take their Nyquil with a quick shot of orange juice to make it go down a little easier? Mary Poppins taught us that, guys, and having the original movie referenced so directly in the sequel would be a lovely way of honoring its place in history.
Not only that, but having Andrews and Van Dyke appear in the new film would be a wonderful way to honor the two of them. Not only is the original film legendary, but these two actors are a large part of why it is. For her part in the film Julie Andrews won a Golden Globe and an Academy Award. Dick Van Dyke was also nominated for a Golden Globe for his role in the film (even though he didn't win) and went on to score second place at the Laurel Awards for his performance.
Plus there's this: Everybody loves a good throwback. It's like a nod to the audience. It's a way of engaging not only their enthusiasm for the new project, but also their memories of the original. For this reason alone, I think the casting directors should do what they can to get Andrews and Van Dyke to make an appearance in the new Mary Poppins film. To say that these two actors deserve a role in the sequel because of their amazing contributions to the original film is definitely an understatement.
The movie wouldn't be what it was without Julie Andrews and Dick Van Dyke, and the sequel certainly wouldn't be either.
Images: Buena Vista Distribution