Here's How To Get More Jordan Rodgers In Your Life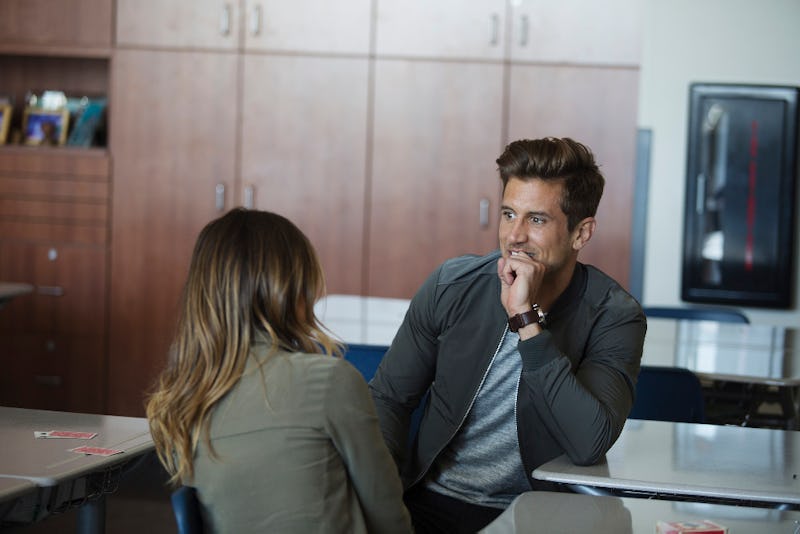 If you just can't get enough of the 2016 The Bachelorette contestants, then you probably should be following them on Snapchat. And if you find yourself wanting to know the ins and outs of one particular guy who made it to the final two of JoJo Fletcher's season, then look no further: Here is Jordan Rodgers' Snapchat name for those who are desperately in need more of him in their life. You ready? Grab your phone, open up Snapchat, and then add "rogue11" to your friends list. Hmm... Rodgers is either trying to be all spy-like with his Snapchat or... really, who knows. But seeing as he's publicized it, the reality star is not being very "rogue" about it.
Whatever the case, it appears Rodgers fully embraces snapping. As you can see below, the 27-year-old brother of NFL star Aaron Rodgers isn't afraid to use the filters that come with the highly popular social media platform. I mean, you know he's willing to have fun when he uses the old lady filter to express his frustration over having to wait for his season of The Bachelorette to premiere. Clearly, Snapchat is the new way to get out all of your feelings and emotions.
Since his debut on the hit dating competition series, Rodgers hasn't been super active on Snapchat, but based on the above snap and his Instagram, you know he doesn't hold back in keeping his fans entertained.
With that, here are just a few of his IGs that most likely speak to what his followers can expect on his Snapchat story.
Treasure Hunting
Apparently, this is a family affair. Also, his hair is so on point.
Playing Dress Up
A real-life Snapchat filter.
Things Like This
His talent is real.
Holiday Celebrations
No embarrassment here.
The Squad
Car sing-alongs are a must.
Awful Facial Hair
At least it's for a good cause?
Waterslide Fun?
Going down a waterslide with your phone isn't the best idea.
More Onesie Goodness
Yep, this happened.
Rodgers has no shame on Instagram, which means you know he has no shame on Snapchat.
Image: Carl Costas/ABC