Keep The Love Going After 'Coupled'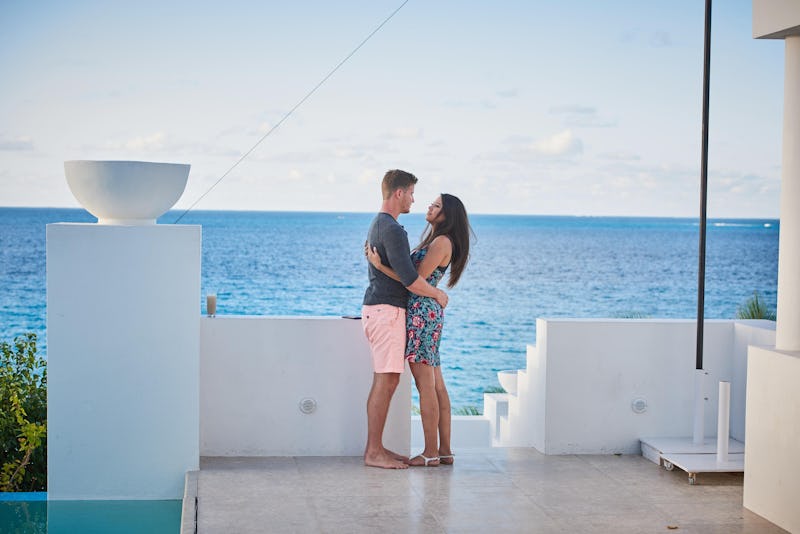 This is a heartbreaking week for TV fans. Not only did The Bachelorette air its Season 12 finale Monday night, but this summer's other big, buzzy dating show, Coupled will also wrap up its inaugural season Tuesday night. Though it's likely that The Bachelorette will be back since the show announced that it's currently casting for the show during the Season 12 finale, will Coupled return for Season 2? [UPDATE: Deadline reports that Coupled has been cancelled.]
Unfortunately, the answer to that question is about as clear as knowing the formula for finding true love. FOX has yet to announce the fate of Coupled, so we'll have to wait and see if it gets a second season.
However, there are a few things working in Coupled's favor. For one thing, the series got some good buzz around the Interwebs before its premiere on May 17, 2016. Second, it was created and executive-produced by reality TV legend Mark Burnett, and his series usually have lasting power (You may have heard of Survivor, The Apprentice, and Shark Tank). And though Coupled 's ratings dipped as the season went on, they still remained fairly solid throughout, according to The Nielsen Company, as reported by TV by the Numbers. Perhaps those ratings could even grow if there is a Season 2 of Coupled since the series has probably gotten rid of its first-season jitters now.
Even though the rest of your summer will be Coupled-free, you don't have to feel lovesick. That's because this summer of love is just getting started. While you wait to hear whether or not Coupled will be back for another season, why not make a date with one of the many other reality dating shows airing this summer?
Are You the One?
Finding "the one" is a very serious matter, but Are You the One? raises the stakes even more, if you can believe it. This MTV reality dating competition puts 20 singles together under one roof in Hawaii, and each of them is tasked with finding his or her perfect match among the group. If they find each other, they'll split a cash prize of $1 million. Season 4 premiered on June 13, and it's only been heating up ever since then.
Dating Naked
Yeah, that title pretty much sums up the VH1 dating show. Season 3 premiered on June 29, and it features two primary singles, David and Natalie. Each week, these two are joined by two new men and two new women vying for each of their affections. At the end of the episode, David and Natalie choose one of the contestants to stick around as their "keeper," and they go on to meet new daters in the next episode. Oh, and they're in the buff the entire time. In the end, David and Natalie will each choose one single to date, and they ride off into the sunset... to hopefully put on some clothes.
Married at First Sight
Whether you think the contestants on Married at First Sight are handing over the reins of their love lives to destiny or they're just desperate, the fact of the matter is these six singles tie the knot with complete strangers they meet for the first time at the altar, and you know that's going to make for some good TV. Season 4 of Married at First Sight premiered on July 26 on FYI, and the show continues to prove that marriage is a romantic, challenging, and stressful experience, no matter how well you know your spouse.
Bachelor in Paradise
This season of The Bachelorette may be over, but have no fear! More fun is on the way, Bachelor Nation. Season 3 of Bachelor in Paradise premieres on ABC Tuesday, Aug. 2, and it's going to feature many of the contestants you love and those you love to hate (I'm looking at you, Chad Johnson) from the past few seasons of The Bachelor and The Bachelorette. This time, instead of competing for the hearts of Kaitlyn Bristowe, Ben Higgins, or JoJo Fletcher, they'll be looking for love among each other. Will they finally find it? Oh, who knows? But I do know that they'll make some more good TV in the process.
Love at First Kiss
If the stakes of Married at First Sight are too high for you, but you still want to watch strangers get way too intimate with one another, Love at First Sight might be more your speed. The new TLC dating series, which premieres on Wednesday, Aug. 3, matches two singles and has them kiss. After they lock lips, they can go on a two-minute speed date if they feel a spark and then on a date in the real world if they're feeling each other after that. I can't decide if this is a good idea or a bad idea, but I know that the above clip makes me feel all kinds of uncomfortable.
90 Day Fiancé
TLC's 90 Day Fianc é is scheduled to return for Season 4 on September 11, according to TheWrap, and it promises to bring another season full of engaged couples hoping to overcome language barriers, cultural differences, and immigration laws in order to keep their love alive as they decide whether or not they want to get married during the 90 days that their partners, who are not U.S. citizens, are allowed in the country on the K-1 Visa. Talk about feeling pressure to walk down the aisle.
UnReal
If you want a fictional, satirical look at reality TV and dating shows, there's always the Lifetime original series UnReal, which chronicles what goes on behind the scenes on the set of a dating competition called Everlasting. Season 2 premiered on June 6 and will wrap up on August 8, but it's worthy of a stream if you need a break from all of the real love on TV.
And if none of these dating shows are a match, there's plenty more fish in the sea.
Image: Michael Becker/FOX