Jordan & JoJo Had A Sweet 'Bachelorette' Moment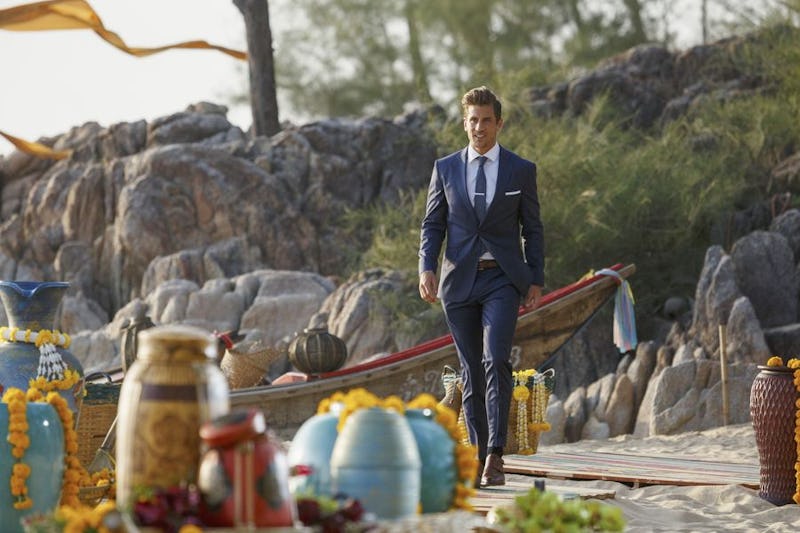 It's hard to believe that JoJo Fletcher's season of The Bachelorette is already over, but there's at least one awesome thing that's come out of all of this: A happy ending. As JoJo's journey to find true love ended, her real relationship began (hopefully), and after she made her final choice, we finally got the moment we've been waiting all season to see. Jordan proposed to JoJo, and it was totally worth the wait — and the drama.
After a legitimately brutal goodbye to Robby, it was time for the epic oceanside proposal. After an emotional speech from Jordan — which included basically every cliche that should be a part of a proposal. Even for the most cynical fan who has doubted Jordan's intentions all season long (read: me), it was hard to deny the emotion behind the words he was saying and the promises he was making her. And then, JoJo finally got to tell him how she feels about him, including all the L-bombs this poor guy has waited weeks to hear, and that could only lead to one thing. Jordan got down on one knee and offered up one of the prettiest engagement rings this show has ever seen.
Needless to say, JoJo said yes, there was tons of smooching, and it's pretty much guaranteed that these two are going to make the most beautiful babies. And as tradition dictates, JoJo had to give Jordan the final rose, and it was absolutely adorable.
Congrats, you two! I can't wait to see their eventual wedding photos... and the height at which Jordan's hair will reach for that special occasion.
Image: Matt Klitscher/ABC