JoJo & Jordan Might Actually Last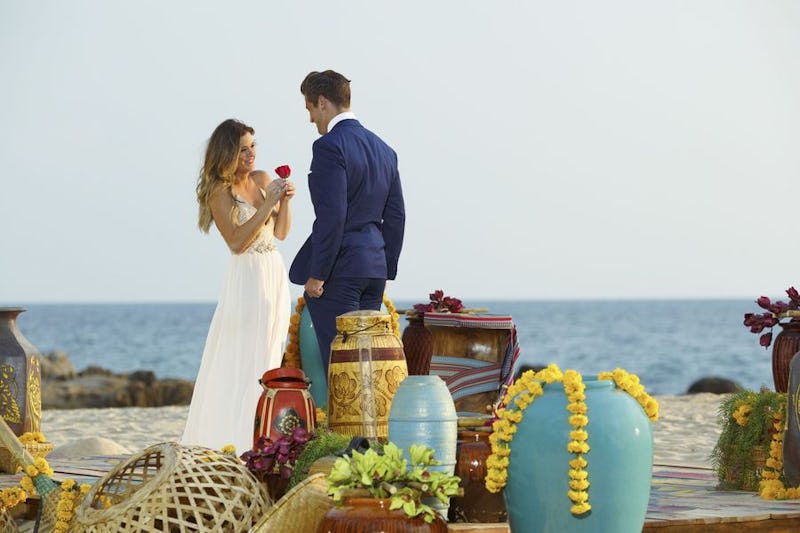 On Monday night, The Bachelorette finale aired, which means we finally got to see Jordan Rodgers propose to JoJo Fletcher. Not that it was a huge surprise, though — since night one, these two have had such crazy chemistry that it seemed inevitable Jordan would be the one JoJo would pick. And as much as I love the show, I'm pretty cynical about the relationships that result from it since they don't normally last. But even though I've definitely had my doubts about these two, it seems like their relationship is actually going to last. Why? Because Jordan and JoJo killed the newlywed game on Jimmy Kimmel Live Monday night, that's why.
OK, that seems like a pretty shallow basis to judge the lifelong potential of a relationship on, but hear me out. Jordan and JoJo have only known each other for months, but they were able to answer (most of) Kimmel's questions correctly about each other. This means that they're getting pretty good at talking about the things that are important to them and actually listening to each other, and isn't that half the battle when it comes to sharing your life with someone? And either way, the segment was adorable.
The game goes like this: Kimmel asks them questions — some way harder than others — and JoJo and Jordan have to write down what the other person's answer would be on a white board. There were some simple, obvious ones, like what the other person's favorite sports team was, and I was actually shocked that both of them were able to name each other's childhood friends. In fact, the only time they really failed was when they had to write down each other's grandparents' name, which neither half of this new couple could do. Um, Jordan, "N/A" is not an acceptable answer.
But that's totally OK. Now that they're allowed to hang out in public together — and that they're moving in together in Dallas! — Jordan and JoJo have plenty of time to get to know each other and the stories behind the answers to all these questions. Congrats, you two! I can't wait to see what the future holds for them. Hopefully way less drama than The Bachelorette did!
Image: Matt Klitscher/ABC