8 Best WiFi-Strengthening Gadgets Anyone Can Use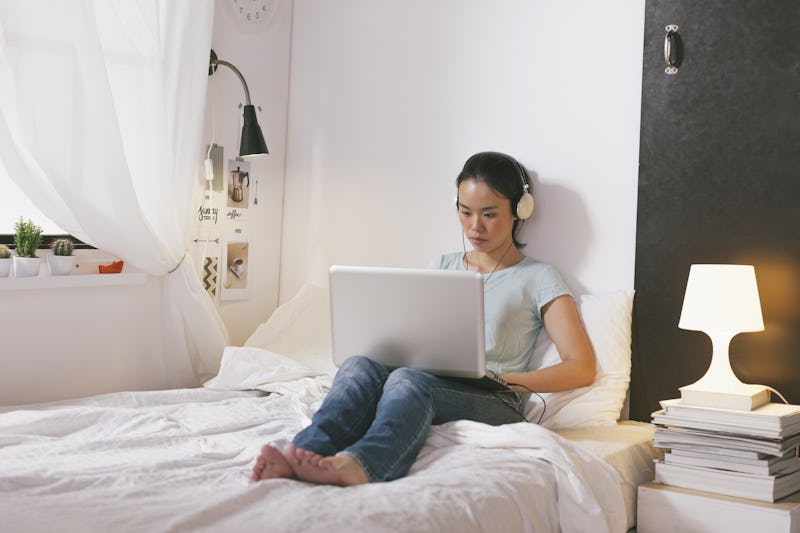 I regularly ask my parents how they functioned before cell phones, Google Maps, WiFi signal-strengthening gadgets — or, quite frankly, the internet in general. When I don't have something to boost my WiFi signal, I'm left asking the important questions: How do you let someone know you're going to be late after you left the house? How do you find a gas station in the middle of the night while road-tripping to another state? What do you do when someone wants to know the exact height of Sylvester Stallone during a late night debate?
I'm not insanely addicted to my devices (at least I wasn't until the recent release of Pokémon GO), but I do like having a strong and reliable WiFi signal anywhere in my house, especially because I make most of my calls with FaceTime audio, and if the signal breaks, I'm suddenly using up all my data. While a good router should definitely be your first step toward getting strong and dependable WiFi, repeaters can also be a huge help, because they take the existing connection and duplicate it to overcome dead spots and weak signals in the corners of your house. Antennas can also expand the range, so that you've got strong WiFi wherever you need it. Check out these quick and convenient gadgets that help you strengthen your WiFi signal in your home, office, or while traveling.
1. Get WiFi In All Corners Of The House
TRiver Concurrent Dual Band WiFi Repeater, $40, Amazon
This TRiver Concurrent dual band WiFi repeater takes the current local WiFi signal and duplicates it, so it's stronger and reaches further, which makes it especially great for gaming and video streaming. It's also got some pretty cool features, like wireless security encryption and three different signal modes, and people say that they now get WiFi in all corners of their house.
2. Boost The Signal While You're Traveling
Urant Wifi Router Wireless Repeater, $20 (Was $25), Amazon
Another solid WiFi repeater, this Urant WiFi router wireless repeater is specifically designed for small areas, like offices, dorm rooms, or bedrooms. It plugs straight into the wall, and because it's so small and convenient, it's also a great option when you're traveling. Reviewers love it because they say it's so user-friendly and intuitive.
Get Powerful WiFi Up To Half A Mile Away
Yagi Indoor WiFi Antenna, $53, Amazon
If you're dealing with a huge house or a RV-camping type scenario, you won't find much stronger than this Yagi indoor WiFi antenna. It plugs into your router or USB adaptor to provide a super strong signal from every corner of the house and beyond (one reviewer reports over half a mile away), and it comes with a mountable tripod, so you can point it in any direction.
Create A Connection Without Hassle
AMAKE WiFi Router, $23 (Was $50), Amazon
This convenient little guy called the AMAKE WiFi router is super easy to set up and has multiple modes that are suitable for different network demands. It's a number one new release that can create WiFi that's fast and long range, and even though it's small, it's powerful enough to give you high-speed internet through walls and on separate floors.
Boost The Connection With An Antenna
Everydaysource Wi-Fi Booster Antenna, $7, Amazon
This Everydaysource WiFi booster antenna can be plugged directly into any router that uses Reverse Polarity SMA to extend the original range of WiFi up to five times. It's well-made, unobtrusive, and easy to set up, and reviewers love it because it's a great option for any small space.
Overcome Dead Zones In Your House
TP-LINK N300 Universal Wireless WiFi Range Extender, $26, Amazon
The TP-LINK N300 universal wireless WiFi range extender is good for specific WiFi blind spots — for example, every time I'm on my bed, I lose connection without fail. Its tiny size and wall-mount design keep it out of your way, but it'll provide enough strength to keep your laptop, phone, and tablet connected in areas that were previously dead zones.
Connect Your PC To Strong WiFi
WiFi Wireless Amplifier Adapter Antenna, $13, Amazon
Having trouble connecting on your PC? This Wifi wireless amplifier adapter antenna plugs right into your USB port to give you strong, reliable internet for work or gaming. It enhances signal stability by automatically avoiding channel conflicts, and it's quick, easy, and secure to set up.
Cover All Your Bases With This Repeater
LTERIVER Wi-Fi Repeater, $33 (Was $60), Amazon
The LTERIVER WiFi repeater is tiny, but don't let that fool you. It can function as a repeater (to strengthen a signal you already have) or an access point (the main device where you connect your devices). It's designed for high speed and coverage, and reviewers love that it's reliable, user-friendly, and can be used as a mini-router, as well.
Bustle may receive a portion of sales from products purchased from this article, which was created independently from Bustle's editorial and sales departments.
Images: Fotolia (1); Amazon (8)