'Young & Hungry's New Episodes Are Far Off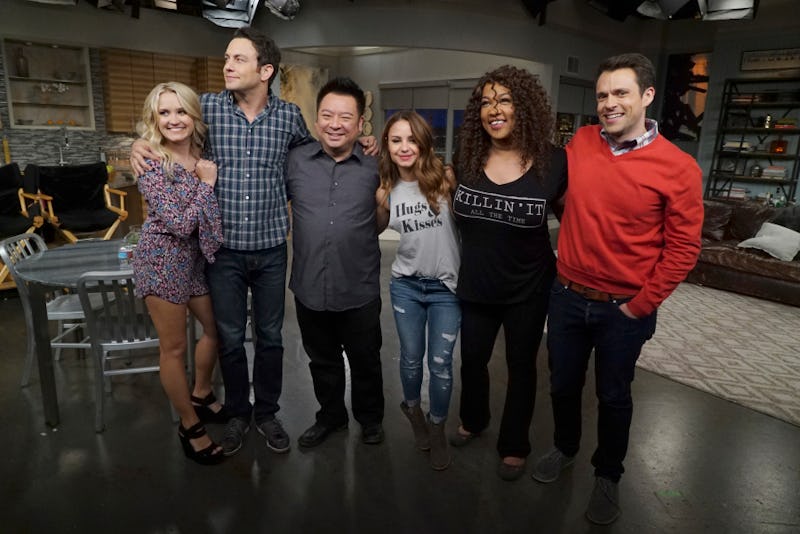 The summer finale of Young & Hungry on Aug. 3 might be the last episode for a long time. The show's already been on the air for four seasons, which suggests that Freeform will want to renew it for another season, but the network has yet to make an official announcement about when or if Young & Hungry will return for Season 5. However, previous seasons suggest that the show will be picked up in a few months and return in a little over six months, somewhere in late winter/early spring 2017, which still leaves a sizable hiatus between Seasons 4 and 5. Unfortunately, that means there's going to be a pretty stressful wait in store for fans as they wonder about the show's fate.
The series just tested a potential spinoff with a backdoor pilot in the episode "Young & Sophia" that doesn't have a specified release date either. Star of the new spinoff Ashley Tisdale told TVLine that the new series would be a more media focused version of Young & Hungry, with Logan as the tough boss of an Internet publishing company with a heart of gold. Until release dates for future episodes of either Young & Hungry or the premiere of Young & Sophia are decided by Freeform, fans will have to find other series to keep them busy in the meantime. Here are a few of my suggestions for fans of food, coming-of-age stories, and goofy comedy.
Baby Daddy
Both are Freeform comedies, and they even air on the same night. If somehow you've missed all five seasons of Baby Daddy, about a mid-20s slacker who unexpectedly becomes a dad, you will probably love it, as it has a very similar tone and sense of humor to Young & Hungry. The seasons are all on Netflix!
Chef's Table
Netflix's original series profiles famous chefs from around the world, shooting their food in a way that makes it look as beautiful as fine art. Emphasizing the skills and talent needed to innovate the food world, it's one of the best culinary series out there right now. You know Gabi would love it.
Jane The Virgin
Just like Young & Hungry, Jane the Virgin has an eye-popping color palate and an always optimistic protagonist who finds herself embroiled in a lot of romantic complications. But this telenovela-inspired series also has tons of thrilling plot twists you can catch up on now that two seasons are on Netflix.
The Mind Of A Chef
If you've ever wanted to have Gabi's ability to predict the types of foods that people will love, this documentary series dives into the science behind food and the methods that create distinctive dishes. You'll be armed with tons of culinary knowledge and be very, very hungry after marathoning this series.
Silicon Valley
This comedy also gets laughs out of the Northern California tech scene, by dialing up the neuroses of its struggling heroes and the bizarreness of the millionaires and billionaires they work with. Season 3 also featured a running gag about a professional chef working for the protagonists.
Cutthroat Kitchen
This wacky cooking competition is almost as unpredictable as working for Josh was for Gabi when she first started. These otherwise reasonable chefs are tortured by host Alton Brown as he makes them work without spoons, tie one hand behind their back, or dress in costumes while they attempt to make food that will wow the judges.
So, even if there's a big wait for more Young & Hungry, you can tide yourself over with these yummy shows!
Image: Eric McCandless, Craig Sjodin/Freeform; Giphy (2); CutthroatKitchen/Tumblr