The 'Coupled' Couples Have Staying Power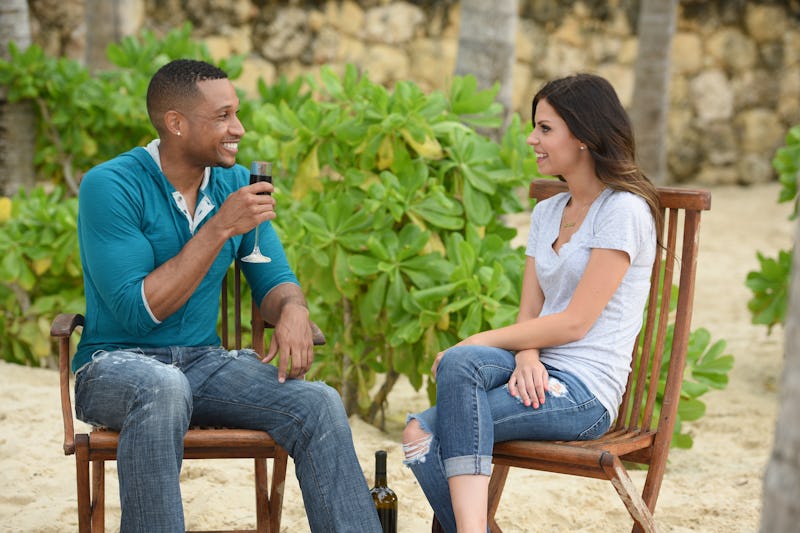 Fox's answer to The Bachelorette ends its first season tonight — and this time, there are several romances to root for without making it too much of a competition. Which couples on Coupled are still together? The very complicated, math-heavy reality dating series could have some success stories.
At this point, there are six couples remaining. After an idyllic romantic escapade in Anguilla, the remaining contestants are faced with a choice: Do they call it off and say "We'll always have Coupled," with a sigh, or do they give their newfound relationship a go in the real world? The finale will inject a bit of the outside world into the lives of the couples, with visiting friends and family members. While all of these pairings seem happy in their own little bubbles, complete with friends-only cellphones that I low-key want for my own group, the spell may be breaking. It's easy to fall in love in a romantic atmosphere, but not everything is sustainable.
So before the finale airs Tuesday night, let's look through the social media of who's left and see what we can find. There may be a few clues as to which of these crazy kids made it after all.
UPDATE: I've done some more digging in social media rumbling and added information from the finale and the aftermath. Three couples split up and three stayed together, but still not everyone made it in the real world. Coupled, in its own way, takes a realistic look at how reality TV romances and dating shows occur in a bubble. I think we can officially say that this bubble has broken.
Lindsay & Alex
There's nothing too couple-y about them on Twitter and Instagram, but there is a lot about Coupled on their social media profiles. It's hard to get a grasp on whether they made it through the finale, or just made some really good memories.
Update: They got coupled in the finale, but these two haven't posted a ton since the finale on social media. I have a feeling that they didn't make it. According to a blog post from the other Alex on the show, they aren't together anymore. I guess we'll have to wait for more info...
Ashley & B.T.
Hmmmm, interesting. What could Ashley need advice about?? What does "interesting for sure" mean??
Update: This couple broke up in the finale, and honestly, it's probably for the best.
Lisa & Ben
Based on this sweet selfie alone, I think this couple may be a safe bet.
Update: More like the safest bet! Alex also says in her post that these two are still together. They're the ultimate Coupled success story. There you freakin' go.
T.T. & Brandon
According to this tweet, this couple is possibly in for a bit of a roller coaster in the finale.... or T.T. is feeling shy because everything is great!
UPDATE: The final couple to make it to the finale, and also still together now, according to Alex. These two haven't been super active on social media since the finale either, except that Brandon retweeted a TON of positive reactions about he and T.T.'s relationship. That's a great sign, and they're so cute.
Alex & Jeffrey
Another one of Alex's 'grams talks about looking for a Chicken Nugget Prince, so this could be a clue. Jeffrey is also liking and retweeting posts about the two of them as a couple, which is a great sign.
UPDATE: Alex did leave Jeff in the finale, but according to her post (one last time), she's still friends with Ben, Lisa, and a lot of the other contestants.
Alicia & Tyler
These two have been posting quiet, sweet things about love and dating, though not necessarily each other. If they aren't together after the Coupled finale, then they've both definitely moved on.
UPDATE: This couple broke up as well. Sad!
Honesty, everyone on this show looked so happy! I know that's not realistic, but I totally fell for every one of these couples. I'm so happy that some of them worked out, and hopefully Coupled will find a way to up the stakes next season.
Image: Michael Becker/FOX