17 Disney Movies That Were So Groundbreaking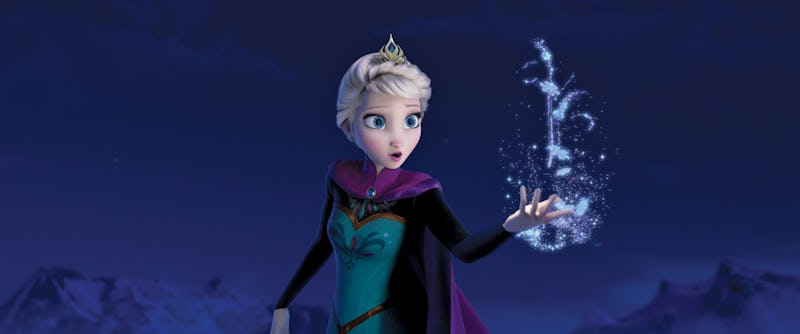 When I think about my favorite animated movies, most of them turn out to be Disney movies. Think about it: The Lion King, Mulan, Hercules, etc. Most of these, in one way or another, have influenced my life greatly. But Disney hasn't just influencing people with their films — it's influenced the movie industry for the better. It seems that every film the studio releases is impressive in one facet or another. The 17 groundbreaking Disney movies below all have a special place in the hearts of audiences and the heart of the movie industry. I mean, many of these movies are considered some of the "best films of all time." If that's not groundbreaking, then I don't know what is.
A lot of the criteria for what makes an entry on this list groundbreaking relates to the technology used to create the films, the box office success, the awards and accolades, and the overall way in which a movie changed the course of Disney history for the better. Pretty simple, really. But what's more impressive is that most of these movies meet more than one of those criteria. That's right, these 17 groundbreaking Disney movies are incredible overachievers in the best sense of the word.
1. Snow White & The Seven Dwarves
It was the first full-length, English language animated film. Mic dropped.
2. The Little Mermaid
The Little Mermaid's release in 1989 began what is now referred to as the Disney Renaissance after a few decades of unimpressive and mediocre movie releases.
3. Pinocchio
Released in 1940, it was the first animated film to win a competitive Academy Award. Actually, it won two: Best Music, Original Score and Best Music, Original Song. No lie, Pinocchio is a fantastic film.
4. Toy Story
In 1995, Disney-Pixar released the first ever computer-animated feature length film. And it's also probably on everyone's favorite movie list, for good reason.
5. Finding Dory
Among other great thing, Finding Dory features groundbreaking technology for low-vision and blind audiences. The feature allows these viewers to follow along via audio description which narrates what is happening on screen. Pretty awesome, right?
6. The Black Cauldron
It was the first western animated movie to feature CGI effects. And it's also a ton of fun.
7. Tangled
According to SenseofCinema, Tangled was made primarily with 3-D computer graphics, but blended the traditional 2-D style to create a more picturesque/painting look. Visually stunning all around, Tangled also features one of the most hunky Disney Princes ever: Flynn, aka Eugene.
8. Tarzan
Disney's Deep Canvas technology was created for Tarzan (a 3-D painting and rendering technique). It allows for the artists to create a CGI background that looks like a traditional painting. How cool is that?
9. The Princess And The Frog
Disney's last 2-D animated film, released in 2009, features the first African-American Disney Princess. Why it took so long, I have no idea. But this film is superb and beyond entertaining and refreshing.
10. Frozen
It provided the song heard 'round the world (and 'round the living rooms of every toddler in the world, to the chagrin of parents) but more than that, Frozen is currently the highest grossing animated film of all time. Oh, and it won two Academy Awards. NBD.
11. Beauty And The Beast
It's the first Disney animated film to have the background created using 3-D CGI while the characters were still drawn in the traditional 2-D style. It also features one of my favorite movie opening scenes of all time.
12. Fantasia
We can thank Walt Disney for surround sound. Fantasia was the first commercial film to ever be shown in stereophonic sound, according to QUE Publishing, which, honestly, is the only way the film should be watched, IMO.
13. One Hundred And One Dalmatians
One Hundred and One Dalmatians is the first animated film ever to utilize the xerography animation technique. And it features one of the best villains of all time — Cruella De Vil.
14. Mary Poppins
To this day Mary Poppins remains the Disney film with the highest number of Academy Award nominations — 13 to be exact. Now that's supercalifragilisticexpialidocious, right?
15. The Story Of Menstruation
In 1946, Disney utilized its animation to create a 10-minute film about menstruation. It was one of the first commercially sponsored films to be distributed to high schools. Of course, it's a bit antiquated nowadays but still, props to Disney for not shying away from something that's normal, natural, and affects half of the world's population.
16. Paperman
While technically a short film, Paperman was created using new in-house technology called Meander. It won an Academy Award for Best Animated Short. It's also stunning, brilliant, and heartwarming and if you haven't seen it yet, what are you waiting for?
17. Cinderella
Arguably one of Disney's most popular films of all time, Cinderella helped change Disney's fortunes and is the film that basically spurned the whole "soundtracks are super important in movies" thing. Seriously, without Cinderella, we might not have some of the incredible animated musicals and awesome movie soundtracks that we do today.
There is no denying that with these movies on its roster, Disney has always been a force to be reckoned with.
Images: Giphy; Walt Disney Studios