Drink Pairings For Classic Ice Cream Truck Treats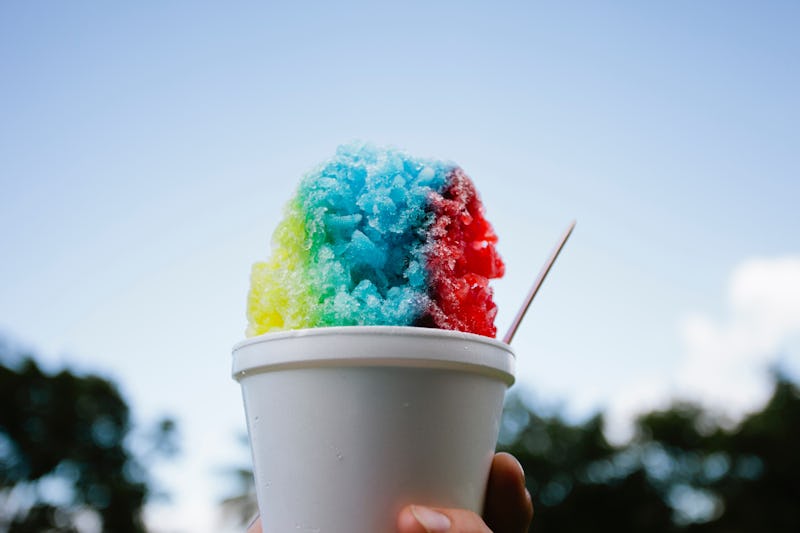 Matt Hoover Photo/Image Source/Getty Images
Nothing takes you back to the blissful innocence of yesteryear like hearing the jingle of an ice cream truck on a hot summer day — like a siren's call enticing your younger self with promises of ice cold treats with chocolate layers and cartoon faces. With just a few weeks left of summer, what better way to go out with a bang than by indulging in your favorite classic ice cream truck treats coupled with equally delightful wine and beer pairings?
This adult approach to treating yourself to a childhood summer staple is a deliciously boozy way to give in to some '90s nostalgia. Who would have thought the tri-color Bomb Pop of summers past would pair so well with a Sauvignon Blanc? Who knew that all these summer afternoons spent with a cold hard IPA in hand could have been made even better by a Choco Taco in the other hand? The pairings are surprising, and feel a little sinful, but are downright delectable and a requisite bucket list item to check off before summer's end. Before you even hear that tempting jingle, pull up the Drizly app and have the perfect adult beverages to enjoy with your ice cream truck scores delivered right to your door. Drizly's CCO (Chief Cocktail Officer) Trisha Antonsen gives her expert suggestions on specific wines and beers to pair with your favorite childhood treats.
So next time the ice cream truck makes its rounds, unleash your inner child and get in line. There's no better way to cool off this summer than with a cold treat paired with a cold pour of booze.
1. Klondike Bar
What would you do for a Klondike Bar? Just a flash of that signature foil wrapper and you can imagine taking a bite and breaking into its crisp chocolate shell for a mouthful of that solid block of vanilla ice cream. Since its 1920s origins, this classic square-cut number proves there's beauty in simplicity.
Wine
A sparkling rosé is a perky complement to the bar's rich creamy vanilla ice cream and rich chocolate shell. Rosatello Sparkling Rosé incorporates the aroma of wild strawberries and flavors of sweet raspberries that play well with the Klondike's chocolate coating. Mumm Napa Brut Rosé also features rich aromas of strawberry, but goes spicier and incorporates cherry, vanilla, and crisp apple for an extra bite that balances the creaminess of the ice cream bar.
Beer
If opting for beer, a smooth stout or nutty brown ale is the recommended pairing for the creamy milk chocolate of the Klondike Bar. Murphy's Irish Stout offers a dryer finish while Peak Organic Nut Brown Ale boasts the use of chocolate malt that goes unquestionably well with the chocolate outer layer of the bar, as Hallertau hops cut through the creamy center.
2. Snow Cone
The snow cone is an ancient treat that has been enjoyed since the 1850s, and continues to deliver cold refreshing pleasure in its utter simplicity of crushed ice and flavor. Cool off on any sweltering summer day with this icy classic that has stood the test of time.
Wine
Pair the refreshing punch of strawberry, lemon, and blue raspberry flavors of this frozen treat with a cold glass of zesty white wine. Pino Gris is a standout option that would pair splendidly. Try MacMurray Pinot Gris or Underwood Pinot Gris with its invigorating notes of lemon, apple, and pear.
Beer
A fruity shandy is a perfect complement to the fruit-flavor-packed treat. Light summery beers like Leinenkugels Grapefruit Shandy or Harpoon UFO Big Squeeze are a refreshing way to wash down the icy delight.
3. Sonic the Hedgehog Bar
This cartoon-visaged treat delighted children of all levels of Sonic The Hedgehog fandom — even those who weren't gamers or avid readers of the comic books. Adorned with bubblegum ball eyes almost guaranteed to be askew, this fun popsicle provided Sega-level entertainment until the very last bite.
Wine
Sonic's bright blue raspberry and cherry flavor is best accompanied with a crisp white wine. Broadbent Vinho Verde is a terrific light option that lets Sonic be the star of the show, while Clean Slate Riesling plays off the popsicle's burst of flavors, offering hints of ripe fruit like white peach, nectarine, and sweet lime.
Beer
A refreshing pale lager or Pilsner balances out Sonic's bold sweet flavors. The classic go-to Heineken Light does the trick, as does the hoppier Victory Prima Pils that's guaranteed to quench the strongest of thirsts. (Pro tip: Save the bubblegum ball eyes for after.)
4. Bomb Pop
This American beauty is a must-have on Memorial Day, Fourth of July, and beyond. The red cherry, white lemon, and blue raspberry goodness of the Bomb Pop is an indelible part of our childhood memories, right there with Slip N Slides and Super Soakers.
Wine
Pair this patriotic tri-color treat with a refreshingly crisp Sauvignon Blanc like the Starborough Sauvignon Blanc — which underscores summer days with notes of fresh-cut grass — or Joel Gott Sauvignon Blanc, both boasting citrus aromas and tropical fruits. Go ahead and stir it will your Bomb Pop for added childlike fun.
Beer
The quintessential summertime staple pairs well with a summer beach party favorite, Corona Extra. Or be a little more adventurous and try out a gose like Anderson Valley Briney Melon Gose, guaranteed to enhance a Bomb Pop's tart flavors.
5. Choco Taco
The king of ice cream truck pickings, the Choco Taco was a mammoth mouthful of vanilla ice cream with fudge swirl and peanuts all tucked into a waffle cone shell topped with a milk chocolate coating. Only the kiddos at the front of the line were able to score this melting masterpiece of a meal.
Wine
To balance the rich fudge, vanilla ice cream, and peanuts all folded into a sweet waffle cone shell, go red with your wine. Markham Cellar 1879 Red Blend boasts bourbon and toasted marshmallow aromas layered over dark chocolate flavors to envelop your senses as you sail away on that dessert dream. Alamos Malbec is rich with fruit flavors and dark, earthy notes that balance the creaminess of the taco's fillings.
Beer
You can count on a nice crisp IPA to pick up the saltiness of the peanuts while cutting through the taco center's smooth chocolate fudge. Founders All Day IPA and 21st Amendment Down To Earth IPA are guaranteed to keep you satiated for however long it takes you to satisfy your Choco Taco cravings.
6. Strawberry Shortcake
For anyone less into chocolate, the Strawberry Shortcake bar would do the trick. Like a frozen cake on a stick, the concoction promises satisfying crunchiness by way of crumbly shortcake coating made of pink cookie bits surrounding creamy vanilla ice cream and strawberry filling.
Wine
This frozen concoction begs for an easy-drinking red wine like merlot. The soft tannins of the medium bodied The Velvet Devil Merlot are the perfect accompaniment to the creamy vanilla ice cream and sweet strawberry center. Oyster Bay Merlot is a bit more assertive with fruit flavors that play off the strawberry cake classic.
Beer
Opt for a vanilla porter or creamy milk stout to partner with this confectionery treat. Breckenridge Brewery Vanilla Porter delivers the chocolate and roasted nut flavor of a classic Porter along with the surprise of real vanilla bean. The milk chocolate fullness of Left Hand Milk Stout Nitro carries an aroma of brown sugar and vanilla cream as well as a pillowy head just like whipped cream.
7. Orange Creamsicle
This super classic ice cream truck icon nails the perfect melange of oranges and cream. Always just the right amount of sweet vanilla and quenching citrus, this simple treat had a permanent place in your family's freezer.
Wine
The creaminess of this popular popsicle is best balanced with a dry or brut sparkling white wine. The classic summer union of refreshing orange and creamy vanilla can be enhanced by the delicate bubbles of Freixenet Cava Brut Cordon Negro or the crisp, full-body of the sophisticated Gruet Brut.
Beer
It's no surprise that the best pairing for this orange treat is a Belgian-style brew like Blue Moon or Sam Adams Blackberry Witbier that plays up the popsicle's smooth citrus flavors.
Images: Matt Hoover Photo/Image, Giphy (5), Blue Bunny, Good Humor