Paulie & Zakiyah Might Be In Trouble On 'BB18'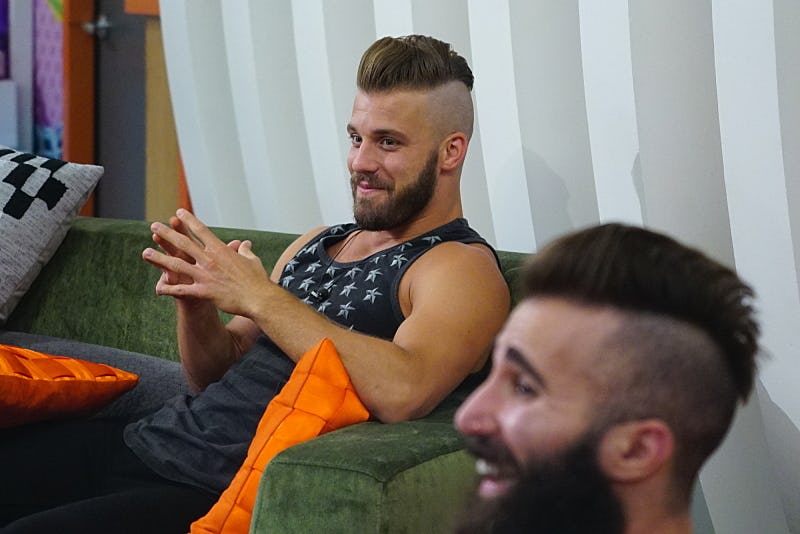 Da'Vonne and Bridgette might be the big targets this week, but Zakiyah should start watching her back in the Big Brother house. This week, Paulie and Zakiyah's showmance crumbled, at least for Paulie, who swore to Paul that he "never cared" about Zakiyah, but was going to keep up the charade to try to get her to vote against Da'Vonne for eviction. Not only is the showmance over for Paulie, he even told Paul that he wanted to evict Zakiyah next — something Paul was more than happy to consider. Paulie betrayed Zakiyah on Big Brother in a major way, and it's clear that, if he gets his way, she'll be the one going home next week.
Paulie and Zakiyah have been engaging in a showmance almost since day one of BB18, so his suddent turn is surprising, to say the least. All of a sudden, Paulie's alliances have shifted from Zakiyah to Paul. So much so that he started sleeping in the Head of Household room with Paul instead of with Zakiyah, like he usually did. Z said she could feel him pulling a way, which was true. Paulie had started feeling confined with Zakiyah, complaining to Paul that she was acting like a girl — "I don't deal with girls," he said, "I deal with women." (Sure you do, Paulie.)
When Zakiyah tried to confront Paulie about his distant behavior, he denied everything, and then went straight up to Paul's room to declare that he wanted Zakiyah out of the house next. But, don't worry showmance lovers, he vowed to pretend to still be into it in an effort to get her to vote Da'Vonne out of the house. All that is pretty shady, but the biggest betrayal came later when, after a make-up cuddle session, Paulie asked Zakiyah who she thought they should target next and she mentioned Paul as a major threat. Paulie immediately ran to tell Paul of Zakiyah's observations — which, frankly, were dead on. By telling Paul of Zakiyah's suggestion, Paulie effectively stabbed her in the back, Big Brother style, and made her Paul's new number one target.
If Paulie has his way, Zakiyah will be facing eviction next week, and there's not much she'll be able to do to stop it.
Images: Sonja Flemming/CBS; Giphy