'Veep' Spoilers From The Showrunner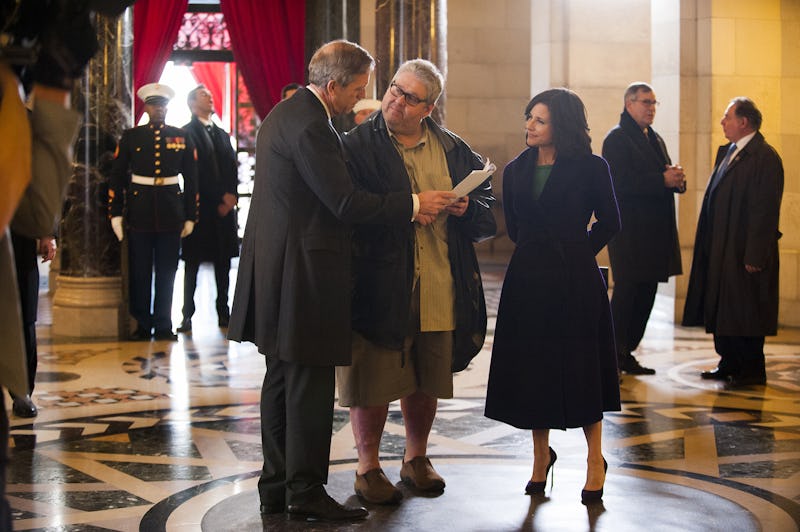 The Season 4 finale of Veep ended with a major cliffhanger — an electoral college tie in the general election left Selina looking at the possibility of seeing her running mate, Tom James, become president. There was also a major change happening behind the scenes — showrunner Armando Iannucci announced his departure and David Mandel took over his job. Due to his professional relationships with both HBO (he was previously the executive producer and director of Curb Your Enthusiasm) and Veep star Julia Louis-Dreyfus, Mandel was the perfect fit for the job. In an interview with Bustle, he talks about that unexpected Season 5 conclusion and what may happen in Season 6 of Veep.
When Mandel stepped in, Louis-Dreyfus brought him up to speed about the Season 4 cliffhanger and he was excited by the challenge of how to resolve the tie. "In my mind, this is a show about a woman who wants to be president more than anything on earth. And she needed to be elected," he explains. "Since that's what she needs, it's my job not to give it to her."
Mandel quickly decided that she couldn't win (because what fun would that be?), and considered the possibility of Selina ultimately becoming Tom's VP. What could be worse? Well, as we saw in the season finale, Laura Montez was elected president. "There's nothing worse for Selina than seeing another woman be elected and get everything she wanted," Mandel says.
And we can relive every hilarious moment now that Season 5 has been released on Digital HD — along with 30 minutes of deleted scenes, which I promise are more than worth a watch.
When Season 6 kicks off, we'll really be in uncharted territory — Selina and her staff will all be out of the White House. "One thing I can tell you is that Gary will be by [Selina's] side — and I would not want to be in his shoes," Mandel says. "We've seen that she doesn't deal well with defeat and I think she's going to lose her quest for relevancy." He adds that we've seen many former presidents strive to remain relevant and interfere with the political process by doing so — and we can probably count on Selina to do just that.
And, let's not forget about the other characters who all lost their jobs at once. "They were, in a way, fired by the American people," Mandel says, adding that, in a twist of irony, Jonah is the only character who still has a position in politics. "A lot of these people are obsessed with power and when they leave the White House, they get amazing offers at huge corporations — but it's so different from D.C. and they'll struggle to adjust to their place in the world."
Although Selina is officially out of the White House, we might have a woman president in real life by the time Season 6 premieres in the spring. Mandel emphasizes that, although the show is not a satire, everything that goes on in D.C. influences the show. "We won't parody Trump or Clinton, but we will address issues that any female candidate may deal with." He says writers take a step back and look at everything that's happened over the course of the year, and it'll definitely affect the show.
However, he does acknowledge that the Trump campaign has made it a bit harder to amp up the level of absurdity on the show. "No one could ever be as incompetent as Trump's team. For example, Melania Trump's speech would be impossible to satirize because if we had written that into the show, it would have been too unbelievable. Sure, Mike may plagiarize a speech — but not from the sitting First Lady," Mandel says. But, he believes that the show is more relevant than ever because people are so amazed and cynical by everything that's happened throughout the 2016 election process.
As for Season 5, Mandel proved that a new showrunner didn't change the high quality of the show. He credits the "wonderful atmosphere" and the "incredibly tight cast" for making the transition smooth. (It turns out these people are way nicer to each other in real life than they are on TV.) Mandel made an effort to dig more deeply into the characters' personal lives and what makes them tick. "We got insight into Selina's childhood that helps explain why she is the way she is," he says. "We also saw Catherine come out and find happiness and health. In the documentary episode, we got a glimpse into each character's home life."
Veep was left in very capable hands when the torch was passed to Mandel and I can't wait to see what's in store for Selina & Co. when Season 6 premieres.
Images: HBO (2); Giphy (2)