This Hugh Grant Character Was A Very Real Man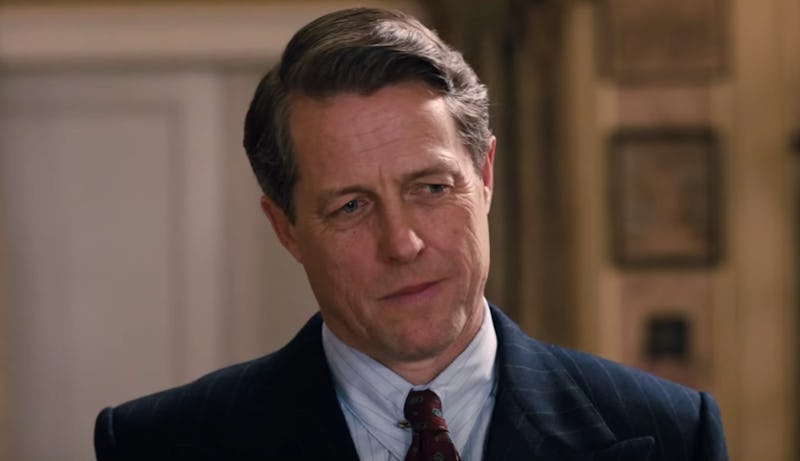 Meryl Streep's new movie Florence Foster Jenkins seems almost too ridiculously charming to be true. In the film, Streep plays Florence, a woman who dreams of being an opera singer, despite lacking the ability to sing on-key. Florence Foster Jenkins follows Florence as she prepares for her biggest moment as a singer yet: performing at Carnegie Hall. The movie also features her supportive partner, St Clair Bayfield, who not only supports his wife's musical endeavors, he facilitates them. Sounds sickeningly adorable, right? And yet, it's actually based on a true story. But, while Jenkins' trials and tribulations have been well documented, Bayfield is more of a mystery, yet it's true that Hugh Grant's character in Florence Foster Jenkins was a real person.
Like his partner, Bayfield was an aspiring artist, though he was an actor, not a singer. Bayfield was already a successful stage actor, though he appeared mostly in small parts in traveling productions, when he met Jenkins in 1909. The two quickly became close. And, according to History vs. Hollywood, Bayfield took on the role of Jenkins' manager before the two entered into a common law marriage. At the time, Jenkins was still technically married to her first husband, who died in 1916. At the red carpet premiere of Florence in New York, Grant told Bustle that as he researched his character, he began to identify with Bayfield. "There were two things. One was, from reading his diaries and letters, there's incredible loyalty, and I respect that and I identify with that," Grant said. "And the other is his insecurity, because at heart he was an actor and not a very successful one. And behind his smooth, confident exterior, really he was an out of work actor and that amused me."
The story of Jenkins and Bayfield might seem like the perfect love story, but there have been some that say that he was only with her for the money. Bayfield had grown up in British aristocracy, but struggled in adulthood to make a living for himself. Meanwhile, Jenkins inherited a fortune from her father, and, according to History vs. Hollywood, she paid for his expenses and more glamorous whims. However, other articles portray Bayfield as nothing but loyal to Jenkins. "There's something about her personality that makes everyone look at her with relish," Bayfield reportedly said according to The Mirror .
For his part, Grant seems to play the role as a supportive husband, or best friend. In an interview with the Telegraph , Grant described Bayfield as a man who adored Jenkins, but also knew he benefited greatly from their relationship. "He was charmed by her and they became a double act," he said.
After Jenkins' death in 1944, Bayfield sued her family estate, claiming that Jenkins had written in a will that her fortune go to him in the event of her death. He ended up receiving $10,000 from the estate, and six years later, he married Kathleen Weatherley, whom, according to Histery vs. Hollywood, he had been dating for many years prior.
It's unclear what the true nature of Jenkins' relationship with Bayfield was, particularly towards the end of her life. But regardless of personal or romantic entanglements, they were a team, and that's how they will be immortalized on screen.
Additional Reporting by Lia Beck
Images: 20th Century Fox