A Baguette Vending Machine Exists In Real Life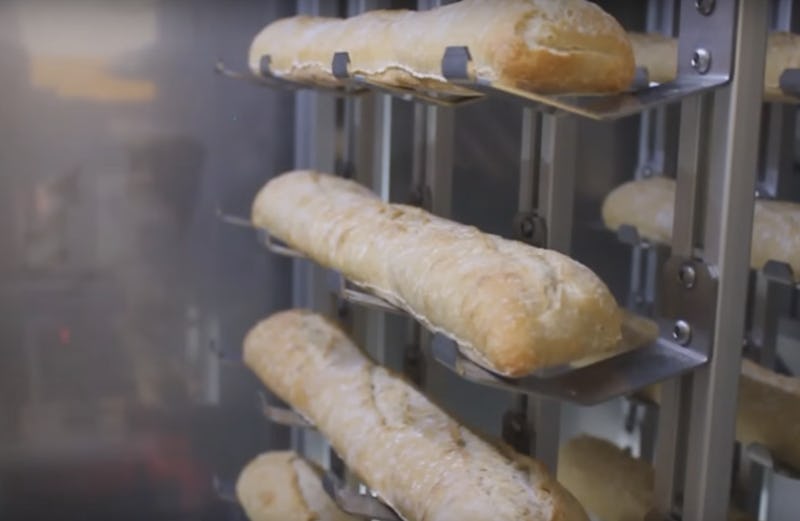 Is there anything better than the taste of warm bread covered with a fine layer of butter? After thinking for a little bit, I guess world peace and an end to all hunger — but warm bread is a very close third. Luckily, some geniuses over in San Francisco created a baguette vending machine that pops out delicious bread at the push of a button. So move over warm bread, you are number four now.
A micro-bakery serving up fresh and delicious bread Le Bread Xpress, was founded by Benoit Herve over in San Francisco. You can purchase one of the creations at The Myriad. Obviously, if you do not live near or around the area you will just have to drool over the company-made video — but that doesn't mean you can't book plane tickets. I personally am planning a car trip up the coast. Why? Because seeing a machine that pops out delicious carbs and a bag to carry it in is the closest I can ever get to actually going to France on a budget. Is that sad? I can't truly decide quite yet. I'll just have to think it over while munching on a huge, freshly-baked baguette parceled to me from a machine.
If you are worried about the quality behind this contraption — don't be. The machine was designed by a French baker, just like the bread it produces. Authenticity is not something I easily forget or skimp out on. Watch the video below and get a look at how this whole thing comes together.
Doesn't that look amazing? It's really a very simple process. You place money inside of the machine and the rest of the work is done on the inside. Personally, I would have loved for the casing to be glass — that way I can feel like I'm pressing my face into the windowsill of a bakery.
The best part about it is that the bread is freshly baked every day. Not all the way through — that way you get the freshest loaf every time. All you have to do is provide the money and Le Bread Xpress will do the rest for you.
It even provides a little bag for you to carry the baguettes home. I'm pretty sure that should be the headline. It just pops out right as you receive your treat. It also seems like this is catching on, because a second machine is being prepared for San Francisco — this time in Stonestown. In case you want to see what I would look like living in San Francisco near this contraption, I give you the following.
Yup, pretty accurate. Guess I have to start saving up!
Images: YouTube, Giphy (1)