Here's Your Love Horoscope For This Weekend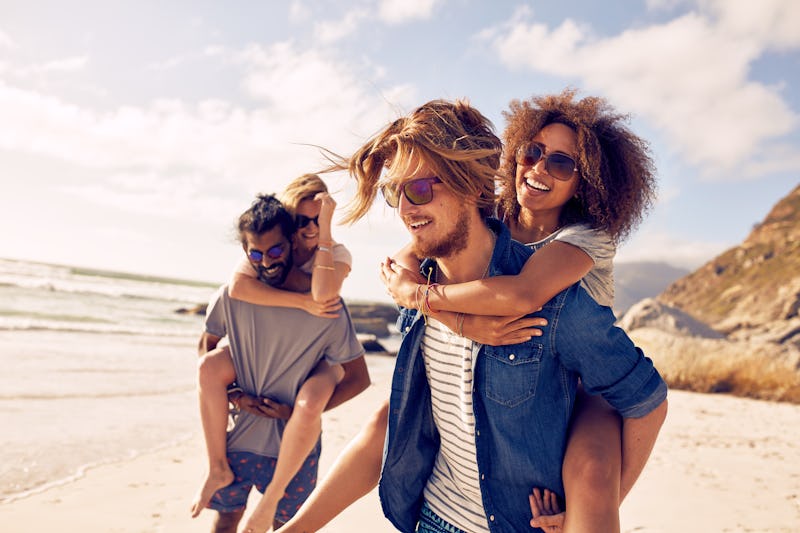 We're constantly fascinated by what our zodiac sign says about our lives, whether it's which signs are most compatible, the best sex positions for each sign, or how each sign handles conflict in relationships. That's why Bustle has enlisted Mecca Woods, a New York City-based Astrologer of MyLifeCreated.com to tell us all about how astrology is affecting our lives each week. This week's topic: your weekend love horoscope for August 5-7.
With Venus (attraction, pleasure, and relationship style) entering into practical and conscientious Virgo on the 5th, she won't necessarily be seeing eye to eye with Mars (passion) in Sagittarius' more impulsive, freedom-loving (and at times careless) ways. However, since any major contact between Venus and Mars means big action when it comes to sex and relationships, we can certainly expect that developments in these areas won't be boring this weekend.
The way to keeping Venus, Mars, and ourselves happy over the next couple of days will be utilizing Virgo's penchant for making things better coupled with Sag's gift for breaking free of anything that seems stagnant or outworn. Since both Virgo and Sagittarius love to talk and learn new things, communication will be the key to progressing forward or smoothing out any misunderstandings.
Read below to find out what this weekend's stars means for your love life.
And remember to tune into Bustle's weekly horoscopes video live on Facebook each Monday at 4 p.m. EST for a rundown of your weekly horoscope.
Aries (March 21 - April 19)
Could an office romance be heating up? While it may be tempting to go full throttle with this one, think twice about acting on your impulses if you're looking for more than just a fling.
Taurus (April 20 - May 20)
A weekend getaway or a night out on the town could turn up the steam between you and your boo. Single? Get hearts jump started with your best femme fatale persona. Hello, Sasha Fierce.
Gemini (May 21 - June 20)
There's a chance you and your bae could really work each other's nerves this weekend, but instead of working your stuff out on each other, look to ways to work together so both of your needs are met.
Cancer (June 21 - July 22)
Time for you and your partner to finally tackle those chores. Furniture assembly? Check. Organizing the closets? Check. Groceries for the week? On it. If single, the gym could be a "meet" market.
Leo (July 23 - August 22)
Consider this weekend to be yours to let your fabulous mane down to have some fun and flirt, whether single or not. However, with the spotlight on your budget, try not to break the bank.
Virgo (August 23 - September 22)
Your love life begins heating up this weekend but you may find yourself too deep in your feelings to really enjoy it. To avoid getting stuck in this place, remember your self-worth above anything else.
Libra (September 23 - October 22)
You're in the mood to be swept off your feet this weekend which could prompt a soulmate encounter or the beginnings of a secret romance. Either way, be clear about what you're getting into.
Scorpio (October 23 - November 21)
Let your fingers get to swiping this week as love could be just an app (or a night out with friends) away. Overall, dates with a low-key vibe are your best bet (unless your date is paying).
Sagittarius (November 22 - December 21)
Some hot and fun action awaits you this weekend, but you might have to tear yourself away from work long enough to enjoy it. We're loving this more mature and sensible you, but chill dude.
Capricorn (December 22 - January 19)
Did you know that another word for "love" is "escape"? While you're looking it up, you may want to book yourself a trip or a weekend retreat as either could get your heart pumping.
Aquarius (January 20 - February 18)
Could a friend become more than a just a friend? This could be the weekend you find out but make sure you talk and check to see if you're on the same page so things don't weird in a bad way.
Pisces (February 19 - March 20)
Beyoncé's "Upgrade U" comes to mind for you this weekend as the only love potentials that should be catching your attention are those who bring more than sex (or a lot of talk) to the table.
Images: Fotolia; Caroline Wurtzel/Bustle