Who What Wear X Target Is #FashionGoals For Fall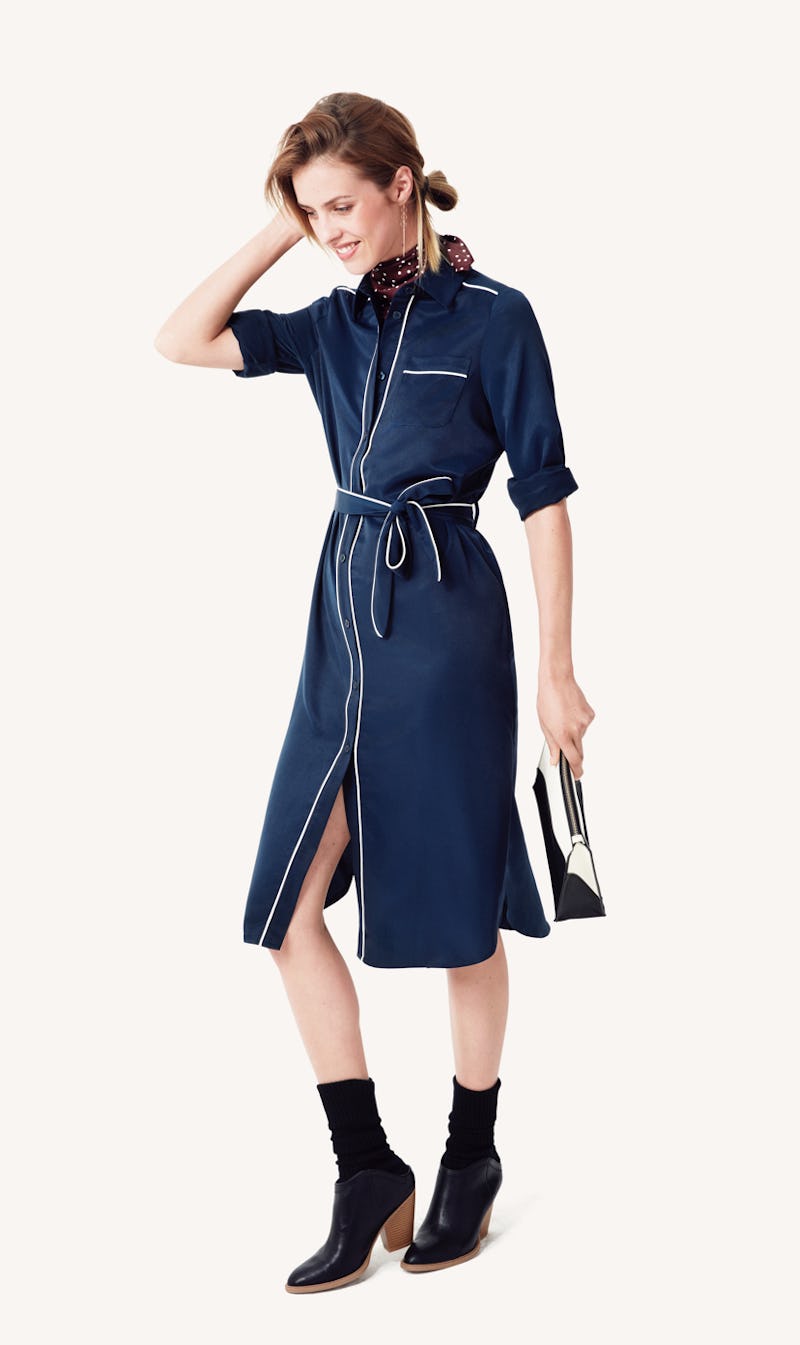 If you're starting to get over bikini season, sun dresses, and denim shorts, and are already looking forward to the fall, then you're going to love this latest collaboration from two favorite brands. Who What Wear and Target have teamed up on a clothing line, again, and this time they're tackling all of your fall fashion needs. This leads to the question — what's in the Who What Wear X Target fall collection? Let's just say it's total #FashionGoals.
The new line has a "Global Garden" theme, combining nontraditional floral patterns with a rich autumn color palette and weather appropriate fabrics such as wool, suede, and crepe. Comprised of 21 distinct looks, the collection is chock full of comfy knits, printed jackets, and luxe leather pieces. In addition to apparel, there are also lots of accessories, including structured purses in an array of colors, striped scarves, and even little neckerchiefs. It's fairly size inclusive too, going from XS to 4X and 2 to 26.
I'm pretty much obsessed with the entire range, but some standout pieces include the silky floral bomber with a black color base, a heather grey fringed poncho that can totally double for a comfy blanket, and a navy pajama shirtdress which is basically the chicest garment I've ever seen.
Let's take a look at the fabulous items in the new fall collection, because you're totally going to want them all.
Dresses
Pajama Shirt Dress, $34.99, target.com
Lace Trim Tank Dress, $29.99, target.com
Utility Midi Dress, $32.99, target.com
Long-Sleeved Crepe Dress, $34.99, target.com
Crepe Dress with Faux Leather Trim, $36.99, target.com
Bow Dress, $36.99, target.com
Jackets
Floral Bomber Jacket, $39.99, target.com
Frayed Edge Jacket, $39.99, target.com
Drapey Trench, $49.99, target.com
Slouchy Utility Jacket, $39.99, target.com
Faux Suede Sleeveless Trench Vest, $49.99, target.com
Quilted Faux Leather Bomber, $39.99, target.com
Tops
Ruffle Neck Shell, $24.99, target.com
Rib Elbow Sleeve Crew, $22.99, target.com
Tie Blouse, $24.99, target.com
Ruffle Blouse, $27.99, target.com
Trench Blouse, $29.99, target.com
Striped Sweater Shell, $27.99, target.com
Bottoms
Car Wash Skirt, $29.99, target.com
Pleated Skirt, $27.99, target.com
Midi Pencil Skirt, $27.99, target.com
Sailor Pants, $34.99, target.com
Skinny Crop Pant, $29.99, target.com
Crop Flare Denim, $34.99, target.com
Culotte, $27.99, target.com
Faux Leather Birdcage Skirt, $32.99, target.com
Accessories
Mini Top Handle Bag, $29.99, target.com
Printed Neckerchief, $14.99, target.com
Mini Croc Top Handle Bag, $29.99, target.com
Modern Blocked Tote, $32.99, target.com
Color Block Zip Clutch, $22.99, target.com
Bucket Tote, $34.99, target.com
Images: Target