This Is Who What Wear x Target's Size Range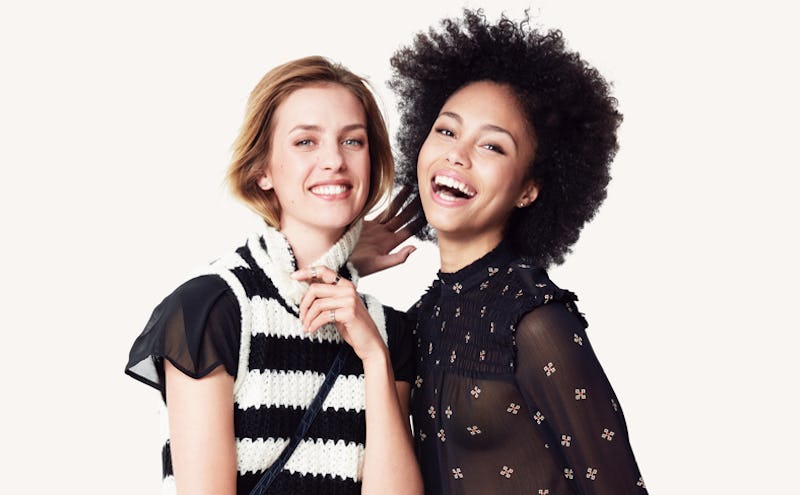 In case you missed it, Who What Wear and Target are teaming up for a stunning fall collection. The theme is global garden, which means there's tons of different prints and something for every single style. Actually, there really is something for everyone. The collection is a variety of regular and plus sizes, so that a large majority of fashionista out there has the chance to get there hands on a stunning fall piece.
This is anything but your typical collab. Sold exclusively at Target online and in-store, there are over 50 pieces of clothing, accessories, and bags coming your way for fall. Because the theme is global garden, there's something for everyone's style. I'm talking everything moto jackets and leather pants to cute jumpers and floral dresses. And get this, everything is priced under $50!
That's not even the best part. While some collabs only offer a select size range, this one is open to more people than usual. The line offers both regular and plus size ranging from XS to 4X for shirts and 2 to 26 for pants. While it's not perfect, the majority of "extended ranges" tend to stop around a 2X and size 18 or 22 — so this definitely an improvement. It's time to do a happy dance, because fall is off to a wonderful start already.
If that doesn't show you how fabulous this collab is, then maybe the piece will. Here are some of the standout pieces that will get you excited to shop. Not everything is available online just yet, but here are some looks to keep an eye out for.
1. Fall Florals
Long-Sleeve Crepe Dress Plus ($35), Silky Bomber in Olive Plus ($40), Modern Top Handle Bag ($30), target.com
This entire outfit is so incredibly on point.
2. Edgy Ensemble
Ribbed Elbow Sleeve Crew ($23), Faux Leather Skirt ($33), Faux Suede Moto ($50), Color Block Scarf ($23), target.com
You can't go wrong with any of these pieces.
3. Simple & Sweet
Bow Dress in Pomegranate Plus ($37), Mini Faux Croc Top Handle Bag ($30), target.com
4. Funky Fur
Crepe Dress With Faux Leather Trim ($37), Fringed Poncho ($35), Faux Croc Bucket Bag ($35), target.com
I honestly can't believe that all these pieces are under $50.
5. Casual Cool
Crop Flare Plus ($33), Ruffle Neck Shell Shirt Plus ($25), Frayed Edge Denim Jacket ($40), Mini Faux Crop Bag ($30), target.com
I'm loving the mix of casual and dressy items.
6. Pajama Dress
Pajama Dress ($35), Printed Neckerchief ($15), Color Blocked Zip Clutch ($22), target.com
Wear your PJs to work and look stylish all at the same time.
7. Mix & Match Prints
Bow Blouse ($25), Pleated Skirt ($28), Metallic Stripe Crew ($28), Mini Faux Croc Top Handle Bag ($30), target.com
If mix and match is wrong, then I don't want to be right.
I can't wait to get my hands on this gorgeous collection!
Images: Courtesy of Who What Wear (8)