What To Read Based On Jane Austen Couples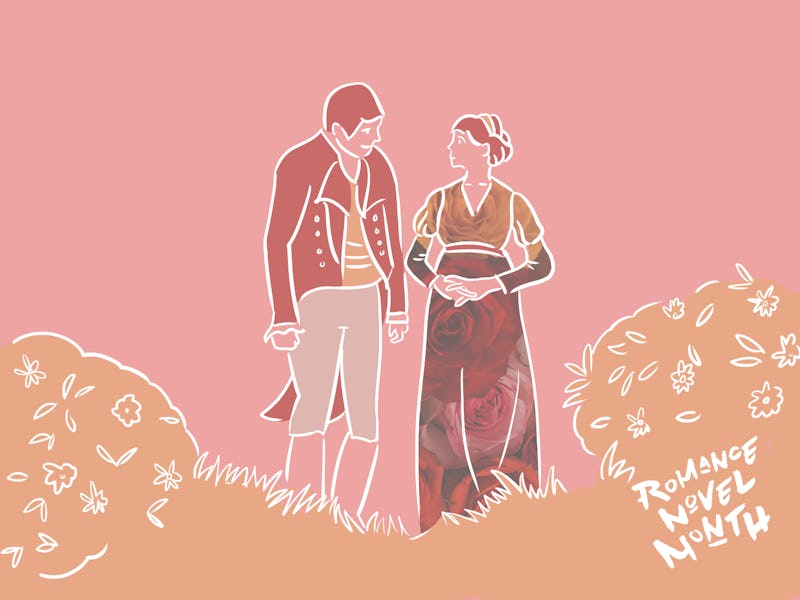 Jane Austen's books, characters, and couples are so beloved by so many people — even now, hundreds of years since she first put pen to paper and crafted her enduring tales of love against all odds. Unfortunately for us all, Jane Austen wasn't immortal, and she only created a limited amount of books, which often leaves us searching for novels like the ones she wrote. Luckily, we have a wealth of romance novels available to us, and I have recommendations for contemporary romances to read based on your favorite Jane Austen couple.
First, you have to decide on your favorite Jane Austen couple, which I acknowledge is not easy. Most days, my favorite couple is Anne Elliot and Captain Wentworth, because I'm a sucker for a reunion romance. But, other days, I find myself annoyed that Anne called off their relationship in the first place, and I decide that Emma and Mr. Knightley are truly the best Austen couple. The friends-turned-lovers narrative never gets old. But then there are those days where I find Emma far too charming for her own good, and I default back to my original favorite couple: Lizzie Bennett and Mr. Darcy. Don't worry — you don't have to choose just one favorite or read just one book. You can love them all. You can read them all!
Here are my recommendations for must-read contemporary romances, based on your favorite Jane Austen pairing:
1. Elizabeth Bennett & Fitzwilliam Darcy: The Hating Game by Sally Thorne
The "enemies-turned-lovers" trope has been done time and time again — but no one did it better than Jane Austen. That being said, Sally Thorne gives Jane a real run for her money in The Hating Game, a workplace rom-com about the fine line between love and hate. Lucy and Josh are assistants to the co-CEOs of a major publishing house. The ultra-competitive co-workers spend most of their time in the same tiny office, a set-up that leads to some less-than-charitable name calling. With a promotion up for grabs, these two place a bet on who can secure the position — a game that becomes much more challenging after they share a steamy kiss in the office elevator.
Josh is a true Mr. Darcy: fiercely intelligent, unwavering in his devotion, and kinder than he appears. But he just can't find a way to voice his affections for his co-worker. And Lucy is a modern-day Lizzie: whip-smart, well-liked, and well-meaning. But she just can't get over her own preconceived notions of her officemate. You'll want to read this one over and over again.
2. Elinor Dashwood & Edward Ferrars: Anna and the French Kiss by Stephanie Perkins
Elinor Dashwood — steady, responsible, dependable Elinor — is not usually the top choice for favorite Jane Austen heroine. She certainly isn't as witty as Lizzie Bennett, as charming as Emma Woodhouse, or as sympathetic as Anne Elliot. But her love story is one of the most fascinating.
Anna, like Elinor, has just been thrust into a strange, unexpected, unwelcome situation: boarding school. Like the eldest Dashwood sister, Anna isn't quick to let people in. But when she meets Étienne St. Clair, she feels an instant spark. He's her perfect match, aside from one small problem: his girlfriend. Like Edward Ferrars, Étienne is torn in two different directions. His sense of responsibility and duty leads him down one path, but his heart tells him to turn around and take the other way. The "will they? won't they?" of Elinor and Edward's journey is given a modern spin in this lovely YA contemporary romance set against the glittering backdrop of Paris.
3. Marianne Dashwood & Colonel Brandon: Sugar Daddy by Lisa Kleypas
I'll start by saying that Liberty Jones, the heroine of Lisa Kleypas's novel, is much more responsible than the famously flightly Marianne Dashwood. But, like the middle Dashwood sister, Liberty has a tendency to fixate on men from her past.
As a child, Liberty fell hard for Hardy Cates. But then he left. Her mother died shortly afterwards, and she became the sole guardian of her much-younger baby sister. Years later, Liberty has made a modest life for herself and her sister in Houston. When a Texas oil baron takes her under his wing, her life takes a sudden turn — for the better. She now has the family she always wanted, and a steady, smart boyfriend who treats her with unfailing respect and devotion. So what happens when Hardy — more successful and handsome than ever — returns? Liberty, like Marianne, loves them both. But she has to decide which one is the man she needs.
Lucy Sullivan is no Emma Woodhouse. She's kooky and quirky and she makes some spectacularly bad decisions. Luckily, like Emma, she has a friend by her side through all the misjudgments and misadventures: Daniel, her longtime pal and the person she can always count on to get her drunk or take her out for Indian food when she's feeling low. He's even there for her after a psychic tells her she'll be getting married very, very soon. Now she's on the hunt for her future husband: could it be Gus, an unemployed freeloader? Chuck, her blind date? The new guy at work?
Daniel — though far more of a flirt than Knightley — is the steady, dependable hero to Lucy that Knightley is to Emma. You'll find yourself rooting hard for his goofy, unexpectedly sweet couple.
5. Fanny Price & Edmund Bertram, Just One of the Guys by Kristan Higgins
OK, once again Chastity is not Fanny. (For a character more reminiscent of the Mansfield Park heroine, see The Perfect Match , also by Kristan Higgins.) Chastity's family are also far more loving than the Bertrams. So, why would I choose to recommend this novel after all those disclaimers? Because if you love Fanny and Edmund together, you'll love Chastity and Trevor.
Chastity, like Fanny, is often the afterthought in her family. She is the youngest, after all, and the only girl in a family of five children. Plus she's perpetually single. Like Fanny, she's also got a serious case of unrequited adoration: she is madly in love with her brothers' longtime friend, Trevor. When the two both get into serious relationships with other people, it begins to look like they may never get their happily ever after. But Jane Austen gave Fanny her HEA, and Kristan Higgins certainly gives Chastity hers.
6. Catherine Morland & Henry Tilney, Start Me Up by Victoria Dahl
Mr. Tilney is very different from the other Austen heroes. He isn't the strong-but-silent type. He's affable and teasing and flirtatious and fairly upfront about this feelings for Catherine. (Seriously, all the other Austen heroes need to take their cues from Mr. Tilney.) Catherine Morland isn't as quick or witty or worldly as Emma Woodhouse or Lizzie Bennett. But there's nothing wrong with being unconventional.
Lori Love always intended to leave her tiny hometown in Colorado. But then her dad died, and she took over his small business: a car repair shop. Like Catherine Morland, she escapes real life through the pages of the steamy novels she devours. But Lori is looking for a little adventure in her own life. Since there are no haunted abbeys in this love story, Lori finds her adventure with Quinn Jennings, a mild-mannered, nerdy architect who's more than willing to help her, erm, re-enact the scenes from her favorite erotic novels. They promise to keep it purely physical, but then Lori becomes the victim of some strange crimes... and Quinn discovers he may have a protective streak after all.
7. Anne Elliot & Captain Frederick Wentworth, Lip Service by Susan Mallery
Like Anne Elliot, Skye Titan has a real hangup about pleasing her family — which is why she leaves Mitch Cassidy at the altar and marries a man hand-picked by her father. Now, nine years later, she's widowed with an eight-year-old daughter — and Mitch, a ex-Navy SEAL, is back.
Sound familiar?
Both Skye and Mitch are very different people when they meet again, but their feelings for each other haven't changed. If they want to finally get their Happily Ever After, Skye will finally have to take a stand against her overbearing father... and Mitch will finally have to admit to his most fervent, most undeviating love for Skye.
Beginning on August 1, Bustle will host Romance Novel Month, a celebration and examination of the romance novel genre. But don't worry, romance readers: the coverage won't end in August. We're proud to support romance novels, and we will continue to do so all year long.
Images: Alyssa Foote/Bustle