Guess Who Is In Britney's "Make Me" Music Video?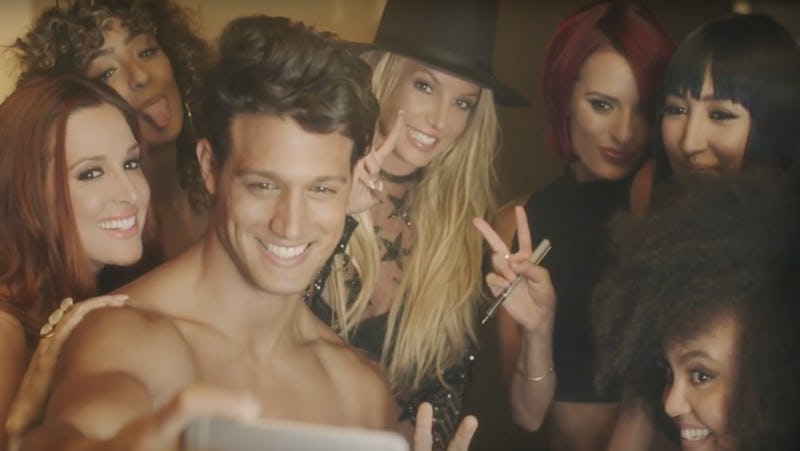 Stop everything, for Godney has dropped her first music video in over a year and you better believe this is a most splendid occasion. On Friday, Britney Spears released the music video for "Make Me…" featuring G-Eazy, the lead single off of her to-be-released ninth album, Glory. Now, it is not the David LaChapelle-directed version that we thought we were getting, but that is not to say Randee St. Nicholas's clip isn't great. Y'all. It is so great. The "Make Me..." vid is up to its eyeballs in incredible stuff and I'm obsessed with all of it: Spears hits the camera with many a smoldering look, Spears wears many a gorgeous costume, Spears laughs many a beautiful laugh, Spears strikes many an exquisite pose, Spears hangs out with many a handsome man, and so on. Oh, and get this: One of those handsome men happens to be someone who appeared on the twelfth season of a dance competition reality series and on the fourth season of an MTV reality dating series. As Perez Hilton points out, So You Think You Can Dance alum and current Are You The One? contestant Asaf Goren is in Britney Spears's "Make Me…" video. Yup, the reality star is a bona fide video star, too.
At the top of the vid, Spears and her pals/Piece of Me residency backup dancers chat up an attractive young gentleman called Michael at a café. They invite Michael to a music video casting call. And at that casting call, Michael and a few other dudes attempt to impress Brit Brit and her buddies. And one of the other dudes happens to be Goren. Blessed be, the shirtless hunk-o-rama (hunk-o-rama, I say!) who dumps a bottle of water over his own head is sweet, darling, lentil-loving Asaf from AYTO.
I'm so stoked about this, you'd think Ryan Devlin just told me I got ten beams of light at a matchup ceremony.
Image: BritneySpearsVEVO/YouTube