Will Britney Drop A Second "Make Me" Music Video?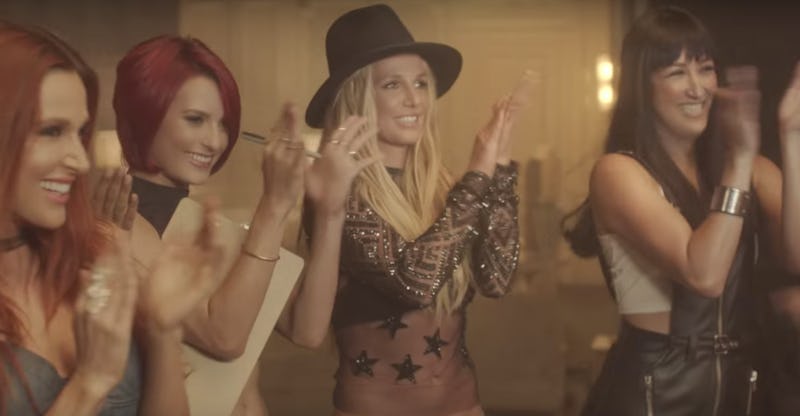 It's been a few months coming, and it's finally here... er, sort of. Earlier this summer, Godney fans far and wide rejoiced when The Legendary Miss Britney Spears filmed a video for the first single off of her yet-to-be-released ninth album. Now, when this news broke, we didn't know when the music video would be out or what the album would be called or what the song even sounded like, but we were made aware of the following crucial details: The vid a) was shot by esteemed director David LaChapelle and b) apparently features a scene where Spears dances among a flock of hot dudes while wearing a bodysuit made of strategically placed rope. We girded our loins for the veritable steam pot of a short film. However, when Britney Spears and G-Eazy released the "Make Me…" video on Friday, it was not the David LaChapelle video that leaked online last month. Instead, it was a music video directed by accomplished videographer Randee St. Nicholas. A veritable steam pot of a short film in its own right, just a different steam pot.
While I am already obsessed with St. Nicholas's version of "Make Me..," there are many who do not exactly share my enthusiasm; the director switcheroo apparently didn't sit well with some members of the Britney Army. (One fan went so far as to draw up a petition to make RCA to release the "first" vid.) Alas, as far as I can tell, it looks like the rope bodysuit music video may never officially see the light of day... or won't it?
If you would be so kind, please consider the tweets below.
*GASP*
*Gasp!!!!*
*GAAAAASP*
*Gaspgaspgaspgasp*
*G-A-S-P*
What if the audition in the Randee St. Nicholas music video is the audition for the David LaChapelle music video? What if the "Make Me..." music video is actually a two-part music video, à la "Work" by Rihanna featuring Drake? What if Britney Spears planned to release both music videos all along?!?!?!
Uh oh, it's official: The "Make Me..." sequel theory has me in the palm of its hand.
Images: BritneySpearsVEVO/YouTube; xmidnightfantasy/tumblr