Seth Rogen's Drake Lip Sync Is Legendary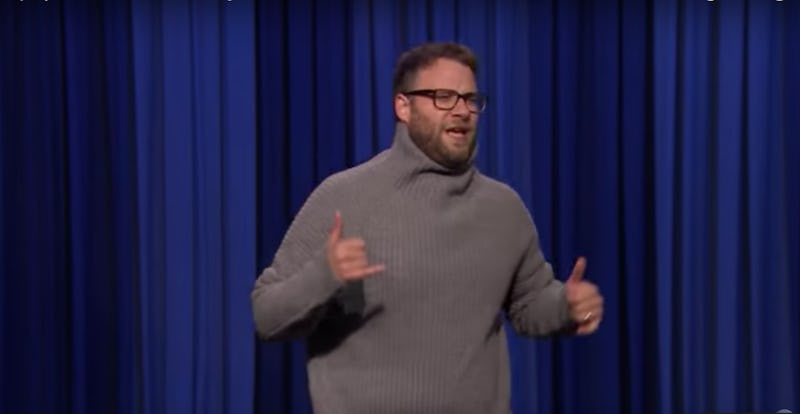 On Friday night, Seth Rogen made all our feverish Canadian dreams come true in in a lip sync battle with Jimmy Fallon on The Tonight Show. In fact, I'd go so far as to say he made all the dreams we collectively never knew we had, thanks to the fact it played out pretty fantastically. The pair gave us a set replete with hip hop hits, from Kent Jones' "Don't Mind," (Fallon sang this) to a zero playback track, live version of The Roots' "Mellow My Man," (Rogen sang this) to Onyx's 1993 hit "Slam" (thanks to a breathless Fallon). But what could compare to the Seth Rogen's iconic performance of Drake's "Hotline Bling"? Literally nothing: As soon as Rogen shuffled onto the stage in Drake's favorite form of knitwear, we all knew this battle was signed, sealed, delivered in Rogen's favor.
"Hotline Bling" is the ultimate crowd-pleaser, and Rogen knew it. He also backed up his shameless crowd indulgence with some Olympics-based rationale for his lip sync rendition of Drake, telling them "All of you guys know the summer Olympics began tonight and in honor of my beloved home country of Canada, I'm going to perform a legendary track by an amazing artist from the great city of Toronto, or the Six, as he calls it. He goes by the name of Drake and this song is 'Hotline Bling.'" If you guys want to skip straight to the juicy Drake lip sync, jump to six minutes in.
Watching Rogen's impression feels like a revelation. Let's be real, Drake is basically a charismatic, attractive human. As such, when we all watch "Hotline Bling," the array of weird qualities about the video that are so characteristic of Drake's aesthetic — like his rocking lumpy winter-wear (respectively: red puffer jacket, black hoodie, grey turtleneck) in a hit music video, or his awkward gait — aren't immediately noticeable as being odd. But, when Rogen does his impression, suddenly those qualities are highlighted, with extra emphasis on Drake's occasional spasmodic lunges towards the floor. I guess it's spot on, because Rogen registers that Drake's awkward movements aren't quite dad-dancing. It's self-consciously weirder than that, like an art-school interpretation of the sexy moves the girls in the video are doing.
Check out the original video for comparison purposes. Pretty perfect, right?
No wonder the crowd goes wild: this may very well be the best lip syncing The Tonight Show has seen yet. So whether you're into Canada because you love Drake, because you've got a soft spot for your secret crush Rogen, or because you're sweet on Justin Trudeau, do your favorite North of North America country a favor, and perfect your Drake slide for the dance floor tonight. It's the funkiest way to show Canada your support.
Images: The Tonight Show Featuring Jimmy Fallon/YouTube