13 National Dog Day Quotes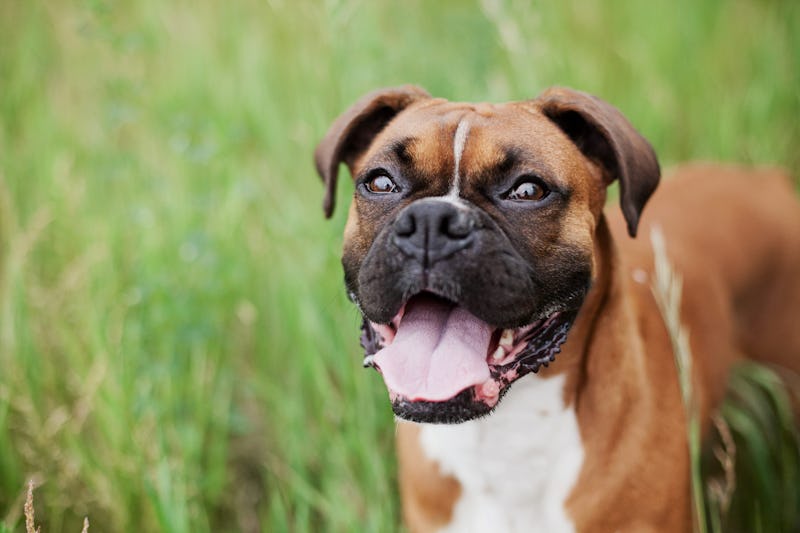 Dogs are our greatest companions, and to help celebrate their wonderfully endearing presence on this planet, I've rounded up 13 dog quotes for National Dog Day that truly capture the essence of the beloved species. Get excited dog lovers, because these quotes are going to have you filled with glee and nodding your head in total agreement very shortly.
Aug. 26 marks National Dog Day, which, unlike so many of the other "national days," feels entirely necessary and important. Dogs are special creatures, and they have the power to bring a lot of joy to human life. If you've ever owned a good dog, then you know exactly what I'm talking about. If you haven't? Well, you're missing out... big time.
It's amazing how well you can communicate with an animal that doesn't speak your language. Perhaps that's because dogs do speak our language, but it isn't the English language, it's the language of unconditional love. If you have a special pup in your life, Aug. 26 is the day to celebrate him or her. Our dogs are there for us every single day of the year, so why not spoil them rotten on National Dog Day like they deserve? After all, who else on this planet will love you unconditionally?
1. "A dog is the only thing on earth that loves you more than he loves himself." — Josh Billings
2. "Dogs are not our whole life, but they make our lives whole." — Roger Caras
3. "The world would be a nicer place if everyone had the ability to love as unconditionally as a dog." — M.K. Clinton
4. "Happiness is a warm puppy." — Charles M. Schulz
5. "The better I get to know men, the more I find myself loving dogs." — Charles de Gaulle
6. "Dogs don't rationalize. They don't hold anything against a person. They don't see the outside of a human but the inside of a human." — Cesar Millan
7. "The only creatures that are evolved enough to convey pure love are dogs and infants." — Johnny Depp
8. "Why does watching a dog be a dog fill one with happiness?" — Jonathan Safran Foer
9. "I think dogs are the most amazing creatures; they give unconditional love. For me, they are the role model for being alive." — Gilda Radner
10. "A dog will teach you unconditional love. If you can have that in your life, things won't be too bad." — Robert Wagner
11. "When an 85 pound mammal licks your tears away, then tries to sit on your lap, it's hard to feel sad." — Kristan Higgins
12. "Once you have had a wonderful dog, a life without one, is a life diminished." — Dean Koontz
13. "If a dog will not come to you after having looked you in the face, you should go home and examine your conscience." — Woodrow Wilson
Image: Anita Peeples/Unsplash