7 Olympic Athletes Who Dated Each Other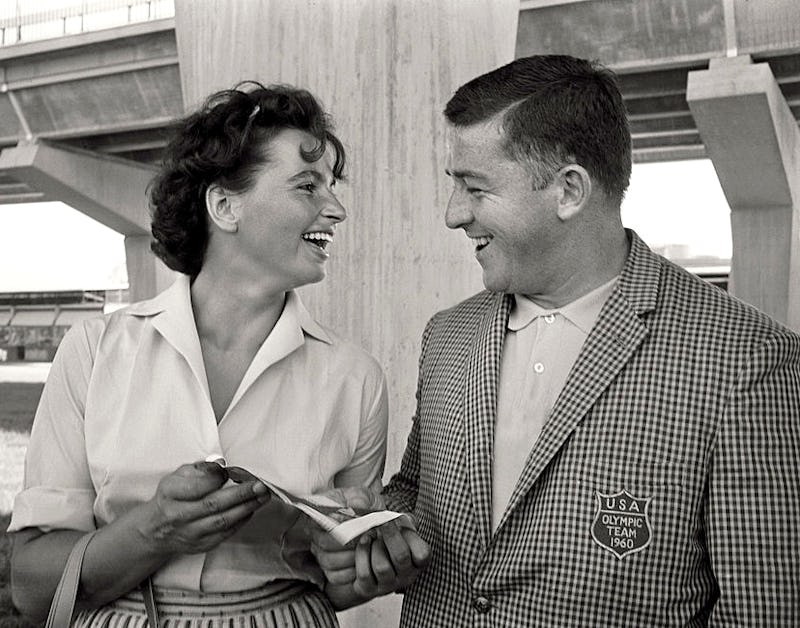 The Olympics owe their popularity to far more than the (admittedly strong) appeal of watching elite athletes do their thing. People just can't get enough of the culture surrounding the events: The opening ceremony, behind-the-scenes Snapchats, and of course, all the Olympians who date each other. Everyone likes romance, but everyone loves romance between ultra-competitive athletes in the best shape of their lives.
Every time the Olympic Games come around, headlines explode with speculations about the athletes' personal lives, usually after pointing out that the cities distribute free condoms in the Olympic Village. (This year's count: Nine million eco-friendly condoms, 450,000 of which will be given out to athletes and staff in the Village.) More than a few athletes have alluded to blowing off steam during the game; prior to the 2012 Olympics in London, swimmer Ryan Lochte told ESPN, "My last Olympics, I had a girlfriend — big mistake. Now I'm single, so London should be really good. I'm excited."
But it's not all stress relief and victory sex. Sometimes, the athletes fall in love with their fellow Olympians and continue to see each other after everyone else goes their separate ways. Here are seven Olympic couples who have dated or gotten married — including the particularly cinematic story of a couple who are currently teammates.
1. Steffi Graf & Andre Agassi
World-famous German tennis player Steffi Graf has won four Olympic medals, including two golds; in 1999, she was awarded the Olympic Order. American tennis pro Andre Agassi is equally well regarded, and he won a gold medal in 1996. The couple married in 2001 and now lives in Las Vegas, Nevada, with their two children.
2. Jamie Anderson & Tyler Nicholson
Although Tyler Nicholson is an up-and-coming Canadian snowboarder who competed in the 2012 Winter Youth Olympics, Jamie Anderson established herself at the 2014 Sochi Olympics, where she won the first gold medal in slopestyle snowboarding. According to the Team USA website, the couple met at a bar in British Columbia and have been dating for more than a year. "I was definitely crushing on him for a while before we started dating," she said.
3. Gary di Silvestri & Angelica Morrone di Silvestri
According to Time, the two oldest athletes at the 2014 games were already married when they attended the Olympics in Sochi. Although they're Italian, they represented Dominica in cross-country skiing at the country's request; they had been awarded citizenship in the country for charitable work several years prior.
4. Laura & Greg Bennett
Like several of the couples on this list, Laura and Greg Bennett competed in the same sport for different countries: They're both triathletes, but Laura is American and Greg is Australian — or was, until he became a U.S. citizen in 2011. The couple met in 2000, and Laura credits her husband's presence as part of her reasons for sticking with the sport. "I am not sure where my life would have taken me had we not met, but I am so grateful every day that we did," she told the Triathlete website.
5. Olga Fikotová & Hal Connolly
During the Cold War, Czech discus thrower Olga Fikotová and American hammer thrower Hal Connolly had a much-publicized romance after the Melbourne Olympics in 1956. Their courtship was applauded and criticized in equal amounts, and the Czech government repeatedly brushed off their application to marry. According to the Washington Post, the couple's wedding in Prague was attended by 30,000 people. The pair divorced in 1974.
6. Helen Richardson-Walsh and Kate Richardson-Walsh
Helen and Kate Richardson-Walsh have a movie-ready love story: The British field hockey players are teammates as well as wives. They married in 2013, telling the Daily Mail that their other teammates have no problem with their relationship. "It's nice that we can laugh about it," Kate told the Mail.
7. Kristi Yamaguchi & Bret Hedican
Bret Hedican is a successful former hockey player, but you're more likely to recognize Kristi Yamaguchi, who famously won gold for figure skating in 1992. The couple met the day after she won her medal, but they didn't start dating until 1995. They married in 2000, and they now have two daughters together.
Image: Wikimedia Commons