Jubilee Might Not Be Single After 'Paradise'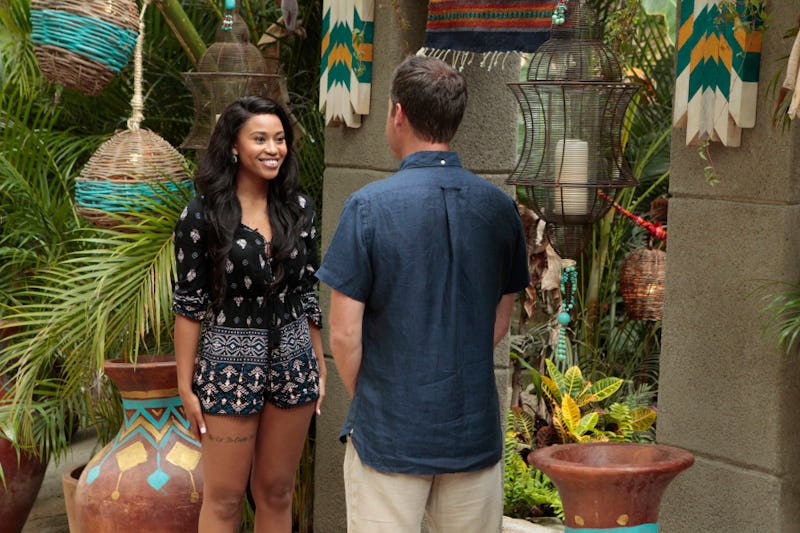 It didn't take long for Bachelor in Paradise introduce some drama with a capital D in just the first episode. Jubilee Sharpe began mending her heartbreak from Ben Higgins' Bachelor season by going on a piñata-filled date with Jared Haibon from Kaitlyn Bristowe's season. Even though she was clearly infatuated with him, he has many an admirer, so is Jubilee single after Bachelor in Paradise ? She hasn't confirmed anything yet, so this is pure speculation and I can only tell you what I've observed on social media. According to Jubilee's Instagram account, it looks like the war veteran is hanging out with a certain guy a lot, but it's not Jared — it's a man named Carl King, a firefighter who was eliminated during the second week of Andi Dorfman's Bachelorette season.
Last week, Jubilee posted an Instagram photo wishing Carl a happy birthday, but ended the caption with, "Even though we kinda suck at sloth hugs and trust falls, I'm still glad we're friends." But they're also friends that hang out a lot, which is cool — or could they be keeping up a friendly front so they don't spoil Bachelor in Paradise like some other couples have been caught doing (you know who I'm talking about). Jubilee also makes many appearances on Carl's IG account as well.
If you're wondering how these two Bachelor Nation cast offs met, well, so am I, but I didn't have to dig too deep to find a possibility. Carl King's Instagram bio includes references to his career (firefighter), modeling agency (Wilhelmina), and Bachelor appearances — which include The Bachelorette and "BiP 3," Yep, you read that right — Carl will be appearing on this season of Bachelor in Paradise at some point, so perhaps he and Jubilee hit it off while they're looking for love in Mexico.
Determine if Jubilee and Carl are a couple for yourself in the social media evidence below.
They Flirt With Fruit
You know, just good friends who make suggestive Instagram GIFs with watermelon. No big deal.
They're Into "Sloth Hugs"
I'm not sure what exactly a "sloth hug" is, but it looks like these two are getting pretty intimate in order to do one. Plus, Jubilee wrote him a whole special post to wish Carl a happy birthday — sounds like he means something to her, even if they're just friends.
He Recorded Her Dancing?
Notice that Jubilee is wearing the same dress in the "Sloth Hug" IG video and this video of her dancing up a storm to Michael Jackson. Could Carl be the one holding the camera for this one? And does that make him her Instagram husband? Hmm.
They Hung Out In Florida
Jubilee and Carl both posted this photo of just some Bachelor Nation alums hanging out in Del Ray, Florida. Lauren Himle, Ryan Beckett, and Vinny are also in the photo.
She Hung Out With Just The Guys
It's unclear where this photo was taken with Ryan, Nick, and Carl, but it is pretty clear that Jubilee's arm is only around Carl. Or it could just be an awkwardly posed photo of friends.
She Leaves Flirty Comments On His Photos
Sometimes it's not the photos themselves that can be evidence of love, but the comments. Jubilee has left cute remarks on his recent photos, perhaps because she can't help herself? Or you know, they're just friends who comment on workout videos with sentiments like, "Don't forget to work out those chicken legs!" and "Geee! SOMEONE is a good photographer!"
So it's hard to determine whether or not Carl and Jubilee are a couple, but it is apparent that a connection was made in Mexico. What kind, though, is something viewers will have to watch for on Bachelor in Paradise.
Images: Rick Rowell/ABC