Nick Viall Does More Than TV Shows For Work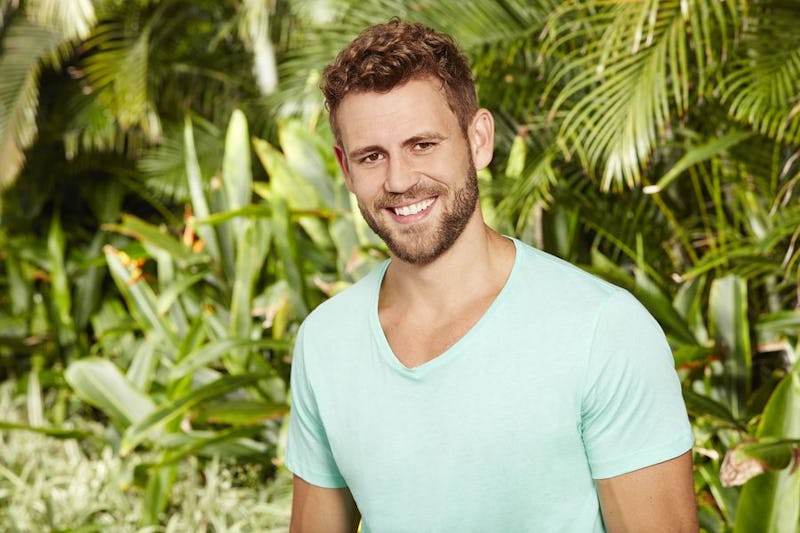 After failing to find ~true love~ on two seasons of The Bachelorette, Nick Viall has come to Bachelor in Paradise to give reality TV dating another chance. It's still too early to tell if he's finally found the one in Mexico — spoilers and rumors aside. But, in addition to attempting to get Bachelor Nation bingo, what is Nick Viall's job? Judging by his Instagram these days, it looks like he's been modeling and he's even been signed to the prominent modeling agency Wilhelmina in Miami.
Nick has also launched a personal website under the domain "liveloudlovehard.com," which contains blog posts about love and relationships as well as interviews and sleek photos of himself that are probably for his modeling portfolio. According to his Wilhelmina profile page, Nick has been modeling formal wear, casual khakis, and showing off his buff bod in shirtless shots, showing off a physique that probably won't let him be single for long. On his Instagram account, Nick has been posting many sexy professional photos of himself in jeans with the hashtag #madeinfidelity, which is the official hashtag of Fidelity Denim, a Los Angeles jean company. He has also been using the hashtag #bluemint while at the beach, which could refer to Bluemint, a brand of men's swimwear. It looks like Nick's new career is already keeping him busy and in tip-top shape.
But this other career in front of the camera seems to be a new development, because even Google hasn't caught up yet. The search engine still auto-answers a query for Nick's job with the word "Businessperson," which was true at one point. Last year, Alice Walker reported on Bustle that Nick was an account executive at a company called Salesforce, which was described as a "company dedicated to helping other businesses grow quickly." There's no record of when exactly he left the business world behind, but it looks like Nick is enjoying his new career.
He's always had the business know-how and now he's got model-worthy good looks, but he just needs to find love on Bachelor in Paradise. Could the third time be a charm for Nick in the Bachelor-verse? Nick has the distinction of being a two-time runner-up on The Bachelorette to both Andi Dorfman and Kaitlyn Bristowe. Always the contestant, never the fiancé, and not chosen as The Bachelor, either. He made reference to this in an Instagram post of a BiP screengrab of him and host Chris Harrison, which he captioned, "The good news is, I don't even think it's technically possible to be the runner up this time."
That's true, but there's still the possibility of getting eliminated and going home with a broken heart, but let's think positively, shall we? The odds of finding love on Bachelor in Paradise are a bit better for him and who knows — they just may be in Nick's favor this time around.
Images: Craig Sjodin/ABC