6 Maid Of Honor Speeches Inspired By Kids Lit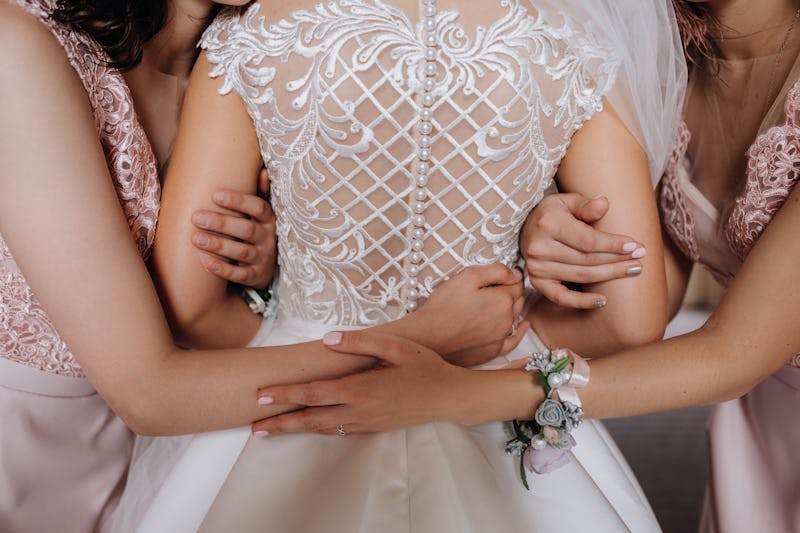 Rahmat Eka Sugiarto / EyeEm/EyeEm/Getty Images
Writing a maid of honor speech is easily the most difficult responsibility of the job. After coordinating the bachelorette party, helping the bride choose the perfect dress, and calming the pre-wedding jitters, the Maid of Honor must give a speech the bride, the groom, and everyone in the audience will always remember.
You want it to mean something to the bride, no matter how long you've known each other. You probably want to make her cry (in a good way, of course), along with the rest of the audience. You want to show her how much you love her, how happy you are for her, and convey all of your emotions in the best possible way. If that isn't a difficult task, I don't know what is.
If you and the bride-to-be are book-lovers, odds are you've bonded over quite a few books in the time you've known each other. Maybe you met when you were kids and swapped favorite picture books, or maybe it wasn't until you were teenagers that you started bonding over literary titles. Either way, there are so many great quotes and sections in books to pull from while writing a heartfelt speech, and I can promise it'll help inspire you if you feel stuck. Here are six excellent excerpts from children's books to use in your Maid of Honor speech:
1. "But ultimately there comes a moment when a decision must be made. Ultimately two people who love each other must ask themselves how much they hope for as their love grows and deepens, and how much risk they are willing to take…It is indeed a fearful gamble…Because it is the nature of love to create, a marriage itself is something which has to be created, so that, together we become a new creature.To marry is the biggest risk in human relations that a person can take…If we commit ourselves to one person for life, this is not, as many people think, a rejection of freedom; rather it demands the courage to move into all the risks of freedom, and the risk of love which is permanent; into that love which is not possession, but participation…It takes a lifetime to learn another person…When love is not possession, but participation, then it is part of that co-creation which is our human calling, and which implies such risk that it is often rejected."
— Madeline L'Engle, The Irrational Season
2. "I like you becauseIf you find two four-leaf cloversYou give me oneIf I find fourI give you twoIf we only find threeWe keep on looking.… I like you because if I am mad at youThen you are mad at me tooIt's awful when the other person isn'tThey are so nice and hoo-hoo you couldjust about punch them in the nose.… I would go on choosing youAnd you wouldgo on choosing meOver and over again."
— Sandol Stoddard, I Like You
3. "There are no happy endings. Endings are sad, so let's have a happy beginning and a happy middle."
— Shel Silverstein, A Light in the Attic
4. "Piglet sidled up to Pooh from behind. "Pooh?" he whispered. "Yes, Piglet?" "Nothing," said Piglet, taking Pooh's hand. "I just wanted to be sure of you." "We'll be Friends Forever, won't we, Pooh?" asked Piglet. "Even longer," Pooh answered. "If ever there is tomorrow when we're not together… there is something you must always remember. You are braver than you believe, stronger than you seem, and smarter than you think. But the most important thing is, even if we're apart… I'll always be with you."
— A.A. Milne, Winnie-the-Pooh
5. "One of the strange things about living in the world is that it is only now and then one is quite sure one is going to live forever and ever and ever. One knows it sometimes when one gets up at the tender solemn dawn-time and goes out and stands alone and throws one's head far back and looks up and up and watches the pale sky slowly changing and flushing and marvelous unknown things happening until the East almost makes one cry out and one's heart stands still at the strange unchanging majesty of the rising of the sun—which has been happening every morning for thousands and thousands of years. One knows it then for a moment or so. And one knows it sometimes when one stands by oneself in a wood at sunset and the mysterious deep gold stillness slanting though and under the branches seems to be saying slowly again and again something one cannot quite hear, however much one tries. The sometimes the immense quiet of the dark blue at night with millions of stars waiting and watching makes one sure; and sometimes a sound of far-off music makes it true; and sometimes a look in someone's eye."
— Frances Hodgson Burnett, The Secret Garden
6. "Pairs of things that go together.Pigeons with parkStars with darkSand with seaand you with me.… Hats with headsPillows with bedsSky with blueand me with you."
— Charlotte Zolotow, Some Things Go Together
Images: Rahmat Eka Sugiarto / EyeEm/EyeEm/Getty Images; Giphy (7)