Who's The Man In The BMW Paralympics Commercial?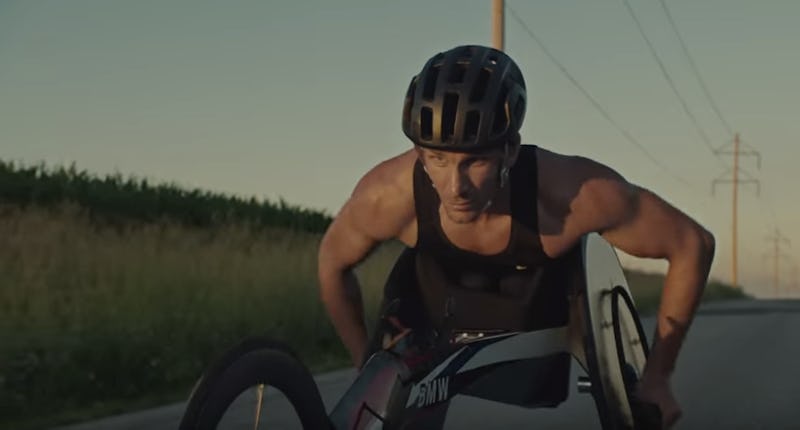 I feel like there's kind of an unwritten rule that I'll cry to any commercial that comes out about the Olympics. But my favorite one is unexpected — or not, given my aforementioned sensitivity. The man in the BMW Paralympics commercial, which promotes BMW's Performance Wheelchair, is the kind of hero that I aspire to be. The official name for the ad is "Built For Gold," and the clip is simple. A man skims down the road in the chair, focused on the horizon, and it's only as the voiceover encourages us to reevaluate how we think about athletes that you realize that this man doesn't have the use of his legs.
This chair was built for breaking things; a tool designed by the world's best engineers to dismantle, destroy, and dominate. Driven by a will of steel and destined to chase gold. This chair was built for breaking things, to reimagine, rethink, and redefine what it means to be an athlete. And once every limit has been passed, every expectation smashed, and every record broken, together... we will have built something great.
So who is the man in the commercial? His name is Josh George, and he's a four-time United States Paralympian, as a brief caption informs us. But that's barely scratching the surface of this man and what he's achieved. After falling out of a 12-story window at age 4, George wasn't expected to even survive, let alone thrive. Though his legs no longer function as a result of the accident, the rest of his body was miraculously undamaged, and he retained full use of his upper body, arms, vital organs, and brain.
From there, he was off. He couldn't stay away from sports, playing in Baltimore wheelchair leagues for "basketball, track, field, archery, table tennis and swimming." But racing in particular stood out, and that's where he's really made his mark on, well, the world. Not content to excel in just one category, George competed in seven Para Track and Field events at the Paralympic Games in 2004, where he won two Bronze medals, for the 100m and the 400m and hasn't slowed down since. At the 2008 Games, he won his first Gold, in the 100m, as well as a Silver in the 800m, and he medaled again in 2012, with a Bronze in the 800m.
In case you weren't keeping track, he's medaled in three different events over the course of 12 years, and he's about to make it 16 at this year's Paralympics, also in Rio de Janeiro. Plus, Josh George has won the Chicago Marathon wheelchair race three times, and holds the American record at seven distances — 100m, 200m, 400m, 800m, 1500m, 5000m and marathon. You really can't ask for a wider range of ability than this guy.
He seems like the perfect choice to collaborate with BMW in this commercial. Knowing all he's achieved in his 32 years on the planet, I can't watch the commercial without breaking out in goosebumps.
Image: BMW USA/YouTube