10 Places To Stay For National Book Lovers Day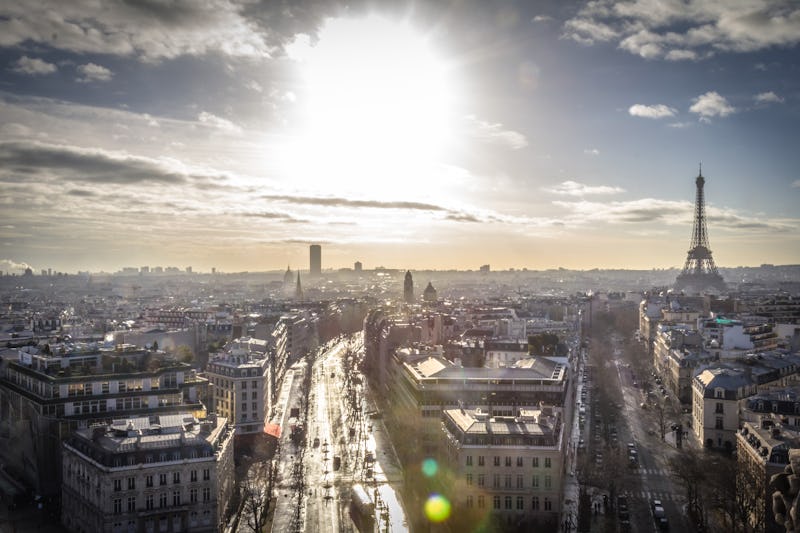 There are plenty of ways to celebrate National Book Lovers Day this year, including treating yourself to a book-themed vacation you'll never forget. With the help of Home To Go and their endless options for vacation rentals around the world, get ready for the best literary trip of your life. From classics like Jane Austen's Sense and Sensibility to favorite young adult novels like The Sisterhood of the Traveling Pants, these rentals are for the book nerds who love to spend their vacations enjoying a good book and exploring a new city.
As a book lover, you have a lot to cross off of your bucket list — from meeting your favorite author's in-person, sipping on a latte where a great writer wrote a magnificent novel, and visiting the homes of the most beloved literary geniuses of all time. Another thing to add to your bucket list, especially on this extraordinary and nationally recognized holiday, is to plan a vacation that'll make you feel like you're living in a novel.
Depending on whether you're a city gal and have always dreamed of partying Gatsby style in downtown Manhattan, or if you'd prefer to snuggle up with a book in the countryside or on the beach, there's a little bit of something for every book lover with these 10 literary vacation rentals calling your name:
1. A Movable Feast by Ernest Hemingway — Apartment Lapeyrère in Paris, France
For all of the Hemingway fans out there, book a trip to the most romantic city in the world and relive Ernest Hemingway's Paris years in this quintessential downtown Parisian apartment for $122 a night. From this spot, you can stroll to some of the author's favorite cafes, bookstores, and even his old apartment!
2. The Sisterhood of the Traveling Pants by Ann Brashares — House Megalochori in Sardinia, Greece
Think back to when Lena Kaligaris first saw the beautiful country of Greece — the blue and white homes painted along the ocean — and remember how badly you wished you were in her shoes. Now you can! Enjoy Santorini, maybe get to know a cute Grecian or two, and stay in this three room Grecian villa, which can hold four people and be rented for $237 a night.
3. A Song of Ice and Fire series by George R. R. Martin — Apartment Dubrovnik Orašac in Dubrovnik, Croatia
George R. R. Martin's fantasy world of Westeros is full of many exotic and beautiful places, including Dorne. Feel like you're on the coast of Westeros indulging in some gorgeous ocean views, swimming in a beautiful pool, and getting to skip all the violence in the books during your relaxing stay in this dramatic Dubrovnik apartment, which can be rented for as low as $67 a night!
4. The Great Gatsby by F. Scott Fitzgerald — Apartment Essex House in New York City, New York
Living like Jay Gatsby and his party crew isn't cheap, but at $2,173 a night, you can host your best Gatsby party right next to Central Park. With this luxury apartment, and your best copy of The Great Gatsby, you can celebrate your love for literature and the roaring 20s in the city that never sleeps.
5. Harry Potter by J.K. Rowling — The Red House in London, England
With Harry Potter and the Cursed Child finally released, your Harry Potter feels are most likely at an all time high and you might be considering a HP themed trip sometime soon. If that's the case, the London's Red House rental is for you because it's situated in central London, $290 a night, and is super close to the Warner Brothers Studio tour and Kings Cross railway station (because you know you're dying to take a Hogwarts Express picture).
6. The Dubliners by James Joyce — Apartment Baggot Rath in Dublin, Ireland
Explore the gorgeous city of Dublin and bring along your favorite James Joyce novels while you get cozy in this lovely apartment for $152 a night. When you need a break from reading, check out the James Joyce Centre downtown and drink a few glasses of Guinness while you're at it.
7. Don Quixote by Miguel de Cervantes — Apartment "Salomón rojo" in Madrid, Spain
For $81 a night, you can enjoy one of Spain's more beautiful cities, and get in touch with the beloved story of Don Quixote. During your stay in Madrid, make sure to to check out the Church and Convent, where author Miguel de Cervantes' tomb was recently discovered, and the Plaza de España to see the statue of Don Quixote and his squire Sancho Panza.
8. Sense and Sensibility by Jane Austen — House Ashford in Kent, England
This quaint house in the countryside of Sussex, England, is for the hopeless romantic and Jane Austen fan. For $84 a night, this farm-style rental will provide you with lovely views, serene evenings, and sunny mornings. Explore the area where the Dashwood Sisters experienced love, romance, and heartbreak in Jane Austen's novel, Sense and Sensibility.
You know you've always dreamed of taking a breathtaking vacation to Rome, Italy, so stop denying yourself and take the leap this National Book Lovers Day! When you need to take a break from saving Rome and the Vatican from the illuminati, and all the pasta you'll be eating, spend your evenings in this historic three bedroom penthouse for only $116 a night.
10. Dracula by Bram Stoke — Apartment Budapest in Budapest, Hungary
For $70 a night, you can stay close to one of the world's most famous vampires. This historic Budapest apartment is footsteps away from the Labyrinth of Buda Castle, which gave home and prison to Count Dracula. So if you're in search of an unique, gothic, and memorable vacation — look no further!
Images: Rob Potvin/Unsplash; Interhome