Lace & Grant Took Things To The Next 'BIP' Level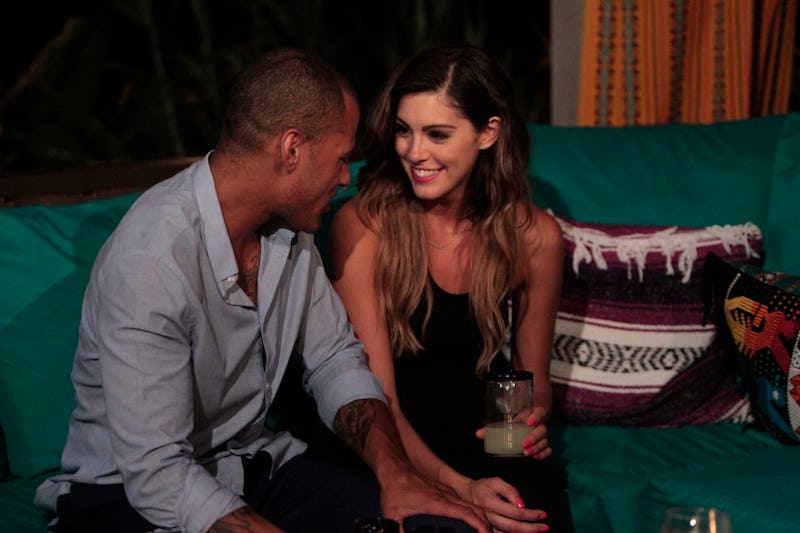 Bachelor In Paradise is so much more interesting than the other shows in its franchise because damn, is the timeline for relationships sped up or what? All of these people met like, two days ago, and people are already getting hot and heavy. And who are those people? Well, to start, those people are Lace and Grant who may have hooked up on Bachelor In Paradise.
Lace started things off in Paradise with Chad, and, well, we all know how that ended — Chad got aggressive, called Chris Harrison names, and was swiftly kicked off the show. Lace pouted for a day or two, sulkily taking shots and talking to Jorge about her problems. But then she and Grant had a conversation in which they expressed more of their interest in each other, the drinks kept flowing, and they definitely took it to the bedroom. How do I know? Because ABC pulled a Kaitlyn Bristowe Bachelorette moment and played audio of Lace moaning and secret camera footage of the two rolling around in bed together. They thought they had covered up all of the cameras in the room, but nope — Lace and Grant, you seem to have missed one. Whoops.
Sometimes, the feeling just takes over — you gotta do what you gotta do. I can't fault Lace and Grant for seeing where their physical attraction went. They both agreed to dial it back a little bit, too, so I think there are feelings there in addition to the sexual attraction. Will they go the distance? We'll have to tune in to find out, but I hope their future hook ups are kept off the screen. TV show or not, they deserve some privacy, you know?
Images: Rick Rowell/ABC