Nick & Josh Are Fighting Over A Woman Again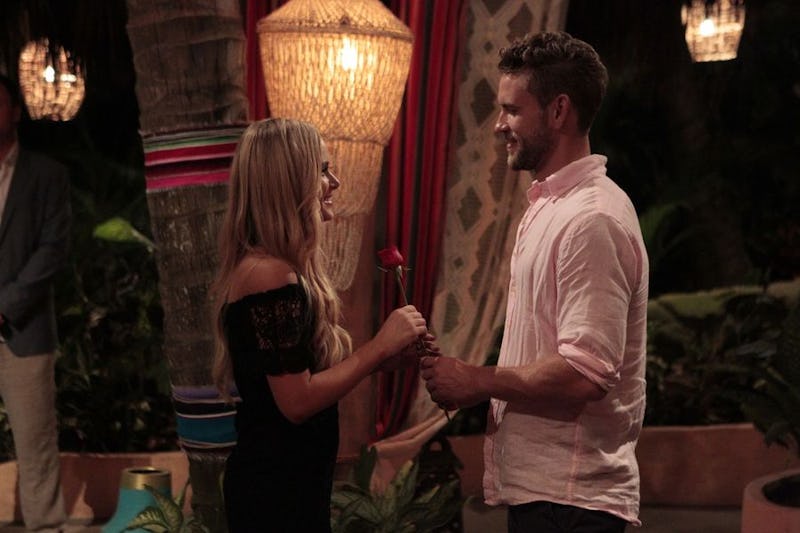 One of my favorite things about Bachelor in Paradise is the fact that the cast is always changing, so it's really hard to ever get bored of the show. As some cast members leave after rose ceremonies, others are welcomed in, and on Monday night's episode, that meant that a former Bachelorette winner has entered paradise. Josh Murray is back, folks — and somebody isn't too thrilled about it. After competing for Andi Dorfman's heart two years ago, Josh and Nick came face to face again on Bachelor in Paradise , and unsurprisingly enough, they're already fighting over another woman. Typical much?! But, the thing is, Amanda gets to choose for herself on Paradise, and they honestly need to give her room to do that instead of fighting with each other.
It didn't take long for Josh to zero in on Amanda, whether or not he realized that she and Nick have been hanging out since they first landed in Paradise. And it was especially awkward since Nick just sat nearby, silently sipping his coffee. And then of course, after proclaiming in an interview that he's not worried about competing with Nick over a woman again, Josh gave his date card to her, and it very clearly pissed Nick off.
It's hard to say if Josh is trying to date Amanda to get to Nick or if he's genuinely interested in her, but honestly, their little competition shouldn't even matter. Amanda can make her own decisions, and people can't be "stolen" from other people. If she likes Josh better, that's who she should be with; if she's really that into Nick, he's who she'll choose. There's no need for them to be mad at each other over this; it's totally Amanda's call to make.
But, regardless of what happens, it's going to be a very dramatic season as long as Nick and Josh are on the same island. Not good for them, but awesome for us. You can't deny it's going to make BiP even more interesting!
Image: Rick Rowell/ABC