The 2016 MTV VMAs Just Got Much More Exciting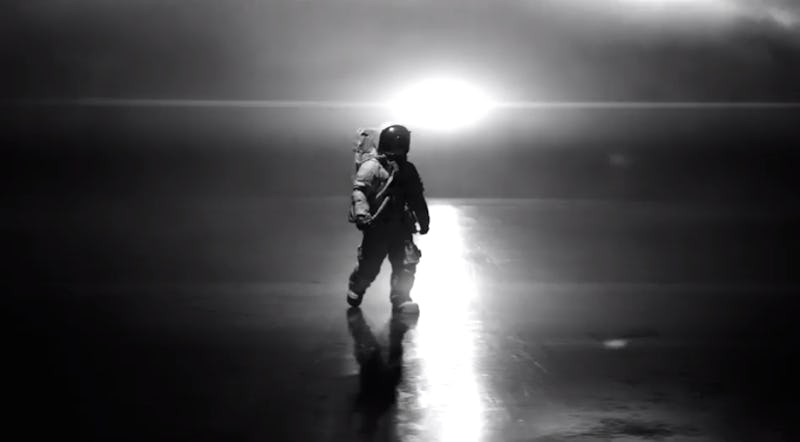 The wait is almost over for this year's MTV Video Music Awards. To make things even more exciting, for the first time ever, the ceremony is being held at Madison Square Garden, promising an extra special night of performances by award winners and nominees. Will Kanye West and Kim Kardashian cause some chaos? Will Beyoncé win all of the awards? Will Calvin Harris give a shout out to Taylor Swift? On Tuesday, the first promo for the MTV VMAs 2016 was finally released, and it teases a campaign that makes it clear that the actual ceremony won't be the only thing about the VMAs to watch.
The promo is called "Canvas" and features an astronaut entering Madison Square Garden and taking the stage under the lights. The astronaut is a clear indicator that we should expect the unexpected, as the VMAs are going where they never have before. "Canvas" is only the tiniest glimpse of what's to come, since it's the first of many promo videos which will be released ahead of the ceremony in the coming weeks. But there's going to be something unique about the videos to come.
"Canvas" is in black and white, to illustrate that Madison Square Garden is a blank canvas on which all of our favorite artists and performers will leave their mark. It's directed by Anthony Mandler, a prolific music video director who's worked with the likes of Rihanna, Taylor Swift, Drake, and Beyoncé. But, most importantly, the promo marks the start of a series of collaborations that MTV will commission in the run up to the VMAs.
According to a press release from MTV, performers at the VMAs will get to "select a signature Pantone color and message, and MTV will commission a visual artist or filmmaker to bring their words and vision to life." This sounds like a great way to capture the personalities of all of our favorite singers and performers, as well as a unique way to promote the MTV Video Music Awards. Could we soon be seeing a Miley Cyrus-inspired short film? A Rihanna-inspired short film? A Kanye West-inspired short film? (Although, to be fair, his music videos are all starting to turn into short films in length and content.) No matter who is selected as a performer for the ceremony, seeing their messages turned into a visual piece will be really fascinating.
When these promos are combined, it'll basically create a rainbow featuring some of the world's most impressive musicians. As MTV says, the aim is to produce "a campaign that's highly personal, artist driven, and reflective of this year's main show look and feel." Talk about making your mark. The show is guaranteed to be impressive no matter what, but if this first promo is anything to go by, that's not all that viewers have to look forward to this month.
Images: MTV