Zayn Delivers An A+ Performance In "Cruel"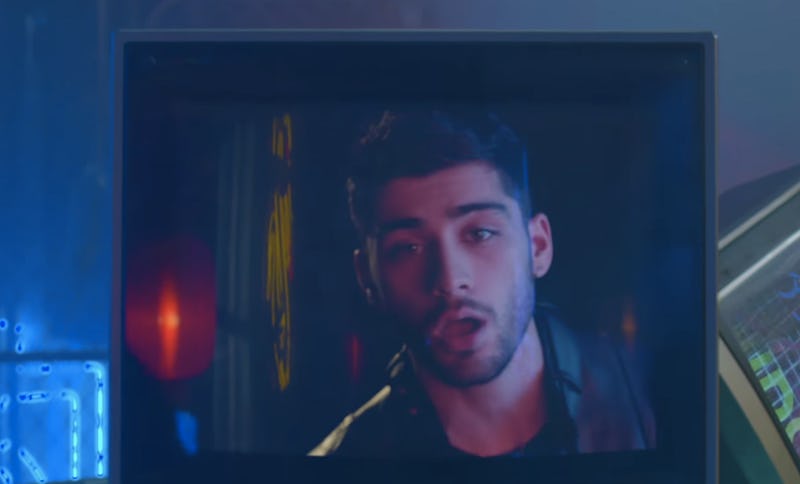 Zayn Malik continues to surprise me, and his latest release, a collaboration with British production duo Snakehips, is no exception. Zayn's "Cruel" lyrics seem to reveal a lot about the singer, hinting at his public struggles with anxiety, and the accompanying "Cruel" music video is just beautiful. Set in a futuristic world, the singer is everywhere — on old fashioned TV sets, in luminescent apartments watching multiple screens at once, and wearing the most perfect leather jacket you can imagine. The video shows the former 1D singer in a new light, and proves that Zayn should become an actor. I'm serious. Not only is he a natural storyteller through the medium of music, but he's already using his music videos to create scenes and construct narratives. Plus, he's totally hot.
The music video for "Cruel" plays on the song's 90s vibe, giving us a set that's filled with multi-colored DayGlo lighting, and retro props like old computer monitors and analogue televisions. Reminiscent of Nicolas Winding Refn movies, such as The Neon Demon and Drive, this video is impressive considering Zayn used to be in One Direction, who were known for their often light and poppy songs. There's a real darkness to his new work, and a noticeable change in his demeanor. "Cruel" is proof that Malik is multi-talented, and capable of so much more than a music career. Clearly, the musician has a bright future ahead of him, and I would love to see him pursue acting.
"Cruel" isn't the first music video featuring Zayn that hints at him having a future career as an actor. The video for "BeFoUr," taken from the singer's album Mind of Mine, looks and feels just like a short film, telling the story of a day in his life, filmed around Manchester, U.K. Compared to much of Zayn's previous work, especially while in One Direction, "BeFoUr" attempts to show the singer as a regular guy, hanging out with his friends. He's not a superstar, and there's nothing glossy about the music video. It feels like a real attempt to portray Zayn in a serious light, as well as show the singer's penchant for drama. Although Zayn didn't direct the video, it certainly takes the singer in a new direction, and proves that he interacts well with extras on film.
The singer's "Pillowtalk" video is infamous as it stars his on-and-off-again girlfriend Gigi Hadid, alongside impressive visual effects, including a kaleidoscopic shot Zayn. Clearly, the former boy band member is incredibly conscious of his image, and the brand he is building around his new music. While there's less narrative in "Pillowtalk" than in "BeFoUr," Zayn seems to use the video as an opportunity to reestablish who he is, severing his boy band ties, and reemerging as someone bolder and more confident who can more than hold his own on screen. He's extremely photogenic, and isn't afraid to stop singing and partake in narrative moments in his videos, which feels like a step towards becoming an actor.
Since leaving One Direction, Zayn's solo career has taken off and, increasingly, he's been given more and more respect from critics and fans. A move into film wouldn't be a total surprise at this point, particularly since his friend, and former 1D band mate, Harry Styles is about to star in Dunkirk . Hopefully, it won't be long until we see Zayn on the big screen too.
Images: SnakehipsVEVO/YouTube