Evan Has A Lot To Say About His 'BiP' Date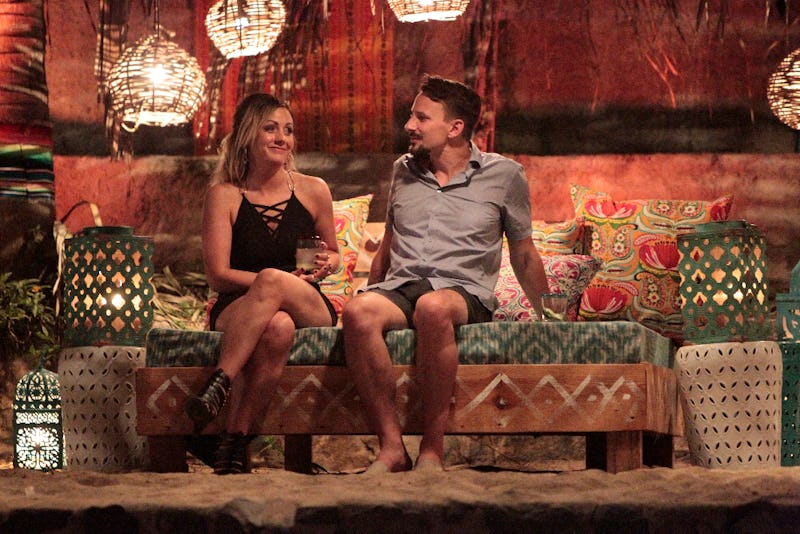 There is literally nothing better than Season 3 of Bachelor in Paradise . Last night Bachelor Nation sat through one of the most cringeworthy, yet entertaining dates of all time. Yes, I'm talking about Evan Bass and Carly Waddell's Bachelor in Paradise date — not to mention the kiss leading up to that date which may have even been worse than the date itself. I went straight to social media afterwards, and Evan had a lot to say on Twitter about Bachelor in Paradise , while Carly was not surprisingly more silent on the awkward interaction.
In case you missed it, Carly and Evan had their first kiss under the stars in Mexico. Evan left feeling awesome about it and told the camera how great everything was, but then they cut to Carly who said it was an awful kiss. The next day Carly was hiding from Evan after their kiss, but Evan got a date card and asked her to go with him. She said yes, but then told the camera how she'd never not wanted to go on a date this badly. The date was also very uncomfortable. They were greeted by lots of people where they attempted to break the world record for longest kiss after eating a habanero pepper. The worst moment of the episode? That spit string that lingered after the kiss. After, they both went and vomited. It may have been the least romantic date in Bachelor history.
Here's what Evan had to say about it all on social media.
About His "Edit"
Yes, he was portrayed to seem like he was oblivious and awkward AF, but he's more focused on other things, like that world record he now holds. Way to be an optimist Evan.
This Blunt Truth
Right before this tweet, Evan also had a tweet that read "Screw you Carly.." It was deleted at some point in the night, but not before Bustle editor Martha Sorren saw it and embedded it in an article. Once you tweet something, it never goes away, Evan.
This Self-Deprecating Statement
Can you really blame him for not wanting to see himself go through that? It's pretty traumatic.
He Agrees With Everyone
I'm a little skeptical about him being SO blind to what was happening… but at least he was on the same page as us.
He's Owning The Awkward
Good for you, Evan. It's actually not super hard to be awkward on TV, most people are, but you do it the best.
Carly's Thoughts
I'm not quite sure which comment she made that she laughed at, but it was probably something harsh considering Evan responded, "Oh, it made me cry.. On TV.. Per usual.."
I should also note that Carly had lots of thoughts on the Nick/Josh situation and responded to Sarah Herron, but didn't bring up how she felt about the Evan/Carly situation, nor did she respond to any tweet Evan tagged her in.
Let the awkwardness continue.
Images: Rick Rowell/ABC