Phoebe Buffay Really Changed During 'Friends'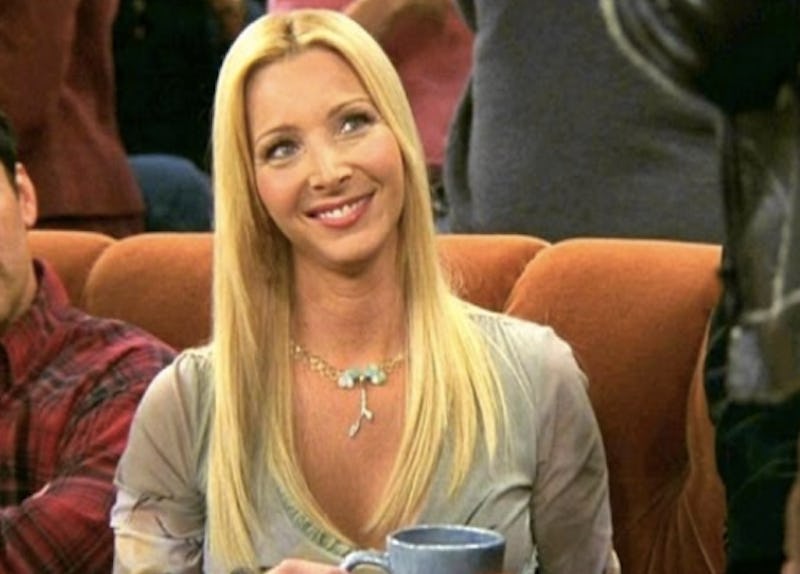 Even though Friends ended way back in 2004, it continues to be super popular and endlessly watchable. The show had such an incredible cast, so most of us grew up wanting to be exactly like Rachel, Ross, and the rest of the perfect group. Lisa Kudrow was one of my personal favorites because, as Phoebe Buffay on Friends , she was never boring, and her musical offerings were unforgettable. It was impossible to predict what Phoebe might do next, and, with a complicated back story, and strange family history, it felt as though the character had lived several lives before this one. So, in what ways did Phoebe change in Friends , between the pilot episode and the finale?
From the beginning of the show, Phoebe could always be described as kooky and completely original. But as the series progressed, her character developed, making her more lovable, and much more relatable. When the show ended in Season 10, the audience had watched Phoebe find love, lose love, and eventually find her place in the world. She became a much happier, and more grounded, person, and, when she met her future husband Mike, played by the gorgeous Paul Rudd, the whole world was rooting for the pair to end up together. By the finale, our girl was so different.
1. She Developed Her Own Brand Of Quirky Wisdom
Phoebe might have started out as an extremely strange member of the friendship group, often seemingly in a world of her own, but, as the show developed, so did her character. She had her own brand of wisdom that actually made a lot of sense, and she'd enjoy surprising others with her philosophical offerings and deep observations.
2. She Embraced Her Sexuality
Over its 10 seasons, all of the characters in Friends became more sexual. But Phoebe in particular wasn't afraid to embrace her sexuality, and she genuinely loved her body. This positivity was an attribute that grew as the series went on, as did her confidence with men.
3. She Owned Her Past
Out of all of the characters, Phoebe had the most distressing past by far. Though played for comedy, some truly devastating things had happened to her over the years, and she often revealed then at the most unexpected moments. From losing her mother at a young age to being separated from her twin sister, Phoebe had dealt with some heavy stuff. Instead of shying away from her upbringing, Phoebe used it to inform her present, often drawing comparisons with present day scenarios. She completely owned who she was, the good and the bad, and she never shied away from it.
4. She Learned To Believe In Love
While Phoebe wasn't the focus of most of the love stories, her character had a few important love interests over the 10 seasons of Friends. Importantly, her character gradually seemed to start believing in love, going from being a solitary person to having faith that there was a person out there for her — especially when she met Paul Rudd's Mike.
5. She Had Her Heart Broken
Everyone knows that a break-up informs almost everything in a person's life, and this is especially true for Phoebe Buffay when it comes to her boyfriend David who moved to Minsk in Season 1. The audience went through heartbreak with Phoebe, and saw her come out the other side a stronger person.
6. She Proved That You Can Overcome Anything
A weaker person may have given up faced with some of the hardships Phoebe faced, but she never did. Always an upbeat character, Phoebe had the best poker face and was always there for her friends.
7. We Watched Her Music Develop
From pop versions of "Smelly Cat" to children's nursery rhymes, Phoebe Buffay had a talent for music like no other. Watching her musical abilities develop in their own way was a total joy, and became a real focal point of the show.
8. She Taught Us That It's OK Not To Have A Plan
Phoebe changed career several times throughout the show, and showed that nothing is set in stone. She was always resilient, regardless of the circumstances. From being a taxi driver to a busker to a masseuse, Phoebe tried out new jobs, and didn't let her lack of a set career discourage her for long.
9. Her Style Only Got Better
Phoebe's style was always great, but it only got quirkier and more daring as Friends continued, and watching her style evolution was never boring. Phoebe Buffay was #stylegoals time and time again.
10. She Gave Birth
Phoebe didn't just give birth; she gave birth to triplets in Season 5. To top it off, she was a surrogate, and had to give the babies away after giving birth to them. For a character often portrayed as vapid, this was no mean feat, and show's an incredible strength of character. It's hard to imagine the Phoebe from the pilot episode volunteering to do this, and shows how much the character developed in a short space of time.
11. She Followed Her Passions
Phoebe couldn't be swayed by critics, and her steadfastness only got stronger the older she got. If she wanted to take up a new hobby, nothing could stop her, and that should be an inspiration to us all.
12. She Coined One Of The Most Important Phrases In The History Of Friends
OK, so the writers were most likely responsible for this one, but Phoebe was the friend who got to say the all-important line about lobsters. It's particularly pertinent because it marks a huge paradigm shift for the character, and takes Phoebe from a person sometimes portrayed as not very smart to the most insightful member of the group. The lobster phrase is now infamous, and that's thanks to Phoebe.
Phoebe continues to be a huge inspiration to me, and Lisa Kudrow deserves some thanks for that. Phoebe Buffay came a long way from the pilot of Friends, and it was a super fun journey.
Images: Warner Bros. Television; Giphy