'ACS' Season 2 Is Actually Similar To Season 1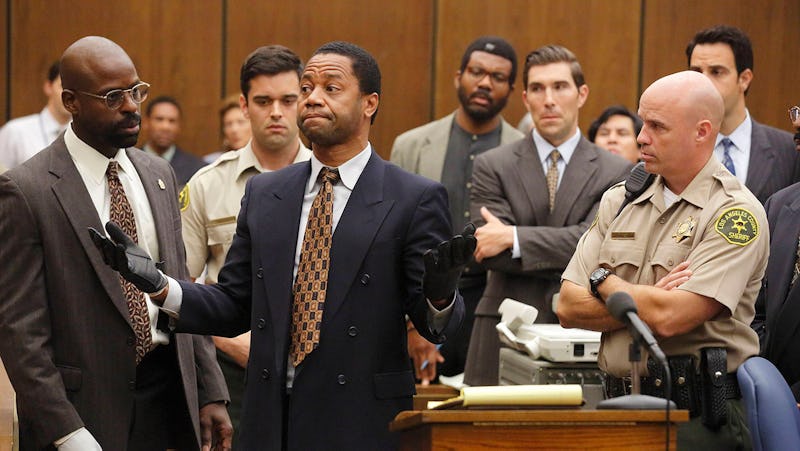 Though they've been keeping pretty quiet about the specific details, American Crime Story producers finally gave us some info on the much anticipated The People v. O.J. Simpson follow up. As we already know, the sophomore season will focus on Hurricane Katrina and its devastating aftermath. Executive producer Brad Simpson told the crowd at the Television Critics Association's summer press tour that he wasn't there to deliver any "big news," but he did reveal something important regarding the similarities between Season 1 and Season 2 of American Crime Story.
Sure, Simpson described Season 2 as "tonally and thematically incredibly differently" but he also said this,
"It'll be about the intensity of what it was like to be on the ground in that pressure cooker, but also thematically, the bigger crime — that Katrina was something that was predictable, that we weren't prepared for, but we knew was going to happen Like 'O.J.,' it turns a lens back on America and shows some uncomfortable truths about it."
There you have it. The thing that connects Seasons 1 and 2 of American Crime Story: The "uncomfortable truths" about American society that at the time, we weren't ready to look at.
The 2005 natural disaster left at least 1,245 people dead in the storm and flooding that followed. It was the costliest natural disaster in U.S. history. It was also the seventh-deadliest. Like the inaugural season of American Crime Story , the second season will focus on the social ramifications of this massively influential event, and we better believe that, like Season 1, it will have a lot of questions. If, according to Simpson, Katrina "was something predictable we weren't prepared for, even though we knew it was going to happen," why weren't we prepared? And what did our society's response to the disaster say about us? They're painful ideas to think about, but, if O.J. V. The People's any indication, the show will have no problem opening up a discourse.
Season 2 will do it's best to remain faithful to the events of the disaster, and that includes the addition of major political players in the series. When asked about who will or won't be fictionalized Simpson said: "Yes, you'll have the famous people, and also people who weren't famous during Katrina," which I think we can take to mean "all the important people will be there."
The producer declined to confirm whether any of the cast of Season 1 will be back — including the big ones like Sarah Paulson, John Travolta, Cuba Gooding, Jr. or David Schwimmer. Paulson has openly expressed interest, telling Deadline "The Katrina story, to me, is a literal American crime. It says something about a uniquely American attitude, and I find it incredibly potent." Here's to hoping her appearance will be yet another thing that connects both seasons.
The second installment in the anthology series is scheduled to premiere in February 2017.
Images: FX; Giphy