You Gotta Catch These Pokemon Shaped Bookmarks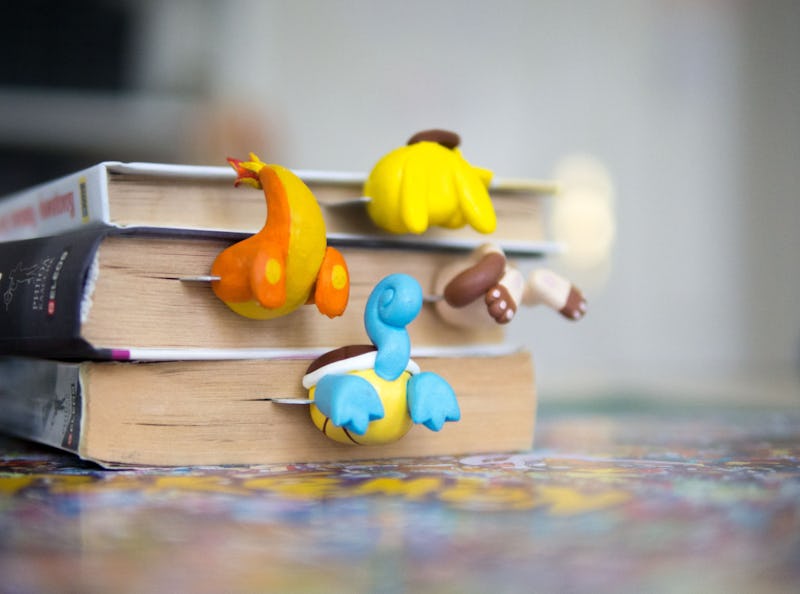 Stop the press: there is a new way to catch Pokemon, and you're going to want to hear about it. You don't need an app, or a fully-charged smartphone; all you need is a book — and a Pokemon butt-shaped bookmark. With one of these super-cute clay figurines sticking out of the pages of your book, it'll look to all the world like you snapped up Pikachu with your bare hands.
The bookmarks are created by Ukranian artist Olena Mysnyk, who is currently taking pre-orders in her Etsy bookmark shop. Mysnyk already stole our hearts last year with her leg-shaped bookmarks, which featured Wizard of Oz-inspired witchy legs, hairy hobbit toes for your J.R.R. Tolkein tome, and sexy stockings to stick out of your favorite steamy romance novel. The Pokemon bookmarks will start shipping mid-August, so if you want to catch 'em all, you better get those orders in pronto.
Not only are the bookmarks themselves completely adorable, Mysnyk has also given them punny names to make them even more irresistible. Pikachu becomes Bookachu, Charmander becomes Charmarker, and Eevee has now been appropriately re-christened Nerdevee. There are currently five Pokemon available, and I fully intend to order all of them.
As the 'Pokemon Go' madness continues to soar, catching Pokemon in your phone means battling through slightly scary crowds of like-minded Pokemon fans who have a tendency to start stampeding when they get excited. If you're more of the stay-at-home type, these Pokemon themed bookmarks are just what you've been waiting for. Catching Pokemon while curled up at home with a good book? That sounds more like my kind of game.
Images: MyBookmark/Etsy