What Your Fave '90s Store Says About You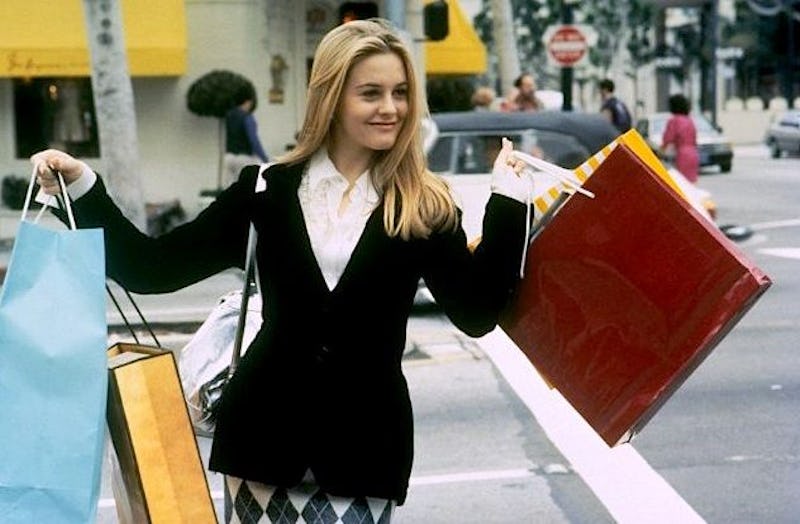 Before one could buy via Instagram and Snapchat, or even hit a convenient "add to cart" button, there was shopping at the mall. Remember the thrill of going to Contempo Casuals and not knowing what Cher Horowitz-approved ensemble you would walk out with? Decades ago, it was all about brick-and-mortar shopping. Let's take a trip down memory lane and see what your favorite '90s store says about you.
Limited Too defined my youth on the retail front. It was there that my sartorial journey first began — how could I ever forget those capri pants and bucket hats? And while I unfortunately was never exposed to the beauty of the dElia*s catalog, I'm sure it was a mainstay for other '90s gals out there. I'm sorry, but online shopping will never replace the adrenaline rush one gets from circling items in catalogs — think of it as an early form of "favoriting" products on the Internet today.
It is fascinating to see the drastic transformation some '90s retailers underwent in order to make the modern jump. Whether or not these stores have survived to this day, there's no harm in revisiting your old '90s shopping mall haunts.
1. Limited Too
If your favorite '90s store was Limited Too, congratulations — you were the epitome of the classic American girl. This was where sparkly tankinis and "Princess" logo tees were born, inflatable furniture was coveted, glittery Caboodles acquired, and wallets went to die.
You religiously tuned into Friends and had a poster of Leonardo DiCaprio somewhere in your room. And not only did Limited Too supply your trusty denim overalls, but every aspect of life: wardrobe, home decor, jewelry, music, all the works.
2. Claire's
If your favorite '90s store was Claire's, accessories are your weakness. This was most likely where you begged Mom for an ear piercing, to no avail. You frequented Claire's to replenish your jewelry needs, whether that be a BFF friendship necklace or butterfly hair clip. Most of the time, you would pick up a tube a roll-on glitter because, well, why not? You're also quite skilled in the art of untangling jewelry, so basically you're a superhero.
3. dElia*s
If your favorite '90s store was dElia*s, you were the unspoken trendsetter and style icon of the middle/high school realm. Your fashion bible didn't come in the form of Vogue just yet — instead, the dElia*s catalogs fueled your penchant for spaghetti strap dresses and platform sandals. You most likely owned a Pan Am messenger bag, eons ahead of your backpack-toting classmates. Track pants and polos were your lazy Monday morning uniform.
Your friends turned to you for not just sartorial advice ("Should I buy this chevron maxi skirt?"), but for lessons on passing notes to crushes ("Do I end with xo or xoxo?") and which Radiohead track to jam to next ("How To Disappear Completely" or "Creep?").
4. Hot Topic
If your favorite '90s store was Hot Topic, you either considered yourself A) punk, B) goth, C) geek, or D) the one girl who only wore band tees. You probably had a burning desire for knee-high lace-up platforms and studded cuff bracelets. Your closet was heavy on the plaid, stripes, and moody hues. Oh, and you definitely had an addiction to band merch and patches. Today, you might pass by a Hot Topic and feel uneasy at the sight of modern pop culture and memes you're no longer privy to.
5. Bath & Body Works
If your favorite '90s store was Bath & Body Works, then you were a self-professed beauty junkie from day one. While others clamored over plaid skirts and Doc Martens, you had other priorities: shower gels, lotions, body splashes.
Your friends were probably secretly jealous of your beauty stash, and your go-to scent was most likely Cucumber Melon or Juniper Breeze. You also have a knack for color coordination — someone's gotta organize those bottles by hue, after all.
6. Merry Go Round
If your favorite store in the '90s was Merry Go Round, you weren't afraid to make a statement on the style field. In fact, matching sets were your everything — tailored vest and pants for the young-working-professional vibe or B.U.M Equipment hoodies and Skidz when you wanted to keep it casual. Your friends clearly knew you meant business when you swapped the printed baggy pants for a polished suit jacket.
7. Pacific Sunwear
If your favorite '90s store was Pacific Sunwear, you were either A) surfer, B) skater, C) (aspiring) Californian or D) all of the above. Today, beach babes know it as PacSun, and frankly, the fare has not changed much since.
A haven for West Coast-inspired gear, Pacific Sunwear first caught traction by stocking merch from established surf brands — Billabong, Quiksilver, Roxy, the like. Admit it: this was most likely where your love affair with puka shell necklaces first began (I promise I won't tell).
Images: Paramount Pictures, @TheAliciaLinda, @dulcereneem, @charitydaw, @smileyyhoran, @KHOU, @FashionFollower, @zub_200/Twitter