These '90s Mall Stores Don't Exist Anymore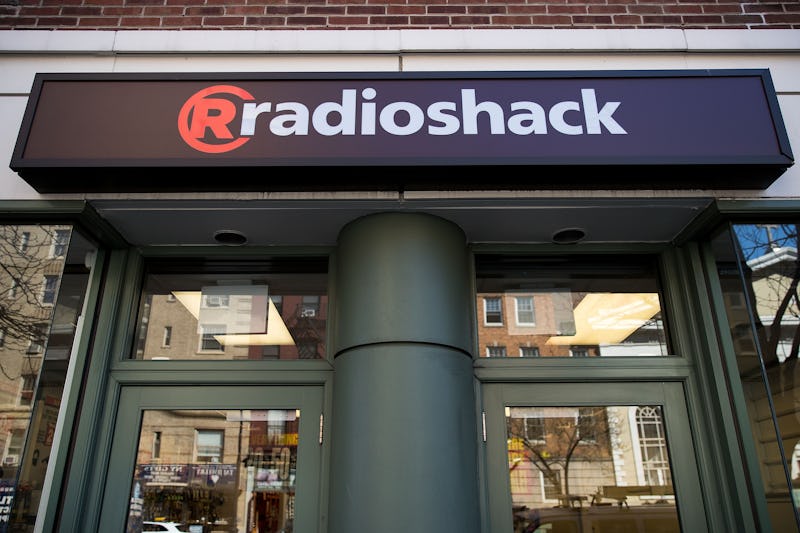 Drew Angerer/Getty Images News/Getty Images
There are (obviously) a lot of things from our childhoods that fade with the passing decades, but I don't think anything embodies this phenomenon for the '90s quite as much as the shopping mall. There are just so many '90s mall stores that don't exist anymore — staples that, once upon a time, no trip to the mall was complete without, but which have now vanished into the proverbial sands of time. Or, y'know, online shopping. Either/or.
Shopping malls as we typically think of them — large buildings housing a staggering number of stores, usually featuring at least two notable department stores functioning as "anchor stores" — first came into vogue in the United States during the 1950s, and they truly revolutionized the shopping experience. Instead of having to go around to a bunch of individual stores, you could accomplish pretty much everything you needed to at once — a literal one-stop shop. They also gave rise to consumer culture, which not everyone was convinced was a good thing. (That's why George A. Romero's 1978 classic, Dawn of the Dead, took place in a shopping mall.) But, for better or for worse, the shopping mall rose in prominence over the decades, and during the 1990s, a whopping 140 malls were being built in the United States per year.
The advent of the Internet, however, changed all that; so, too, did the financial crisis of 2007-08. With a recession at play, there was less money to spend; furthermore, what spending we did do, we largely did online. If the mall was convenient, online shopping was even more convenient; we didn't even have to leave our homes to do it.
And so stores started closing, and malls began dying. The mall isn't totally dead yet, but a lot of these '90s mall staples are no longer in existence. I guess that's the way the cookie crumbles.
When I was a kid, there was just one store that appealed to my entire family: The Sharper Image. My dad liked it for the gadgets; my mom liked it for the weird, interesting home-related items; and my brother and I liked it for the toys (namely, the Terminator 2 pinball machine sitting in the corner we could actually play). Alas, though, the store — which was originally founded in 1977 — went bankrupt in 2008 and closed all its retail locations. It relaunched in 2010 as a brand in its own right; however, the "store" only exists online now. Shopping for pinball machines you'll never actually buy is a lot less fun when all you're doing is looking at pictures of them.
2. Contempo Casuals
Ah, Contempo. This fashion-forward clothing and accessories chain dates back to the 1960s; however, Wet Seal purchased it in 1995, eventually converting most Contempo Casuals stores into Arden B. in the early 2000s. For a plethora of Contempo throwback photos, check out this Facebook group — it's full of memories and questionable fashion choices.
3. Limited Too
I shopped almost exclusively at two stores during my childhood years: Limited Too and Gap Kids. Gap Kids was for everyday basics — overalls, those long-sleeved white tees with the little decorative patches at the neck, and so on — but Limited Too was for the fun the stuff: Colorful sweaters, party dresses, sparkly nail polish, the works. Originally launched in 1987 as a companion brand to The Limited geared towards girls, the chain saw a great deal of success throughout the '90s; however, its success began to wane throughout the early 2000s, while Too Inc.'s 2004 launch of Justice quickly filled the void left by the flagging Limited Too brand. In 2006, Too Inc. became Tween Brands, Inc., and in 2008, all remaining Limited Too stores were rebranded as Justice stores. But hey, even if the stores themselves don't exist anymore, at least Limited Too merch is coming to department stores soon, right?
If you search really hard, you can still find a couple of Sam Goody stores scattered here and there; however, the majority of them no longer exist, putting to bed all your childhood memories of picking up the latest Backstreet Boys or 98 Degrees album and feeling absolutely shocked at the fact that you were actually holding it in your hands.
The music store's history actually goes all the way back to the late 1940s; that's when Sam "Goody" Gutowitz opened his first record store in New York. The advent of digital music struck the chain hard, though — as it did so many places that relied on the sale of physical media like CDs — and after being acquired a few different times, Sam Goody's locations were either converted into other brands (f.y.e. was a popular one, for example) or shuttered completely. There's still one in Tallahassee, though!
The Warner Bros. Studio Store in my local mall (well, I say "local," but we still had to drive half an hour and a couple of towns over to get to it — welcome to small town America) opened with great fanfare, marking its presence with towering statues of Looney Toons characters parked right outside the door. It was magnificent. Alas, though, it wasn't to last; the chain of themed merchandise retailers opened in 1991 and closed just 10 years later in 2001. At least I still have my Marvin Martian telephone hanging around somewhere — even though I haven't actually had a landline in years.
Admittedly, Waldenbooks was never my favorite mall bookstore; the shops I remember were always tiny, and you were unlikely to find anything but the latest releases and a handful of classics that never go out of style. But hey, at least the presence of a Waldenbooks meant that there was at least a bookstore, giving me a place to browse when I didn't feel like going to Ann Taylor with my mom. (Nowadays, however, I am a big fan of Ann Taylor. I guess you just have to be the right age in order to truly appreciate it.)
Like Sam Goody, Waldenbooks' history stretches back a lot longer than most of us probably know: The very first one — a rental library, not a store — opened its shelves inside a Connecticut department store in 1933. The brand converted into a bookseller after the Second World War, and for many decades thereafter, everything from books to software was sold under the Walden name. Eventually it became part of the Borders-Walden Group, with most Waldenbooks stores becoming Borders Express locations in the early 2000s; however, by 2011, Borders began liquidation, and Waldenbooks went the way of all things.
Or Kay-Bee, depending on which era characterized your childhood. Originally founded in 1922 by the Kaufman Brothers (get it?), KB was at first a wholesale candy business; the Kaufmans sort of fell into the toy retail business by accident after they also purchased a toy wholesale business and found the toys to be much more profitable than the sweets. In 1973, they shifted their focus from wholesaling to straight-up retail, and by the '90s, KB Toys had become a veritable empire: KB Toys in malls, KB Toy Works in outdoor strip malls, and KB Outlets and Liquidators in outlet malls.
By the 2000s, though, business wasn't doing so well; it declared bankruptcy twice in five years and eventually began liquidating its assets. The brand itself and other intangible assets were sold to Toys "R" Us in 2009. I guess we'll have to go somewhere else to get our fill of barking, battery-powered puppy toys capable of doing backflips all on their own.
8. The Nature Company
Walking into The Nature Company was like walking into the study of a wacky naturalist: The entry was an actual fountain; the walls were lined with inviting wooden shelves stuffed full of interesting things; and there was usually a telescope around you could play with. It was the best kind of educational toy store, and it was made all the better by the fact that it appealed to pretty much everyone — no matter how old or young you were. Founded in Berkeley, Cal. in 1972, it was purchased by Discovery in 1996 — so, hey, at least it's still around in some form these days, right?
9. RadioShack
We're probably all familiar with the plight of RadioShack, given how recently it declared bankruptcy, but just to recap: Based in Boston, the very first store launched in 1921 with the goal of providing equipment for ham radio operators. After facing some difficult times in the 1960s, RadioShack was purchased by Charles D. Tandy of the Tandy Corporation and revived; it remained a mainstay of consumer electronics for decades, and in the '90s, it was a favorite place for gadget-minded youngsters and their parents. It started to decline in the early 2000s, though, and it filed for Chapter 11 bankruptcy protection in February of 2015. The assets were sold to General Wireless, and these days, most RadioShack locations are now Sprint locations.
10. Sbarro As It Once Was
OK, so Sbarro hasn't totally vanished yet; it has, however, gone through some tough times, declaring bankruptcy several times over the past few years. It emerged from bankruptcy protection in 2014 (hoorah!), although 182 locations closed as part of the restructuring process. Still, though — I'll always look back on a giant slice of Sbarro's pepperoni pizza as my favorite mall food court staple.
Images: Drew Angerer/Getty Images (s), Alex Wong/Getty Images; Giphy (2)