Swedish Fish OREOs Exist, This Is Not A Drill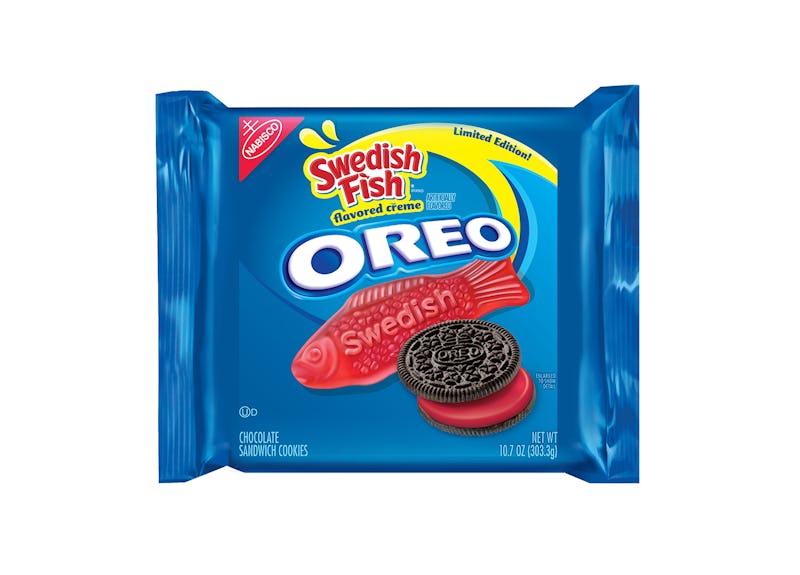 Like the rest of the world, I am a mere mortal living at the whims of whatever delicious flavor OREO comes up with next. But today, my friends, we were all taken by such surprise that I'm pretty sure the snack world will never be the same: Swedish Fish-flavored OREO Cookies are a real thing that you can behold, purchase, and ingest. That is, if you live anywhere near a Kroger, which the supermarket chain where they are currently and exclusively on the market. (BRB while I ditch my NYC friends to experience some of this Virginian insanity.)
This new flavor was actually leaked awhile ago, but most people thought it was a clever photoshopping joke. Well, JOKE'S ON THEM, because an OREO spokesperson confirmed to Bustle that this hybrid gummy cookie snack is anything but. Although very few humans have tried it, The Impulsive Buy got their hands on a box and describe it thusly: "See, this creme isn't perfectly pillowy, soft, and squishy. It's a little more sticky, chewy, and dare I say…slimy," wrote Dan Goubert. "The creme's taste, though, is just like Swedish Fish."
The randomness of Swedish Fish aside, cherry does seem like a most fitting flavor to kick off in the summertime. And in the words of French physiologist Claude Bernard, "Observation is a passive science, experimentation an active science." Which is to say — get ye to a Kroger and try these puppies out for yourself! Here's what they look like on the shelves:
Looks kinda like Christmas OREO Cookies, amirite? (That prank idea brought to you for free by my good graces for all you tricky elves out there this year.)
So what's the inspiration behind this particular flavor combo?
"We know that people enjoy variety when it comes to snacking so we create all of our limited-edition flavors to provide surprising new twists people know and love and on occasion, create unexpected and unique flavor combinations that people may never have thought were possible, including our latest from the Wonder Vault, Swedish Fish Flavored Creme OREO Cookies," said an OREO spokesperson to Bustle.
Of course, our intrigue has, as usual, led to some internet gold, including Jenna Fischer (Pam Beesly forever in my heart) leading the Twitter debate.
Alas, the truth remains that you'll never know for sure until you try it for yourself! Be bold, everyone. Live your best, most daring life. And do it quickly, before this flavor goes back in the OREO Wonder Vault — it's only available for a limited time!
Images: Courtesy of OREO