Who Plays Shaolin Fantastic In 'The Get Down'?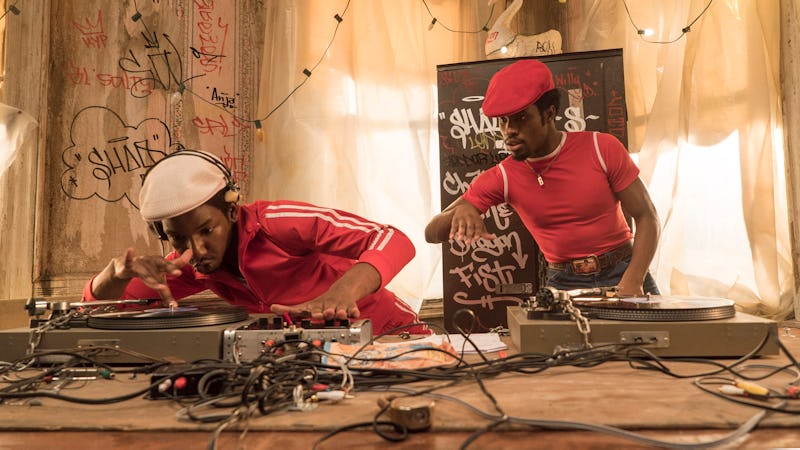 Baz Luhrmann's The Get Down draws you into its richly drawn period New York City with a cast of actors that are, for the most part, unknown. Even the ones you might know from other projects are near unrecognizable in '70s costumes. Who plays Shaolin Fantastic on The Get Down ? Shameik Moore is definitely a star on the rise.
Moore is best known for starring in last year's coming-of-age movie Dope as Malcolm. If you haven't seen that movie yet, the time is now. It's on Netflix, and both Moore's costars Tony Revolori and Kiersey Clemons, as well as the director Rick Famuyiwa, are moving into the spotlight. Plus it's a really entertaining and lovely film. There are no excuses.
The Get Down actor also played James Jr. in the recent adaptation of The Watsons Go To Birmingham and has a small role in Joyful Noise. Before that, even, he was a regular on Nick Cannon's Cartoon Network sketch series Incredible Crew. Oh, and he was also a Youtube star sometimes known as Young Meak. Basically, if The Get Down takes off and Moore shoots to mega-stardom, there are going to be a lot of people bragging about how they knew him when.
On The Get Down, he plays Shaolin Fantastic. Besides having maybe the most epic-sounding name I've ever heard, the character is "a child of the streets who is thrill-seeking, unpredictable, eccentric and, above all, enigmatic," according to Variety. He seems legendary from the start. It's a good thing that the actor playing him seems destined as well.
Image: Giphy