Yes, You Did See Daveed Diggs In 'The Get Down'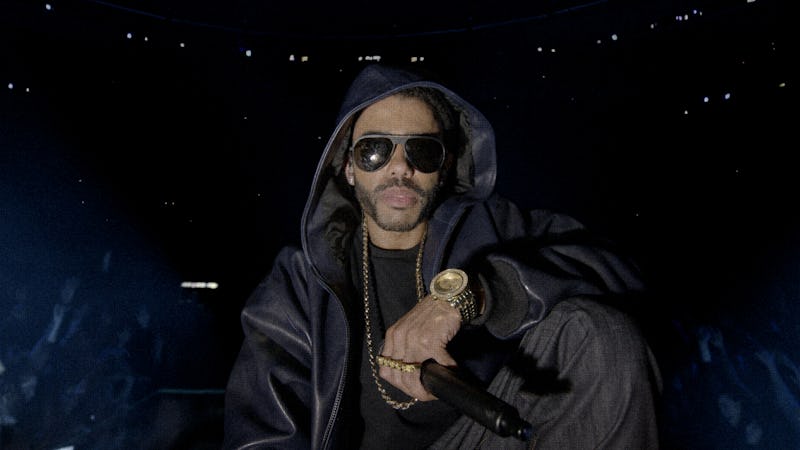 If the prospect of Baz Luhrmann producing a Netflix series, or the prospect of a Netflix series about the beginnings of hip-hop, wasn't exciting enough, the show promises to include some of your favorite from the Broadway stage as well. But, is that really Daveed Diggs in The Get Down ? The narrator doesn't sound like the drawl you're used to in interviews with breakout star of Hamilton or even his Surface Pro commercial, and there's a good reason.
Diggs plays the narrator, a grown-up Zeke now known as Mr. Books, but the raps you hear in those scenes do not feature Diggs' vocals. We have confirmed that these raps are voiced by Nas, who is an executive producer on the series and wrote the songs. It's hard to imagine a Tony Award-winning actor and rapper not performing vocals, but I imagine that Diggs likely auditioned for the role before Hamilton, and his performance in particular, really took off. Besides, Hamilton is exceptional in many ways. Theater performers tend to only be famous in the inner circle of Broadway. This casting makes a lot of sense, and should be a huge treat for Hamilfans.
In an interview with the LA Times, Nas said that "a show like this polishes off the dust from a treasure. This is a time period that basically birthed this hip-hop moment that we're in now." The article also notes the resemblance between Diggs' character and Nas in the '90s, as does The Independent — calling Zeke's grown-up flow "unmistakably" Nas.
I admit, it is kind of difficult to tell whether or not this is Diggs' voice at first — mainly because he is such a chameleon of a performer, especially when he is rapping. In Hamilton, he channelled Ludacris with a French accent for Act One (playing the Marquis de Lafayette) and drew inspiration from Drake and Morris Day for Act Two (playing Thomas Jefferson). Those are two very different characters with very different sounds.
From what this writer has seen, Diggs' acting really shines through in his scenes at Madison Square Garden, which is a testament to his talent and stage presence. According to Rolling Stone, there may be other cameos from the Hamilton cast on the series, which filmed in New York City. I can't wait to see who pops up next!
Images: Giphy (2)