'Sausage Party's Raunchy Story Probably Isn't Over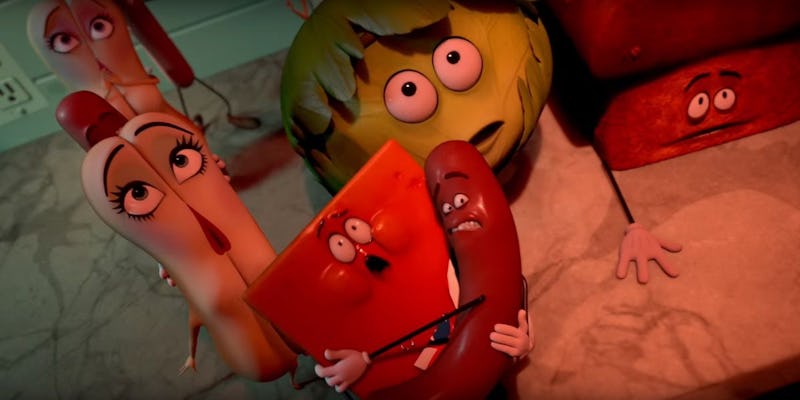 Sausage Party might go down as the craziest movie ever made. The existentialist comedy revolves around food discovering the horrifying reason for their existence: They're put on this planet by the gods (humans) for the sole purpose of being horribly murdered and eaten by said gods. It's a pretty heavy commentary on the pointlessness of existence told by anthropomorphic food, with lots of swearing and sex jokes. But despite its craziness, or perhaps because of it, the film is drawing rave reviews, causing fans to wonder if the story will continue in a second film with a Sausage Party sequel.
If creator Seth Rogen has its way, it will. The co-writer and star of the film wants to make a sequel to the movie, and actually planned for more than just one movie when the film was first conceived. Here's what he said during a Comic-Con Q&A, according to Variety 's Kristopher Tapley, "It's the first time we've ended a movie with the intention of making another one. We have an idea of where we'd like it to go and we'd love to just make talking sausage movies for the rest of our lives. Who wouldn't?" So, there might be not just one sequel to Sausage Party, but maybe several. But just because Rogen wants it to happen doesn't mean that it will, so what needs to occur to make a Sausage Party sequel more than just a pipe dream?
Like any original film, financial performance will likely be the main determining factor when it comes to a sequel. The movie hits theaters on August 12, opposite fellow new releases Florence Foster Jenkins and Pete's Dragon. Neither of those films is going after the same audience, but Sausage Party will likely have to fight for eyeballs with the similarly targeted Suicide Squad, which will be entering its second weekend after a record-breaking debut. Squad isn't a comedy though, so any theatergoers looking for laughs will pretty much have Sausage Party as their only option. Also, the animated film has a tiny $19 million dollar budget and is tracking to open between $15 and $20 million, according to Pamela McClintock of The Hollywood Reporter. In other words, the film is practically guaranteed to turn a profit.
Given the likely success of the film, and the desire by its creators to make another one, I'd say the odds of Sausage Party getting a sequel are pretty great.
Images: Columbia Pictures