How to Throw Your BFF An Epic Bachelorette Party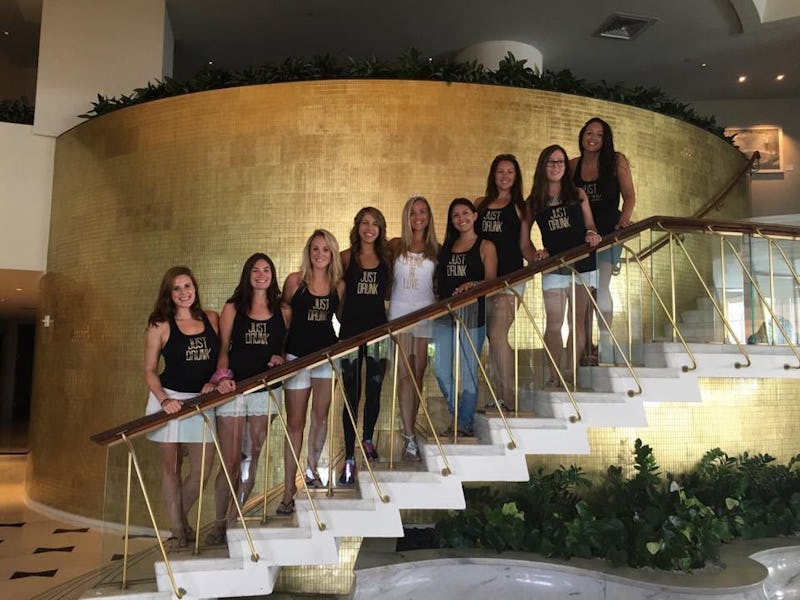 The saying goes that we all have soulmates and I believe that — but I don't think they're all romantic. Our friends — from childhood, the teenage years, the 20-something period and all of the times that follow — are often times, more pivotal to our lives than the people we choose to date or marry. Throughout everything we face — breakups, job losses, terrible Mondays that just won't let up and scary illnesses — our friends are there with a bottle of vino, a patient, loving ear and the right words that make everything suddenly not feel as heavy.
I consider myself lucky that I've met a handful of women like that in the past 27 years, and even luckier to say that I get to stand by one of them in October as a bridesmaid in her wedding. She's one of the sassiest, wittiest, and most kind-hearted humans I've ever met, and the one who keeps my head held high about finding the right person when all I want to do is give up. In more ways than I could express, that friendship (and all that's come with it) has helped me become an even better person throughout my 20s.
That's why when I started planning her bachelorette with her maid of honor, I knew it had to be one for the books. (Or at least attempt to get the party hashtag #SinningBeforetheWedding trending.) Though it was my very first bachelorette party, I knew the details to throw a pretty epic one were super-important. Because we were headed to Miami — it had to be the right mix of flat-out fun (and booze) and the sweet sentiments that I knew my bestie would appreciate.
Here's what we did to make it legit, the best bachelorette ever:
A Little Personalization Goes a Long Way
Though a bachelorette only lasts a few days, it's one of the rare times that everyone the bride loves is in one place at one time with a sole purpose: celebrate. One way to make those memories last forever (apart from an iPhone Shared Photo Album) is personalizing cups, napkins, and other goodies for everyone to take home when they leave.
We used The Stationery Studio to create simple white-and-pink cups that didn't say much, but said enough. The MOH also personally designed mason jar cups with lids (key when you're on a boat and drinking, for the record) from this Etsy Shop. Now that the party has ended, we can use those for iced coffee as we mourn those precious few days.
Invest in a Sash and Crown Because It Equals Freebies
My first order of business as soon as I greeted our lovely bride at the airport? Have her open the gift that contained her hot pink sash from Sassy Sash. Of course I wanted her to feel instantly special from the second her bach got started, but I also figured that any type of attention would mean free stuff.
I was right: on the plane ride there alone, we got three free liquor drinks. That same sash (and a cute bride-to-be-crown) got us into VIP at LIV Nightclub in Miami, a few bottles of champs at brunch at Nikki Beach and so, so much more. Plus, she can now pass down that sash — if she pleases — to the rest of us when we get hitched. (That is if she doesn't use it on a random Saturday night long after she's married to get some free stuff for the evening, because hey, who could blame her?)
Get Creative With Booze...
While bachelorette party and drinking seem to be kind of synonymous with one another, taking shots and drinking cheap alcohol isn't great for anyone's next morning. We thought of different ways to drink up without going too hard.
We started with Spoonable Spirits on the first day, which in a nutshell, is a new company that legit takes a birthday cake pudding type of deal and makes it boozy (yes, it's as awesome as it sounds). Then, we surprised the bride with an adult piñata that instead of being filled with candy and sweets, contained airplane bottles. Nipyata also adds messages to the airplane bottles for you and we elected to have them give bucket list items to our bride for the weekend (we may or may not have forced her to ask someone if they'd seen her friend, Beyoncé). And lastly, we used Sauza tequila to make Miami-inspired cocktails for the whole 13-person strong crew.
...And Be Prepared For the Hangovers
If you're going to spend four days in the sun, sand and parties of Miami, hydration takes a priority. In addition to coconut water and plenty of water throughout the day, we stocked up on Never Too Hungover. In all honesty, it doesn't taste great (sorry to break it to you) but if you can gulp it down, it truly prevented all of us from getting a hangover… except the bride. But hey, it's her bachelorette and she can throw them back if she wants, right?
Make Every Gal Feel Special
Though bachelorettes are really meant to give your friend her last heyday before the big day, it's also a time when we really value the amazing support group of friends we've built over the years. For the celebration, we got everyone these mini Betty Boxes that were themed to our beach getaway and included aftersun balm, a flamingo corkscrew and more. We also made sure everyone had a pink bug bracelet (because you know, Zika, yikes), and a custom-made pink polish from Mixify. The bride also got us all 'Just Drunk' tanks to match her 'Drunk in Love' — which made for some sweet photos.
Have Everyone Write A Note That'll Last
Though every part of the bachelorette felt epic, the one that I was the most excited about — apart from my mom's 24-hour cameo appearance — was the book we made from Blurb. It not only included her entire bridal party, future mother-in-law and tons of friends, but we wrote notes from her animals, too. (Yep, we went there.) It's not very often that you get to tell your pal just how much you love them and put a photo next to it, but I bet it's a book that she'll show her future daughter one day…
...because that's probably a safer story to tell a child than the part where she hid some Captain Morgan behind a bush to have later. But hey, what happened on the bachelorette stays there, right?
Images: Lindsay Tigar