Michelle Was Savage On 'BB's Double Eviction Night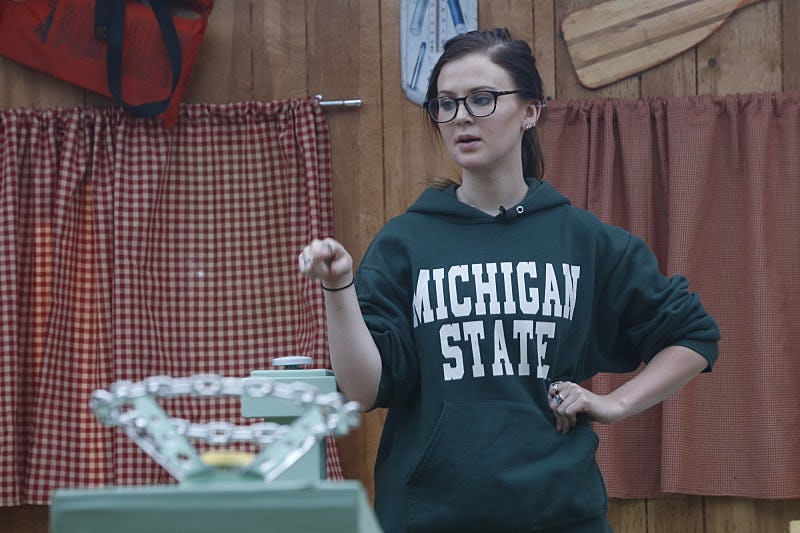 Michelle did not hold back during either ceremony on Big Brother 18's double eviction night. At two points on Thursday night, in serious fear for her safety in the game, Michelle was prepared to make an exit. As such, what happened during both of her speeches was nothing short of legendary. Her time in the house leading up to her getting on the block had been a contentious one, with her quickly being labeled as "emotional," and posing a threat to the cool machinations of the other houseguests. But miraculously, as if the Gods of Savagery themselves had descended upon the Big Brother house, Michelle had not one but two (count 'em: two) chances to give a speech before the eviction vote and she certainly took advantage of them. In short, Michelle blew up Paulie's Big Brother game, only to follow it up by taking down Nicole with a piping hot plate of realness.
In Michelle's first speech, the big target was Paulie. She may have only said a few lines in her defense but she wasted no time giving off "Paulie, you're the worst" vibes. It was necessary that Michelle not only tried to save herself but also call out Paulie for the way he had treated Natalie earlier in the game. For those not in the know, Natalie at one point went to Zakiyah to tell her about Paulie's shady moves. Zakiyah immediately went to Paulie to spill the beans which in turn led Paulie to drag Natalie through the proverbial mud. His public takedown of Natalie contributed to not only Bridgette telling the other houseguests about his twisted gameplaying but also —and crucially—Michelle's big takedown of Paulie. I think I speak for all of us when I say that at this moment, Michelle became the one houseguest to watch.
The target in Speech Number Two: Nicole. Hoo girl, what did Nicole ever do to Michelle? Michelle whipped out all of the receipts on Nicole during the second eviction ceremony and read them aloud to the house. Was anyone else flipping out? No? Just me? Just when it looked like she was really about to make an exit from the Big Brother house (because who would vote Bridgette out next to Michelle?), Michelle decided to call out Nicole for her treachery, at one point calling her "a snake." Citing previous players who had a fundamental mistrust of Nicole (e.g. Frank and Da'vonne) and had tried to warn the house, we all witnessed the reckless abandon with which Michelle spoke and It. Was. Glorious.
Needless to say, now that Michelle is still in the Big Brother house, there is surely going to be some serious tension brewing between her and the other houseguests. It will be interesting to see whether the entire house will continue to shun her or, hopefully, maybe a few will be impressed by her big moves and choose to align with her. If this double eviction ceremony proved anything, it was that literally anything can happen on Big Brother.