'Rocko's Modern Life' Is Coming Back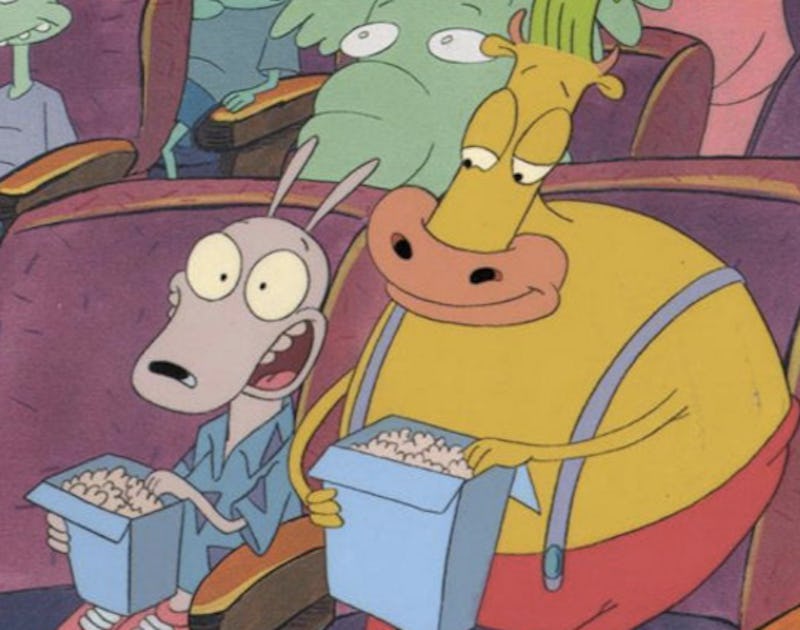 Get your nostalgia hats on, my friends, because Rocko's Modern Life will return to Nickelodeon for a one-hour special. Rocko's Modern Life was arguably way ahead of its time, and despite being considered a kids show, featured a lot of content squarely aimed at its adult viewers. It's a show that deserves a re-watch, since it's filled with satire, complicated characters, and some pretty crude jokes. Basically, '90s kids everywhere should rejoice because new Rocko's Modern Life is coming to prove that the '90s are forever. Plus, we're all old enough to understand the pop culture references and double entendres this time around.
Entertainment Weekly quoted the show's creator, Joe Murray, as saying,
"I'm very happy to be rejoining Rocko and my friends from O-Town again... they still feel relevant and fresh to me, and after 20 years, they can't wait to comment on modern life in the 21st century."
Rocko's Modern Life arguably influenced many of the animated series which followed it, inspiring animators to use sharp social observation, and relevant cultural references, on the regular. Murray's series may have only run for four seasons, between 1993 and 1996, but it certainly had a lasting impact on viewers everywhere.
On the decision to bring Rocko back to life, Nickelodeon's Chris Viscardi said, "So many people have loved Nick animation for these last 25 years, and we are excited to bring them back for new stories and adventures." 2016 is beginning to feel like a golden age for those of us who grew up in the '90s. It's super exciting to have the chance to revisit incredible shows like Rocko's Modern Life, and proves just how much impact the 1990s are still having on all of our lives. From '90s inspired fashion looks to endless rumors that the Spice Girls are reforming, we're clearly not ready to let that decade go. And, thanks to the resurrection of Hey Arnold! and Rocko's Modern Life, there's hope for all of your favorite Nickelodeon shows. It really begs the questions, which series will be resurrected next?
You likely have a lot of questions, such as will the legendary theme tune by The B-52's feature, and are all of the original voice artists returning? But we'll just have to wait as patiently as we can to find out more about the Rocko's Modern Life special, and keep our fingers crossed that Nickelodeon has even more surprises in store for us.
Image: Nickelodeon