3 Delicious Smoothies That Double As Face Masks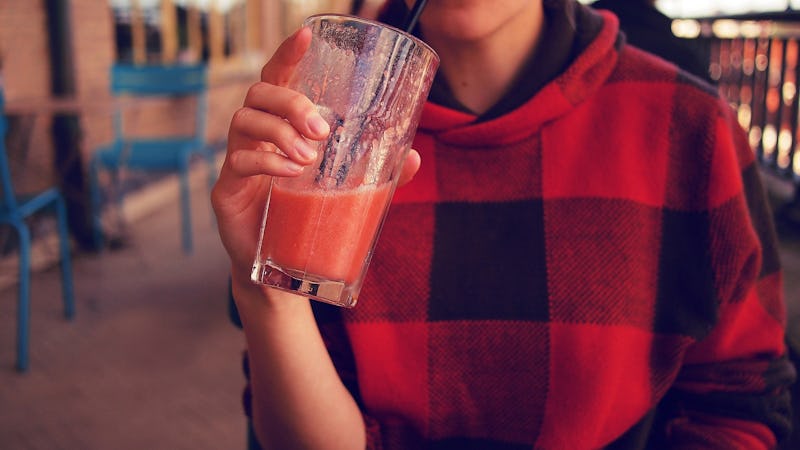 As much as I love the idea of DIY skincare, one of the things I can never get past is the thought of slathering food on my skin that I could be eating instead. Which is why smoothies that can also be used as face masks is a DIY I can finally be on board with. Not only can you actually just drink the majority of it and use the dregs for skincare, but there are also tons of ingredient combinations that are good for your skin while being just plain delicious.
Plus, because smoothies are generally cold, these masks will be perfect for after spending a hot day outside or after an intense gym session. While you're improving and refreshing your skin from the inside and outside, you can also get really creative with what ingredients you include. You may be surprised just how many smoothie ingredients are truly great for DIY face masks. If you're not quite sure where to start though, here are three delicious smoothies that you can also slather all over your face. Just remember to drink your smoothie first so you're not tempted to lick it off your face (but hey, no judgement).
1. Strawberry Pineapple
Recommended to me via email by holistic beauty expert and co-founder of ZSS Skincare, Paula Simpson, this tasty smoothie also makes for an amazing, brightening mask. Here's what you'll need:
1 cup Greek yogurt
1/2 cup fresh strawberries
1/2 cup crushed pineapple
1 tbsp coconut oil
1 tsp spirulina powder
Honey to taste
While the Greek yogurt works to balance your skin health, the vitamin C from the strawberries and pineapple aid with collagen production. Coconut oil locks in moisture and smooths skin, and spirulina is an excellent source of antioxidants. After letting this mask sit on your face for five minutes, rinse off for totally refreshed skin.
2. Papaya Honey
If you have blemished skin, this sweet smoothie will also work to lighten acne marks and smooth your skin. Here's what you'll need:
1/4 papaya, peeled and seeded
1 banana
4 tbsp honey
According to natural beauty blog Crunchy Betty, enzymes in the papaya will work amazingly at sloughing off dead skin cells to help eliminate dullness, and bananas help to moisturize the skin. Honey is also amazing for acne-prone skin because of its antibacterial properties, making this a mask that will help breakouts without drying out the skin. Simply let this mask sit on your skin for 10 to 15 minutes before rinsing clean.
3. Blueberry Avocado
Dry skin will love this creamy smoothie that makes for a supremely hydrating mask. Here's what you'll need:
3/4 cup plain yogurt
1/2 cup frozen blueberries
1/2 banana
1/2 avocado
While the yogurt, banana, and avocado all work to hydrate dry skin, the antioxidants in the blueberries will help make your skin glow. After slathering this concoction on your face, let it sit for 10 to 15 minutes before rinsing it off.
While many fruit and vegetable-based smoothies will likely work well as face masks, if you need more ingredient inspiration for your next DIY, check out this list of foods to experiment with for healthy, glowing skin. Because some foods are good for more than just eating.
Image: epicantus, rogeriomda/Pixabay