'The Get Down' Went Dark For The NYC Blackout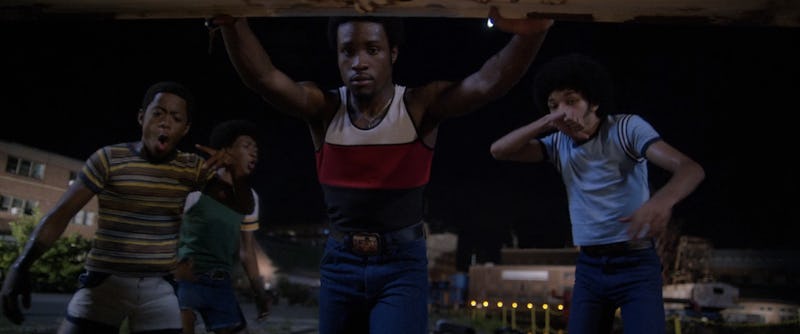 The Get Down, Baz Luhrman's theatrical show about hip-hop culture and the 1970s Bronx, is a great mix of fact and fiction. Did Zeke actually exist? Well, no, but Ed Koch was actually running a forceful quest to be the mayor of New York City in 1977 (history spoiler alert: he won). Another true part of The Get Down is the 1977 blackout, which left people without power in the hot, sticky, humid summer. What happened during the 1977 blackout in New York City? Mayhem, murder, and plenty of problems.
As reported by CNN, on July 13, 1977, at about 9:00 p.m. ET, a handful of bolts of lightning hit the power lines that fed Con Edison's massive power grid, and it proved too much for it — everything went dark almost immediately. Now, there was another blackout in 1965 that was similar to this one, but people weren't nearly as panicked as they were in 1977. According to the New York Times, the 1977 blackout lasted from 9:34 p.m. on July 13 to 10:39 p.m. on July 14 — about 25 hours — and when the lights went back on, there were 1000 fires burning, 1,600 stores looted, and nearly 4000 people arrested.
As we saw in The Get Down, the people of New York City were fed up with President Gerald Ford, who wouldn't give funding to the decaying city, and then-Mayor Abraham Beane, who didn't seem to care about anyone outside of Manhattan. Race relations were also tense at the time. The people of the Bronx felt ignored and disenfranchised, and when the power went out and wasn't restored for over a day, the anger and frustration of some boiled over into setting fires and looting neighborhood stores.
One aspect of the blackout that The Get Down didn't focus on was the panic at the time about the Son of Sam. According to Time, in 1977, the city was struck by a series of bloody murders, with victims commonly shot while sitting in parked cars. We know today that that man was David Berkowitz who was eventually caught and convicted of killing six people, according to CBS New York. But in the summer of 1977, police had not yet apprehended him adding to the level of fear people had during the blackout.
What happens when you mix chaos and a blackout and near-bankruptcy and a serial killer and racial tension? You get New York City in 1977. The Get Down did a good job on depicting the craziness and chaos — Zeke and the boys are even involved in some of the looting. It was a long, hot summer in New York City, and the blackout certainly did nothing to help it.
Images: Netflix (3)