The Lyrics From 'The Get Down' Have A Cool Origin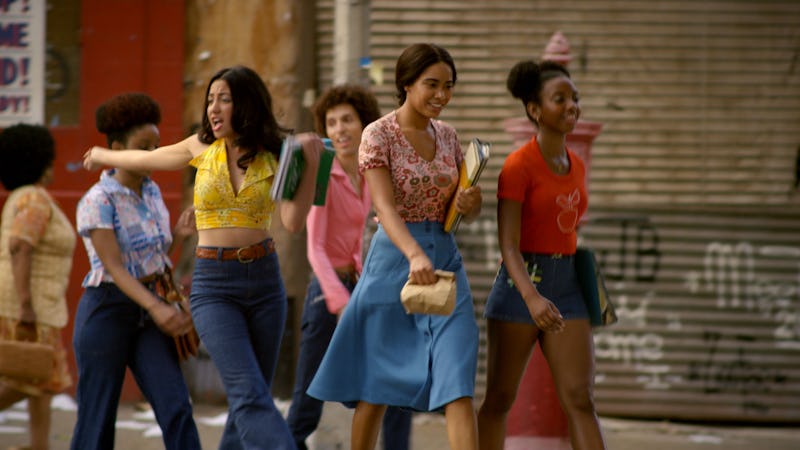 Netflix's newest original series, The Get Down is full of music and one song in particular will definitely get stuck in your head after you watch. [Mild spoilers for Episode 5.] I'm talking, of course, about Mylene Cruz and the Soul Madonnas' hit "Set Me Free" which is an original song by The Americanos, featuring Nile Rodgers & Herizen Guardiola, featured on The Get Down soundtrack. In the show, the "Set Me Free" lyrics are borrowed from a hymn, which makes Mylene's pastor father OK with her singing it.
I did some digging, and it doesn't appear that the song is inspired by a real life hymn, though there are several hymns with similar "the Lord sets me free" messages. But, it does appear as though some the lyrics were taken from different Bible passages. Let's break things down. The song starts off this way:
Oh, Lord I know
that you love me.
I know your light
will set me free.
My lord will judge
who judges me.
He takes my pain.
He rescues me.
Some Googling doesn't reveal any specific source of these lyrics. But, these words echo a similar sentiment to many hymns, the idea that no one is truly there for you like God is. Then the song goes into this chorus which is repeated several times.
These chains on me
won't let me be.
You've got the keys,
come rescue me.
You've got the keys,
come set me free.
Won't you come down and
shine a light on me.
Come and set me free.
Shine a light on me.
Come set me free.
Again, no exact hymn contains these words, but a similarly titled one, "He Set Me Free," features the theme of breaking free/unlocking chains with these lyrics: "He set me free/yes he set me free/he broke the bonds of prison for me."
From there, the song talks more about the light of love.
Whoever says he's in the light
and hates his brother
is still in darkness,
still in darkness through the night.
Above all we've gotta love each other deeply,
'cause love, love, love, covers a multitude of sins.
I do love the specificity of the "hates his brother" line since Mylene's father and uncle were bitterly upset with each other. I feel like it's this line that made her father have to give in, otherwise he wasn't truly living his life with the light of God in him if he had hatred for his brother. This is made especially clear in the fact that this section is, in part, taken from the Bible. In the English Standard Version of 1 John 2, this section appears: "Whoever says he is in the light and hates his brother is still in darkness." And, in that same version of 1 Peter 4, this section is included: "Above all, keep loving one another earnestly, since love covers a multitude of sins."
The final set of lyrics is also taken partially from The Bible.
My lips will shout for joy
when I sing praise of you,
when I can feel you inside of me,
and I will ascend above the highest of the clouds
and make myself like the Most High.
And I will ascend
and make myself
like the Most High.
The first two lines were taken from Psalm 71, which goes like this: "My lips will shout for joy, when I sing praises to you." And, the Most High section was taken from Isaiah 14 which includes these lines: "I will ascend above the heights of the clouds; I will make myself like the Most High."
So, although it's a bit cobbled together from many sections of the Bible, the lyrics of the song stay true to the show in being taken from the word of God to appease Mylene's father. And, structured in this way, they're pretty catchy.
Images: Netflix (4)