Shop Dupes For The Kylie Cosmetics Makeup Bag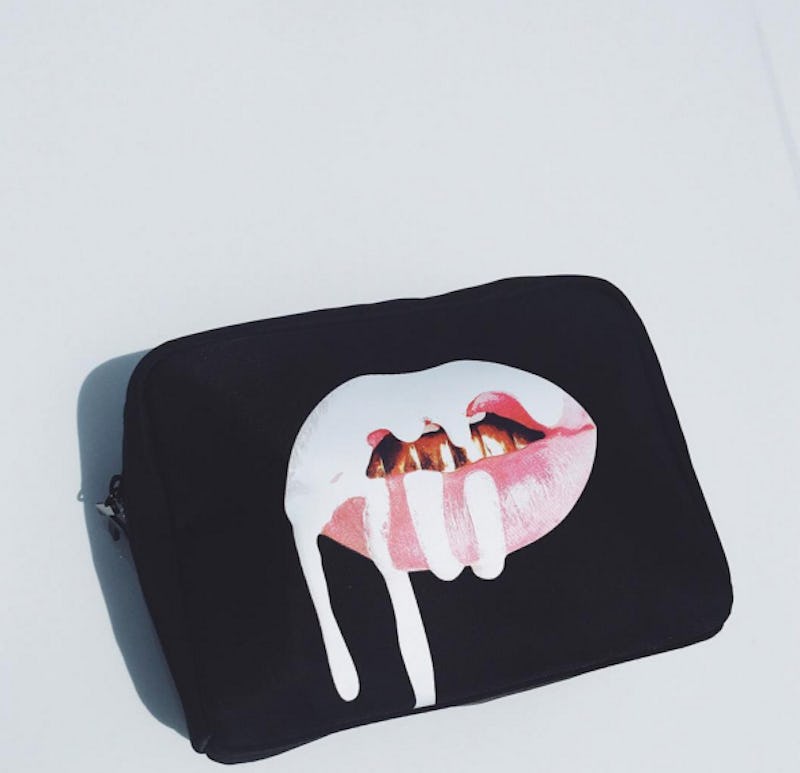 Now that the limited edition Birthday Collection has come and gone, many of you who weren't quick enough to snag the goodies before they sold out are probably searching for similar items right about now, and I can't say I blame you. If you're looking to get a similar pouch to tote your beauty items around in, then you need to shop these Kylie Cosmetics makeup bag alternatives.
The Kylie Cosmetics makeup bag was great for a lot of reasons. It was simple, small enough to throw into a weekender (making it oh-so easy to travel with) and it had the graphic Kylie Cosmetics logo to keep it from being ordinary. And even if you couldn't snatch this $42 bag, there are still plenty of options that will give you all of the style and versatility that a Kylie Cosmetics original would have allowed.
From sleek black carryalls that you can tote anywhere to graphic clutches printed with lips, you're sure to find something you like in this mix if you were a fan of the limited edition Birthday Collection bag. Come on, what are you waiting for? Those beauty items aren't going to organize themselves, so let's get to shopping, shall we?
This pouch was the coolest of the cool. Because what else would you expect from Kylie Jenner, you know?
But, these dupes will give you all of the same glam diva feels.
1. Sleek Sophistication
Bobbi Brown Cosmetics Bag, $30, Nordstrom
This sleek and simple bag has all of the room you could need, yet is small enough to take with you wherever you go. It has built in compartments for brushes, etc. so you can store everything you need in one convenient place.
2. Lipstick Never Hurts
Lulu Guinness Lipstick Never Hurts Satin Makeup Bag, $90, ASOS
Jenner's got a thing for lippies, so there's no doubt she'd approve of this chic clutch.
3. Lip Print
Circus by Sam Edleman Miles Clear Bag, $35, Nasty Gal
This lip-printed bag is the next best thing to rocking the Kylie Cosmetics logo, you know?
4. Lipstick Carryall
Lipstick Makeup Cosmetics Clutch Bag, $15, Etsy
Your lip kits will be right at home in this bag, don't you think?
5. Kiss Print Bag
Kiss Print Makeup Bag, $8, Forever 21
Get that pucker ready because all of your glam needs will fit in this clear tote.
6. Cool Clutch
Monki You Make Me Blush Makeup Bag, $10, ASOS
This black bag is far from average. Use it to carry all of your Kylie Cosmetics products, and you'll still be the coolest kid around.
Images: kyliecosmetics/Instagram (1); Courtesy Brands (6)